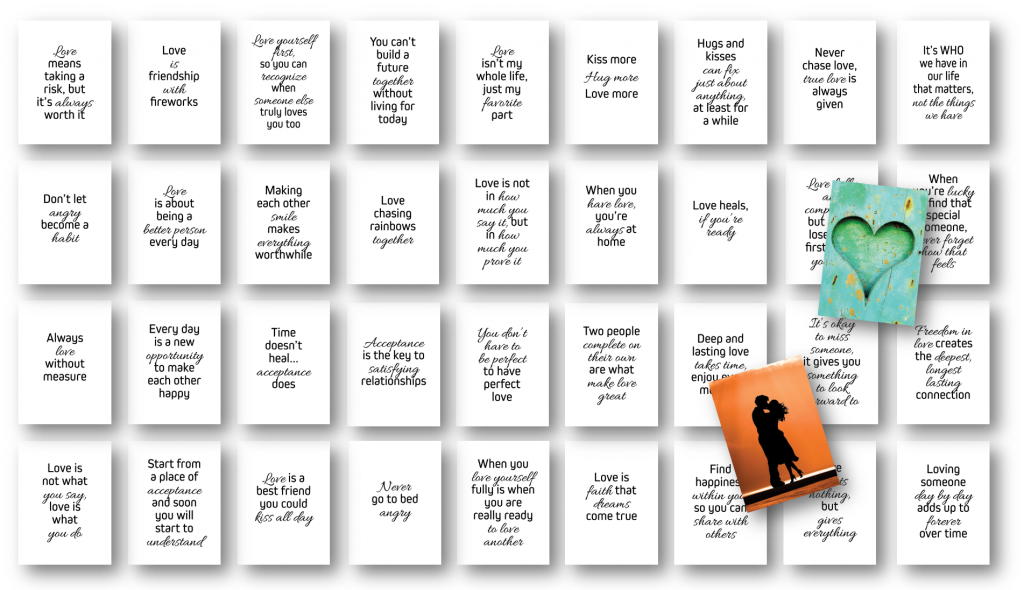 If you've been looking around at the personal development niche, you'll notice that inspirational and motivational card decks are in demand. They include thought-provoking notes, quotes and thoughts to inspire and motivate the user.
And of course, we can help you cash in on their popularity with our 180 done-for-you cards that you can use right away. They're also fully customizable, brandable and have been formatted, so you can have them professionally printed and packaged.
Here are 8 ways to use these card decks to grow your business…
Sell the decks as a shipped product. We have formatted these, so you can get them professionally printed and packaged…and have even included instructions to do so. Sell them from your website, on Amazon, Etsy and more.
Bundle them into other products, coaching programs, etc. If you're a book author, bundle up a deck with your book. If you're a coach, ship out a card deck as a thank you bonus for signing up with you.
Sell them in digital format. Give them instant satisfaction, so they can download and print right away. They can use them as quick gifts or as cards to share at a gathering (if gatherings are allowed…of course 😉). Some of them could even be used with their children as little life lessons and topics of discussion for personal growth.
Use them for social media. These are great thoughts and quotes to ponder and discuss. Share them freely.
Add them to your planners, journals and other printables. These have great visual appeal and also give some food for thought to customers who buy your products.
Create a daily calendar. Whether it's in print or digital format, give them a new thought to ponder each day.
Use them as blog post starters. Not sure what to write about? Take the graphic, put it into a post and start writing your thoughts. Invite your readers to share theirs in the comments area.
Create "expansion packs". If you've got kids or it's not too long ago that you were a kid, you know that expansion packs are popular for gaming card decks. You can do the same with your own cards. If you already have decks for sale, put together a pack of surprise cards for your customers, so they can expand their own deck.
So many possibilities. We've done all the initial thinking and set up for you…now just take it and run with it.
Click here to get our done-for-you decks – if you'd like to save some time in putting these ideas to use right away.