ABRR: "Always be Reusing and Repurposing"
You'll get a lot more mileage out of your content (whether you create it or buy our done-for-you content) if you make a plan to reuse and repurpose regularly.
For us, it's built into what we do. We keep records of all our free content, product offers, bonuses…EVERYTHING…so we know what we have to work with at any given time.
When we mentioned keeping records of ALL our content in our Facebook Group, our member, Michelle, asked how we organize this.
GREAT question.
Truth be told, the organization is not very sophisticated, but it's useful because we diligently keep it up to date. We just have a number of spreadsheets to keep track of all the pages we've created, what they promote, the corresponding affiliate links…everything that might be useful to us as we try to get this content seen and acted upon.
Here's one example of a spreadsheet…


It makes such a difference when stay on top of things like this because after being in business for a while, it's easy to lose track of what you've done.
And when you lose track, you miss out on so many opportunities to reuse, repurpose and maximize what you've got.
Different parts of your product funnel can be bonuses or upsells in other funnels.
Blog posts can be promotional content pieces you add to your emails, social media posts and give affiliates to promote.
You can load up your autoresponder at any time with any of this content you've amassed…or send a broadcast out to your list when you feel like it.
How you organize your record is totally up to you…but finding a system that works for you and easy for you to keep up to date is an extremely worthwhile thing.
We personally keep spreadsheets for:
Blog post content
Product funnels
Bonus content
Free opt-in offers
Etsy products
…and we're probably forgetting some. And ultimately, what you need for your business will be uniquely yours.
Either way, when you've got a library of done-for-you content, you've got OPTIONS to grow your audience AND have products to sell them.
And that's the beauty of all this. You can use the content in one way one day, and then completely another on a different day.
As an example, we just updated the bullet point list of ideas of what to do with our Positive Affirmation EKit. Now, this applies to the content in this pack (which includes wall posters, journals and card decks), but also can be used for other similar content AND it shows you just how versatile ANY content can be for your business.
Here are those RR (Reuse & Repurpose) ideas…
Sell printable wall art…or sell a finished product (framed or unframed) ready to hang on the wall
The designs can also also be used for other print on demand products like mugs, t-shirts and more.
They're also perfect for planner or journal covers, inserts or dashboards that you can sell or give away in digital or in physical form.
Tons of social media fodder. From the card images to the poster graphics, there's a lot of great stuff to share. Use them as posts, stories and more.
Sell printable or print-on-demand journals. These are fully done and ready go.
Sell or give away the individual journal pages, so your customers can add them to their own journals.
Create card decks for sale. The card decks are formatted for commercial printing and instructions are included. Or you can let them download and print.
Create a class to show your customers can leverage the power of affirmations and give them the journals and card decks as tools to work with.
Run a class that shows people how to make their own wall art and give them your designs as part of the entry fee.
Create product bundles with the matching journals and card decks. Bundle up the value and customers are more likely to say yes to buying.
Change the easy-to-edit journal designs to appeal to different audiences. These are perfect for self-reflection for kids and more.
Create high-value gifts for your best clients. Send them some beautiful framed wall art, a card deck or bound journal.
Use the images as beautiful blog or writing prompts. Just add the image to your post and start writing your thoughts on what that affirmation means to you and how your clients might benefit from it. And if you're selling the deck or wall art as well, make sure to link to it from all the posts.
As you can see, some of these ideas are so you have products for sale. Others are to grow your traffic and list. Having a library of done-for-you content gives you so many options when it comes to growing your business.
What to Do Next to Embrace ABRR to Grow Your Business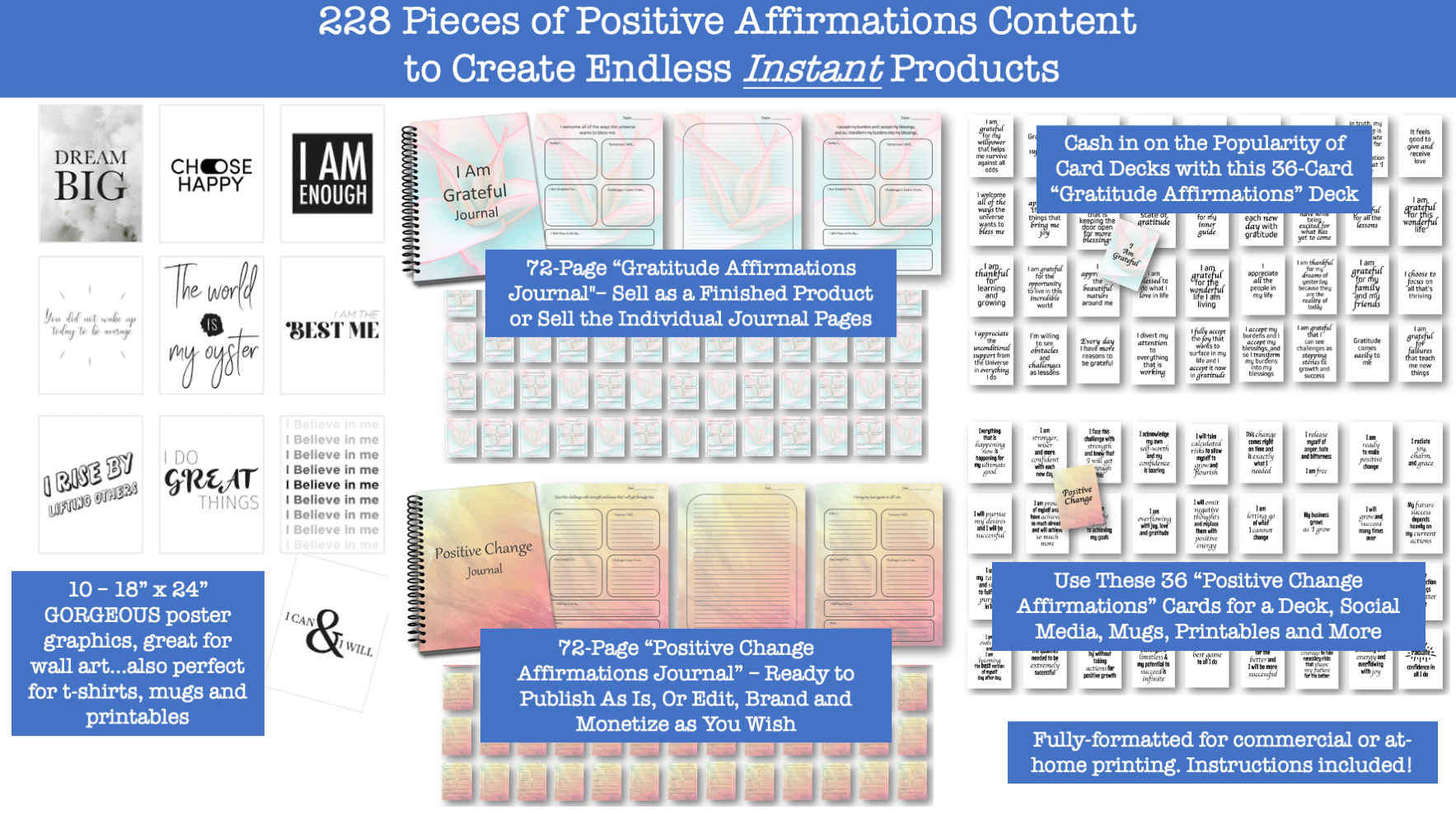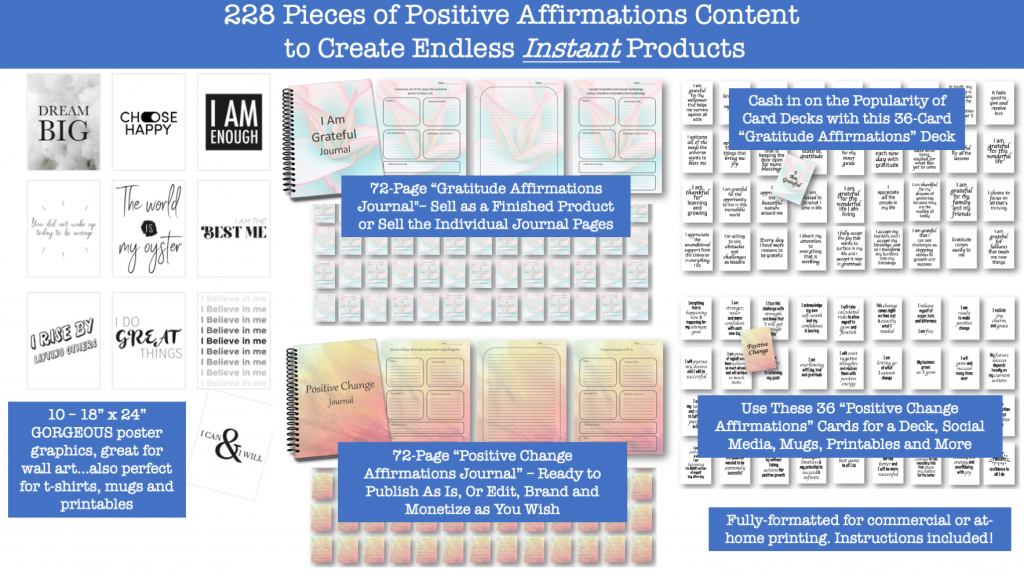 Get our Positive Affirmations EKit as it's at the best price you'll ever get right now…and you can get started with these ideas right away.
Come on by the EKitHub Facebook Group if you need more marketing ideas or help with implementation. You'll find the link on your download page.
ABRR, right? Let us know how we can help.