As you probably know, WHO you are selling to is critical if you want them to buy your products. When you know who you're talking to, it's easier to speak to their problems, fears, desires and give them solutions. And show them how your product is exactly what they're looking for.
Using our brand new Kids Healthy Mindset and Mental Health EKit (it's here if your mission is to help kids become more healthy, if you still need to pick it up) as an example, who could our audiences be?
We're thinking…
* Parents
* Educators
* Care providers
* Mental health professionals
Now, that's a LOT of people who have different concerns and goals. And the temptation might be to speak to all of them…and in a lot of cases you might.
They all have the goal of ensuring kids are confident, reaching their goals and living life with a healthy mindset. So in that case, focus on the benefit to the kids.
You can:
* Share mental health statistics that show how important it is to develop a solid foundation for children. Statistics, facts and data are a great way to illustrate the importance of something and add credibility to what you are trying to say.
* Share stories about inspirational kids and kids who overcame difficulties. It can even be personal stories about your own challenges growing up, raising your kids or working with them in a professional capacity.
* Add inspirational quotes about kids. They give your audience something to think and also lend credibility to what you are trying to say and sell.
Just a few ideas that apply to ANY kind of persuasive content or sales pages you're creating.
Now, if you can also get really clear about who you're promoting to, you can go even deeper to speak to them.
For example, if you use the report in the Kids Healthy Mindset EKit entitled: "Ten Ways to Get More Happy and Healthy", it's suitable for kids and teens. The content itself is geared toward children, but it's unlikely kids will be wondering around the Internet, looking for free reports to download.
So make your sign up page targeted toward parents who might be concerned about their kids well-being. Talk about current times, pandemic challenges and anything else your target audience is dealing with. The parents can download the report and read it themselves or share it with their kids.
Now we know, this sounds like WORK.
That's because getting to know your target audience and speaking to them is work, but it's IMPORTANT work.
And the good news is you can develop these skills over time. As you work with your audience, you WILL learn who they are, what problems they face and how you can help them overcome them.
And the more content and product pages you write, the better you will get at it. It takes practice, so get practicing because the rewards will be so worth it. And that reward is an audience that feels you really understand them and keeps coming back for more.
If you'd like to learn more about the Kids Healthy Mindset and Mental Health EKit, here's a peek…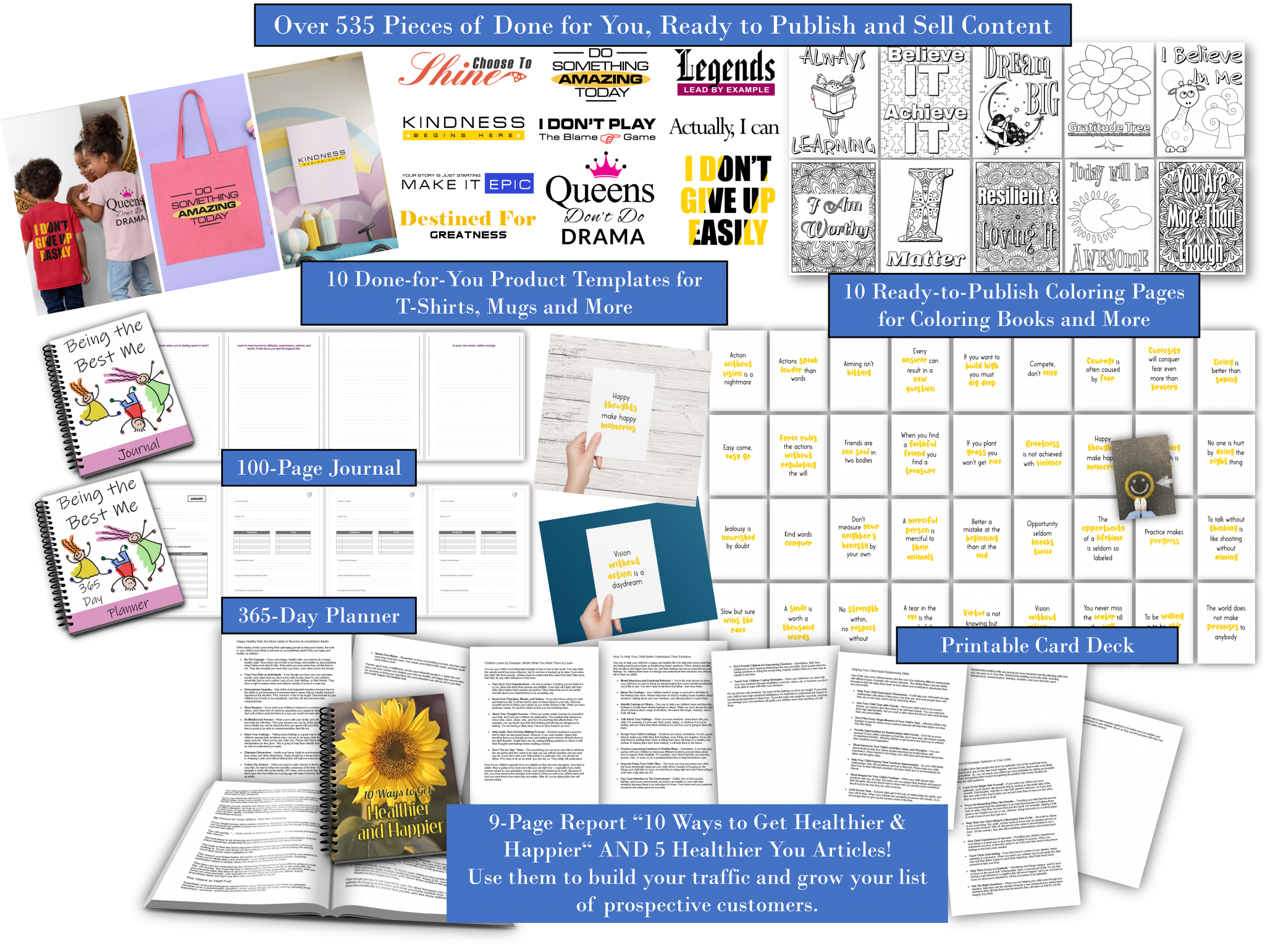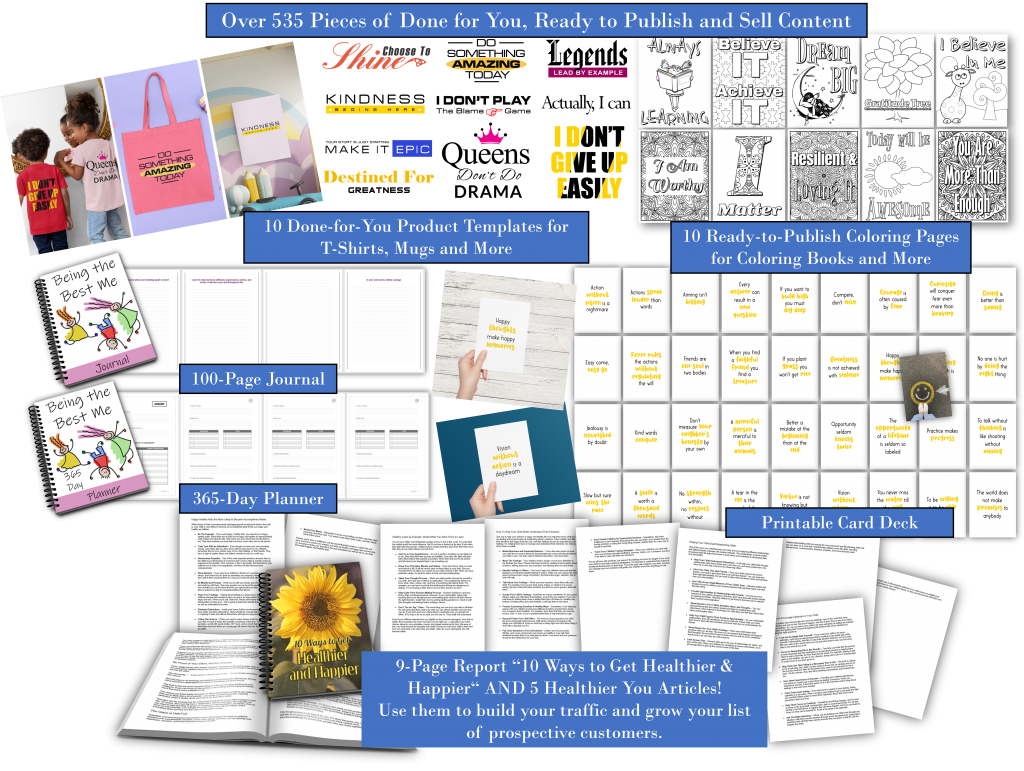 The package includes:
* 9 Page Report: "10 Ways to Get More Healthy & Happy" (.doc)
* Professionally-Designed Ecover Set: .JPG and .PSD with flat cover and 3 x 3D versions to go with the report.
* 5 Articles – for your social media, blog and more.
* 10 Product Templates – create t-shirts, mugs, notebooks, stickers, towels, phone cases and more (.png / PSD)
* 10 Coloring Pages – coloring is a hit with children and adults alike. Use these sheets to generate traffic or create downloadable or print coloring books for sale. (.png / PSD 2550 x 3300 px)
* 100-Page Goal Setting Journal – comes with the Ecover Set. There are two 3d versions with .psd for editing.
* 365-Day Planner – comes with the Ecover Set. There are two 3d versions with .psd for editing.
* 36-Card Printable Card Deck – done-for-you and completely customizable
…and some awesome get-started bonuses and templates, all at a great money and time saving price, if you get it now.
Click here to get yours and start delivering the content and products your audience needs.
It's a ton of content to grow your AUDIENCE and to create INSTANT products with…and help kids develop their self-confidence, reach their goals and have a healthier mindset!