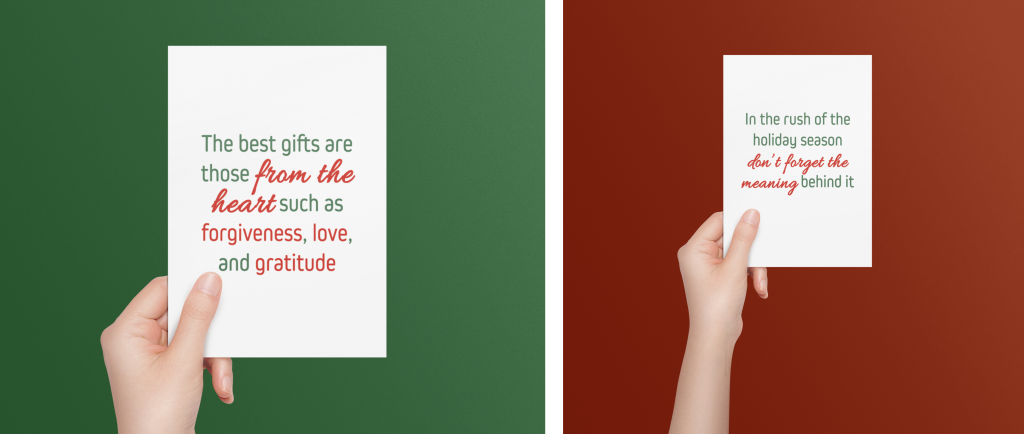 Earlier today, we sent out our FREE Christmas and the Holidays PLR Mini EKit. We had someone say they loved the content, but what the heck do they do with it?
Well, we know if one person is asking, that means plenty of others probably have the same question. So let us help you get this done-for-you content working for you business.
As a recap, here's a peek at the Free Mini EKit…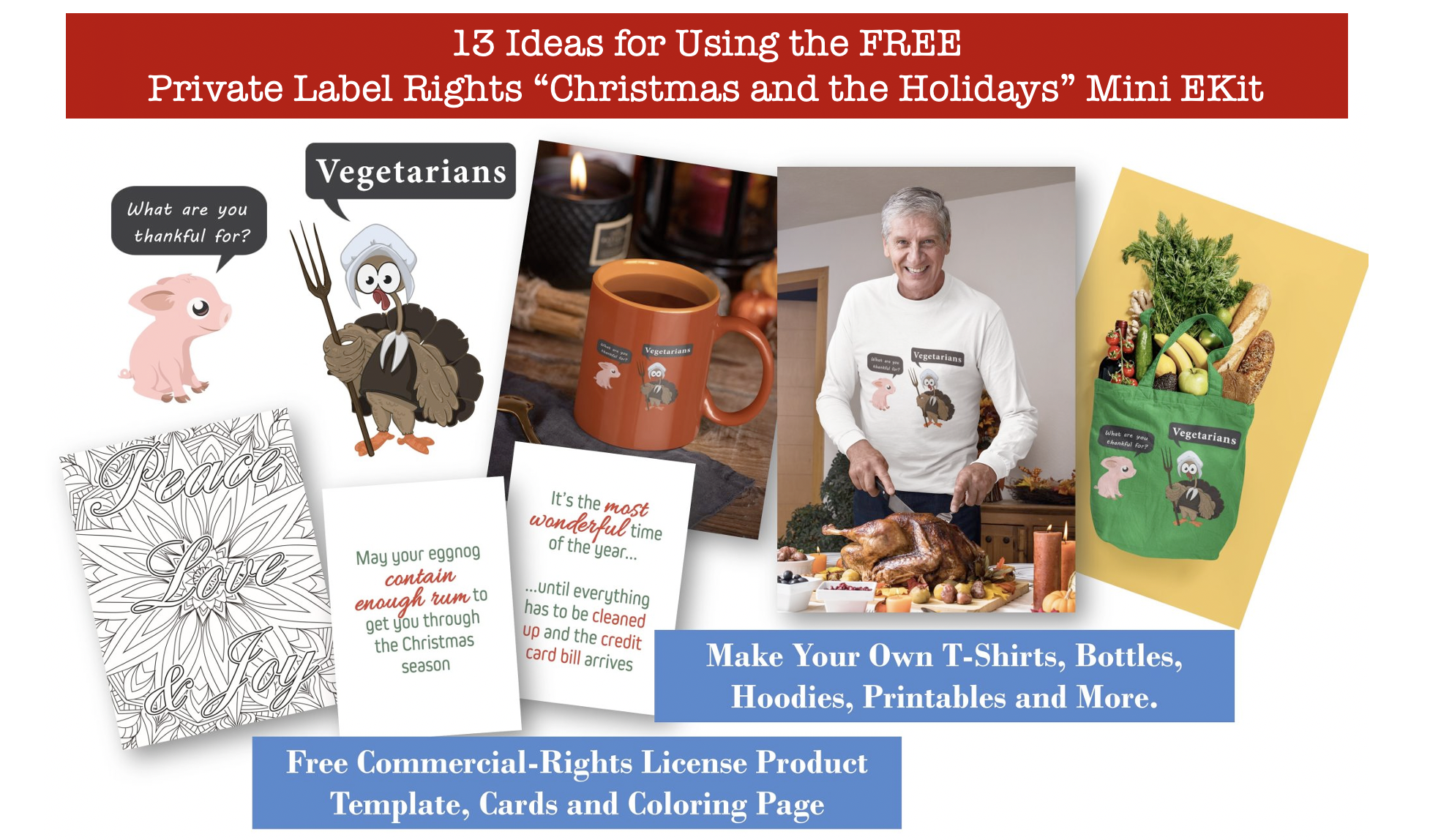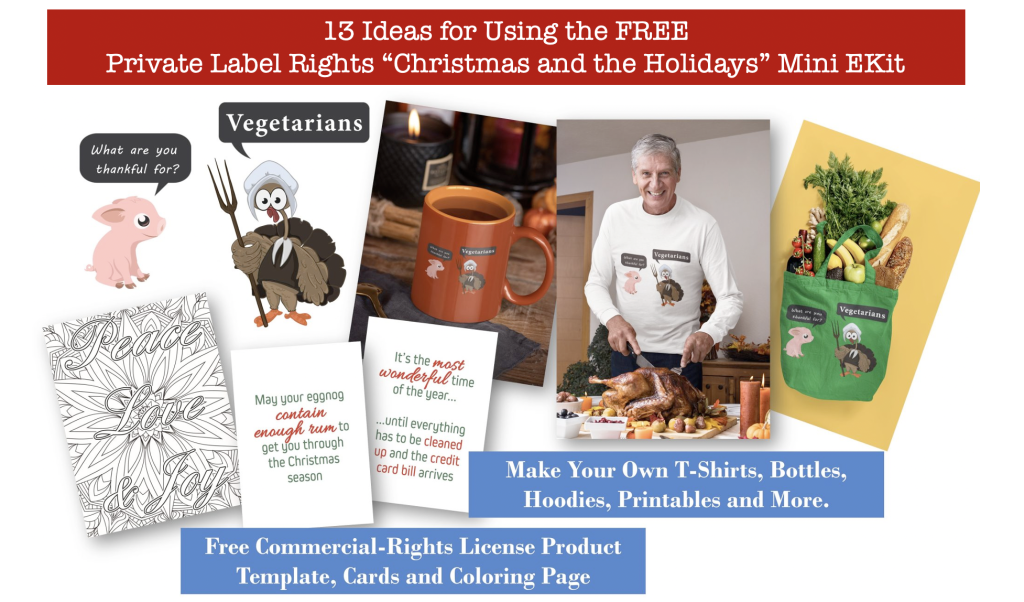 It includes…
* A product template
* Coloring page
* 2 card for your card decks
So let's talk IDEAS…
How to Use the Product Template
* The product template is perfect for mugs, tshirts, tote bags, kitchen towels, etc. All kinds of print-on-demand products you can have made for you with a few clicks of your mouse at sites like Printful and Gooten. You only pay for the products you sell, so there are not upfront costs and they both integrate with a wide variety of ecommerce platforms, including Woocommerce, Etsy and plenty more.
* You can sell those products, but they also make wonderful gifts for your best clients, affiliates, potential partners and more.
* The product template could also be incorporated into your printables as a journal cover, planner dashboard, backside of a card deck, greeting cards and more.
* You can also use the product template on your social media, on your blog, in your emails and more.
We also have plenty of other holiday-themed product template designs in the optional upgrades and add-ons…so we've got you covered to make plenty of products, holiday-themed collections and more.
How to Use the Coloring Page
* Add the coloring page to your existing coloring books or create a new one.
* Give the coloring page away for free. Bundle it up with a few other pages for an attractive opt-in offer.

Add the coloring page to a journal, planner or activity book that you sell or give away.
You can also gets tons more holiday coloring pages if you select any of the upgrades or add-ons, so you can make a more complete coloring or activity book.
How to Use the Cards
* Add these to your existing card decks or use them to build a brand new holiday-themed deck. These cards are fully editable, so you can make new ones from them using Photoshop or a free photo editor like Photopea or Gimp.
* These sayings are also perfect for your mug designs and can be used for other small print-on-demand products.
* Use them as blog post prompts. Post the image and share your thoughts.
* Share them on social media to make your followers smile.
* Print them and hand them out as business cards for the holiday season. Just put your contact / website info on the back.
* Print them out as greeting cards for your clients and colleagues.
And of course, we have plenty more holiday-themed cards you'll see after you add the free mini EKit to your cart. Be sure to take advantage of those special offers, if you can use them.
We hope this has been useful in getting those ideas going. So much you can do with a small free pack of content.
To get started, click here to get your FREE Christmas and the Holidays PLR Mini EKit
If you need a hand at all, come see us in the EKitHub Facebook Group. You'll see the link to the group on your free download page. We're always happy to help!
Your partners in easy product creation,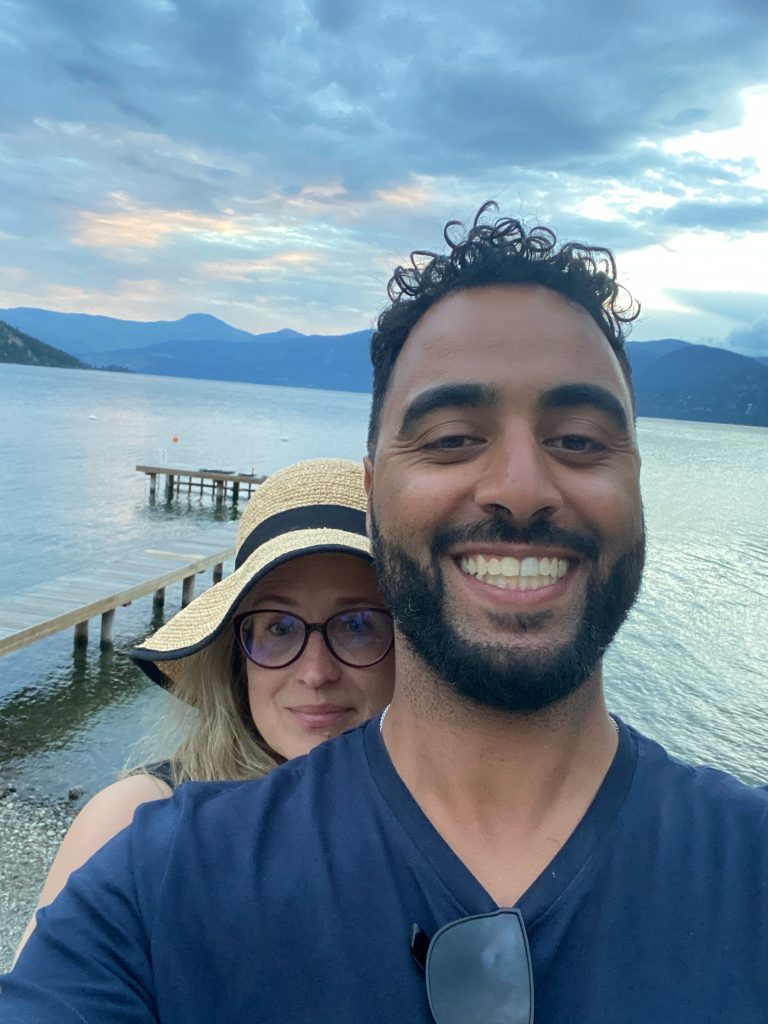 Alice Seba and Yusef Kulan