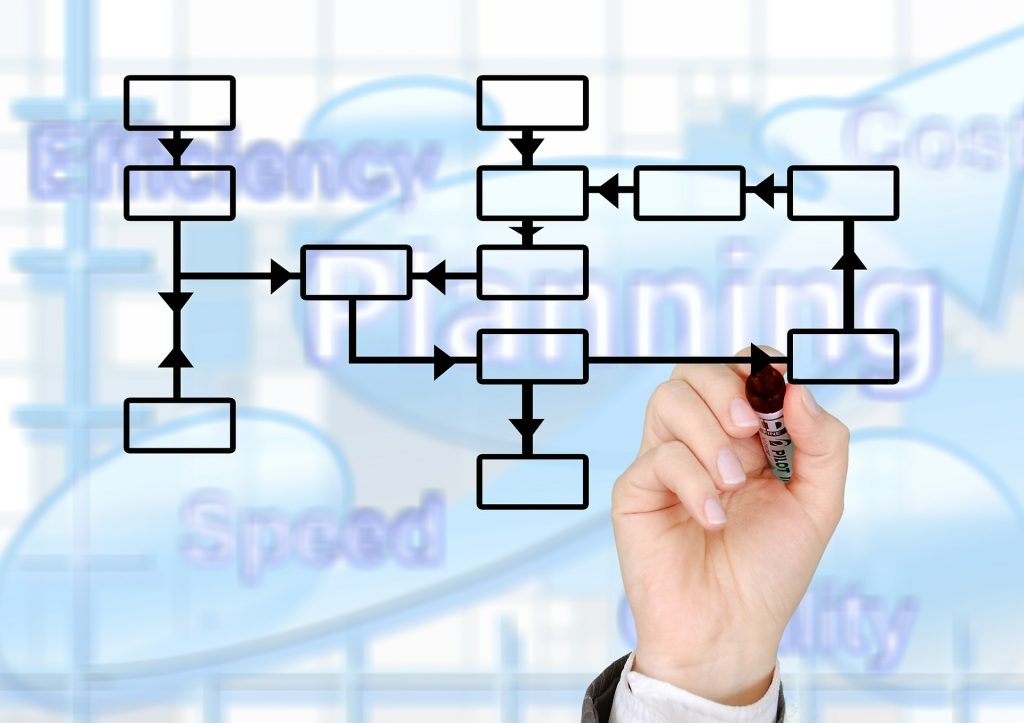 The benefits of done-for-you, private label rights (PLR) content are HUGE. When your content is done for you, you have more time to make a strategic plan for using it.
Let's make a plan on how to use done for you content right here.
If you've got a budget and a solid plan to turn that content into subscribers and paying customers, it's always a good idea to start building the team that can do the various tasks for you. That way, you can stay focused on the higher level tasks (perhaps writing sales copy, schmoozing affiliates and other potential partners, writing promotional emails, building a relationship with your customers, growing traffic).
If you don't have a budget, do the work to start building one. Start by doing the following below, earn some cash and reinvest into setting up more similar offers.
Here's How to Start Turning Your PLR Content into Money
1. Decide what your product is. Maybe a collection of journals or a report, or a journal, card deck, worksheet and checklist bundle. ANYTHING that is a cohesive product that can help your customer achieve a goal, solve a problem, etc. Maybe you'll also add a live class/webinar option to create more urgency for your offer and so your customers are excited to pay a more premium price.
2. Create a high value opt-in offer related to your product. Perhaps any combination of a report, checklist, worksheet, journal page. Just make sure you don't fully solve the problem that your product does. Just give them some tools and information to get them on the right path, with your product being the next logical step.
3. Make sure your thank you page and follow up email series for your opt-in offer promote your product. Keep educating your audience on the topic, so they know they want to buy.
4. Publish and optimize content like articles, snippets from reports, graphics, etc. to start building traffic.
5. Once you have traffic to the offer and see how it performs, you can set up an affiliate program, so others can promote it for you for a commission. You can also start investing in some advertising if the numbers work well too.
Then you can rinse and repeat. Learn what works and what doesn't in your first go at it…and then make your next one that works even better.
And of course, we'd love to help make it easier to implement this with TONS of you done-for-you content.
Get Yourself a Year's Worth of Done-for-You Content to Make it Simple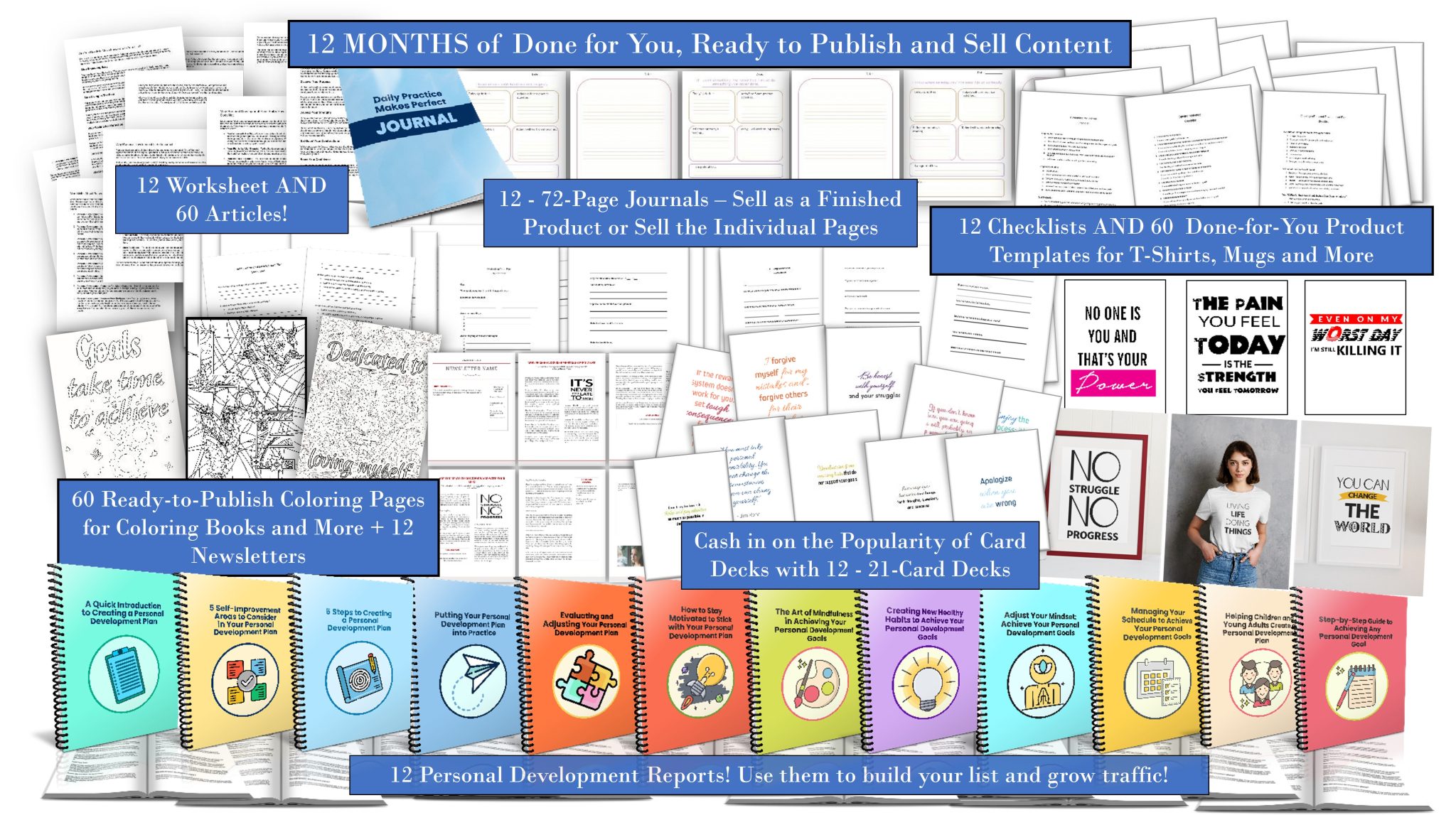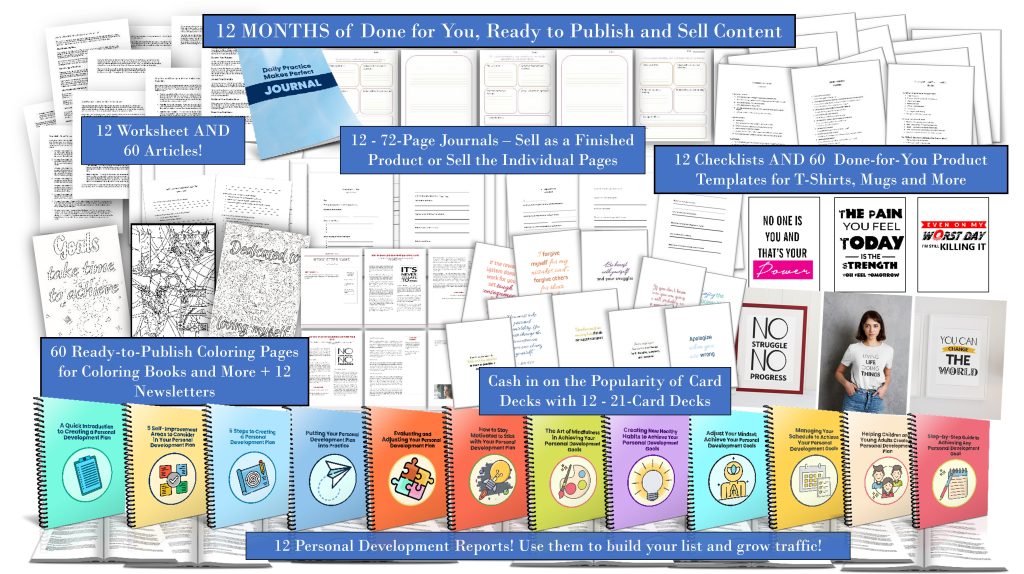 Whether you use our done-for-you products, like our Year's Worth of Personal Development Plan content, someone else's or have your team write your own…you can implement this, but it's much easier when the content is DONE for you.
The main topic is of this Year's Worth of Content EKit is Creating and Executing a Personal Development Plan and it's divided into the following 12 sub-topics, giving you so much content to work from to create many offers throughout the year.
The topics include:
A Quick Introduction to Creating a Personal Development Plan
5 Self-Improvement Areas to Consider in Your Personal Development Plan
5 Steps to Creating a Personal Development Plan
Putting Your Personal Development Plan into Practice
Evaluating and Adjusting Your Personal Development Plan
How to Stay Motivated to Stick with Your Personal Development Plan
The Art of Mindfulness in Achieving Your Personal Development Goals
Creating New Healthy Habits to Achieve Your Personal Development Goals
Adjust Your Mindset: Achieve Your Personal Development Goals
Managing Your Schedule to Achieve Your Personal Development Goals
Helping Children and Young Adults Create a Personal Development Plan
Step-by-Step Guide to Achieving Any Personal Development Goal
And here are the individual content pieces included…
12 Personal Development Reports
12 x Professionally-Designed Report Ecover Sets
 60 Articles
 12 Printable Newsletters
 60 –  18″ x 24″ Posters/Product Templates
 60 x 5 Coloring Pages
12 x 72-Page Journal 
12 x Professionally-Designed Journal Ecover Sets
12 x 21-Card Printable Card Decks
12 Personal Development Worksheets
12 Personal Development Checklists
There are also a couple of options, depending on your budget…and YES, even an option to download all 12 month's worth of content INSTANTLY.
Click here for for the best price.
You won't believe the value we've put together for you, so you can get growing that business!
To your publishing success,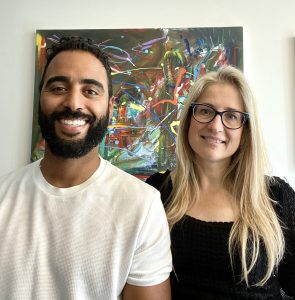 Yusef Kulan and Alice Seba
Your Partners in Easy Product Creation at EKitHub.com