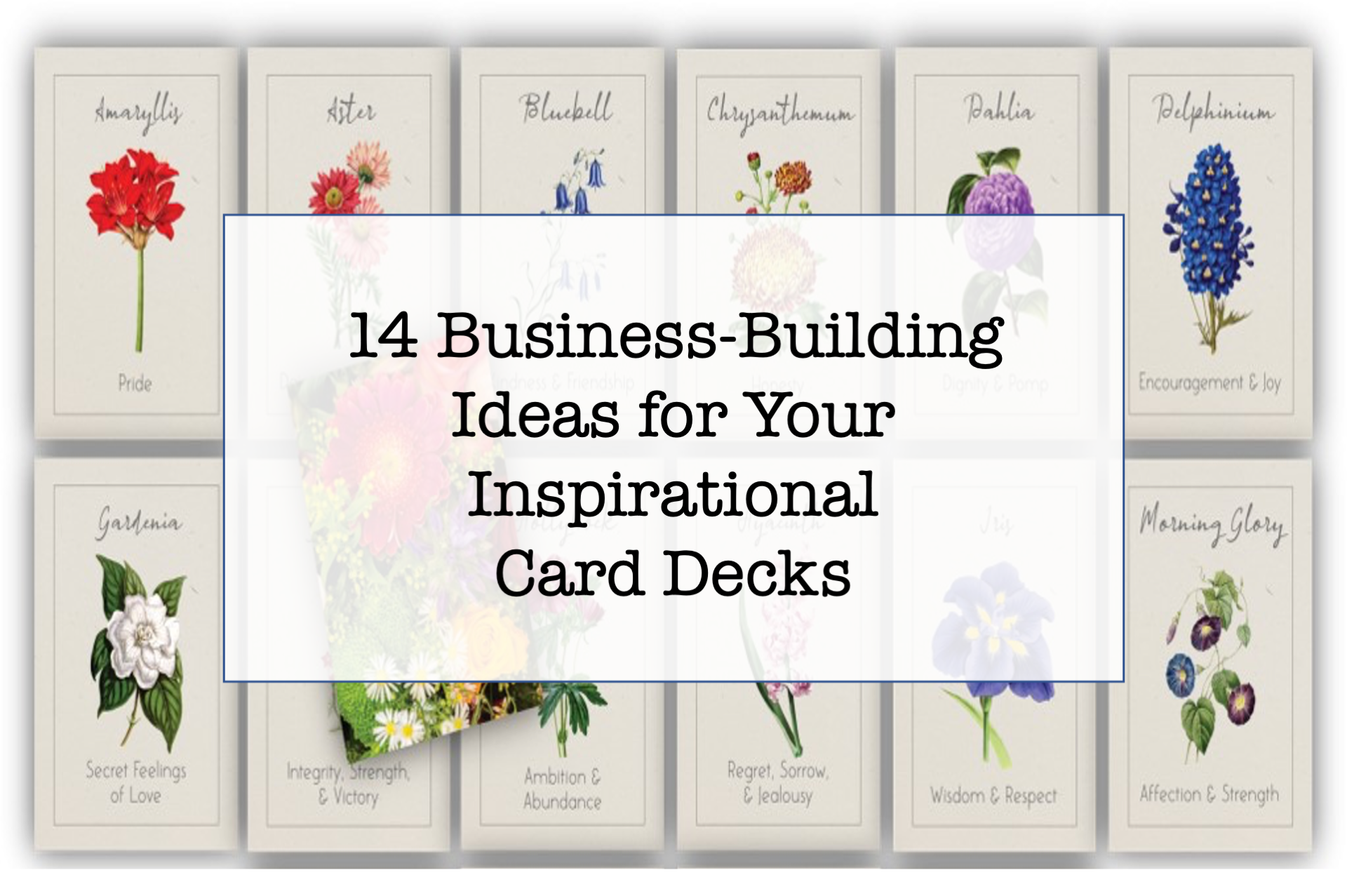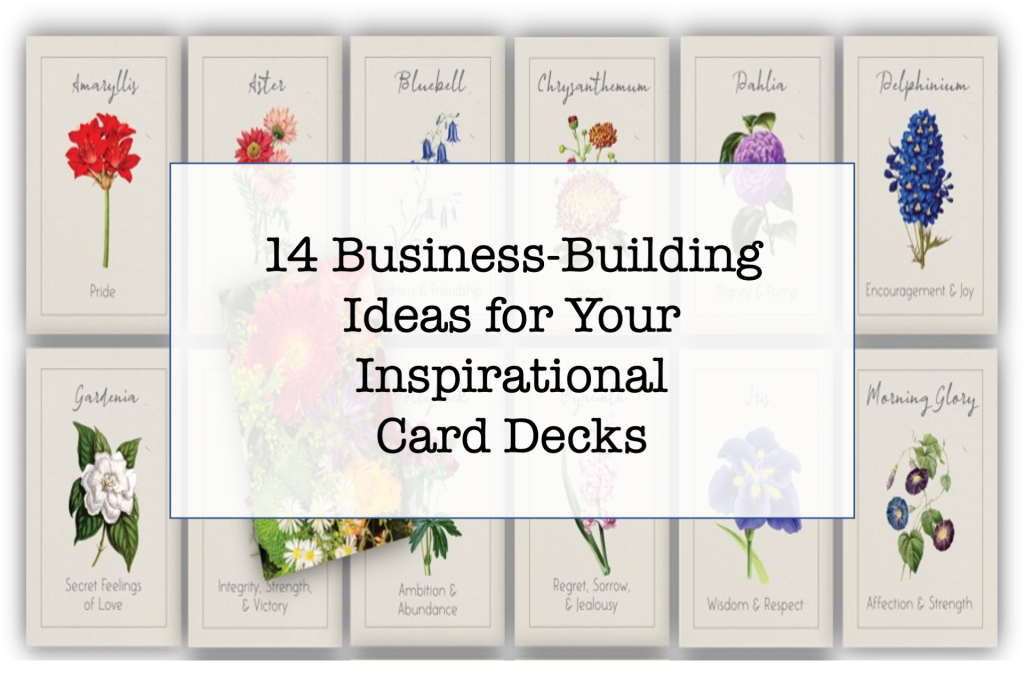 As you may know by now, inspirational card decks are hot selling products online. They're card decks that usually contain sayings, offer some encourage or include a personal development exercise…and they're selling like hotcakes on Amazon, Etsy and more.
But if you've designed card decks or use some of our done-for-you designs, there are so many profitable things you can do with your cards.
And in fact, we have 14 business-building ideas for you.
And psst, these ideas are great to put into practice with our Ultimate Card Deck Platinum EKit that has 8 BRAND NEW card decks and additional audience-building content.
If you don't have it yet, we highly recommend you grab it here as it will save you tons of time and money getting your own card decks published.
14 Business-Building Ideas for Your Card Decks
Now for 14 Creative Business-Building Ideas for Your Decks:
Print and ship card decks for sale through a print-on-demand service. You can use a print-on-demand service like Vervante…our cards are designed to print with them and we've included the instructions.
Sell them as printable decks. Customers can print at home or use some of the easy-to-use online services like GameCrafter, MakePlayingCards and more.
Give the downloadable deck for free, in return for signing up for your list. Now you've got a list of customers interested in your topic and printables…so run with it.
Use them as social media posts and they look awesome in stories, as we've seen a number of our customers do.
Use them as a writing prompts for your blog or social media. Post the image and write your thoughts. Easy peasy interesting and eye-catching content. Or post the image and ask your followers to share what comes to mind.
Print the cards yourself and include them with packages, cards, letters, etc…to personal contacts and clients.
Add your branding, especially to cards you give out for free. You can add your logo on the back side. Or treat them like business cards and include your full contact info.
Create a "challenge" from the cards. For example, a 36-Day Healthier Me Challenge where people opt-in and each day you post a graphic. You can leave it open-ended how they participate or give them a specific instruction to go with each card.
Create a coaching program around the cards…or incorporate them into your existing coaching programs. The best programs include ACTION and a card deck is a great way for them to start applying what they learn from you.
Send a printed deck to your best clients. And if they're super special, perhaps throw in a journal and/or planner too.
Create videos from the cards. It could be inspirational quotes with music. Or use it much like the writing prompts. Share the card and speak your thoughts.
Use them for mugs or other print-on-demand products. These can be for sale or use many of the above suggestions for clients, coaching programs, etc. Add your branding to these gifts.
Incorporate them into your presentations and slide shows for a more meaningful and memorable experience for your audience. Quotes and other thought-provoking sayings can add credibility to your presentation as well.
Make booster packs for your current customers. If they already purchased a deck, use some new cards as a booster they can purchase to bulk up their deck.
And to Save Time and Money Implementing These Ideas…
We recommend picking up our specially priced Ultimate Card Deck Platinum Ekit. Have a look…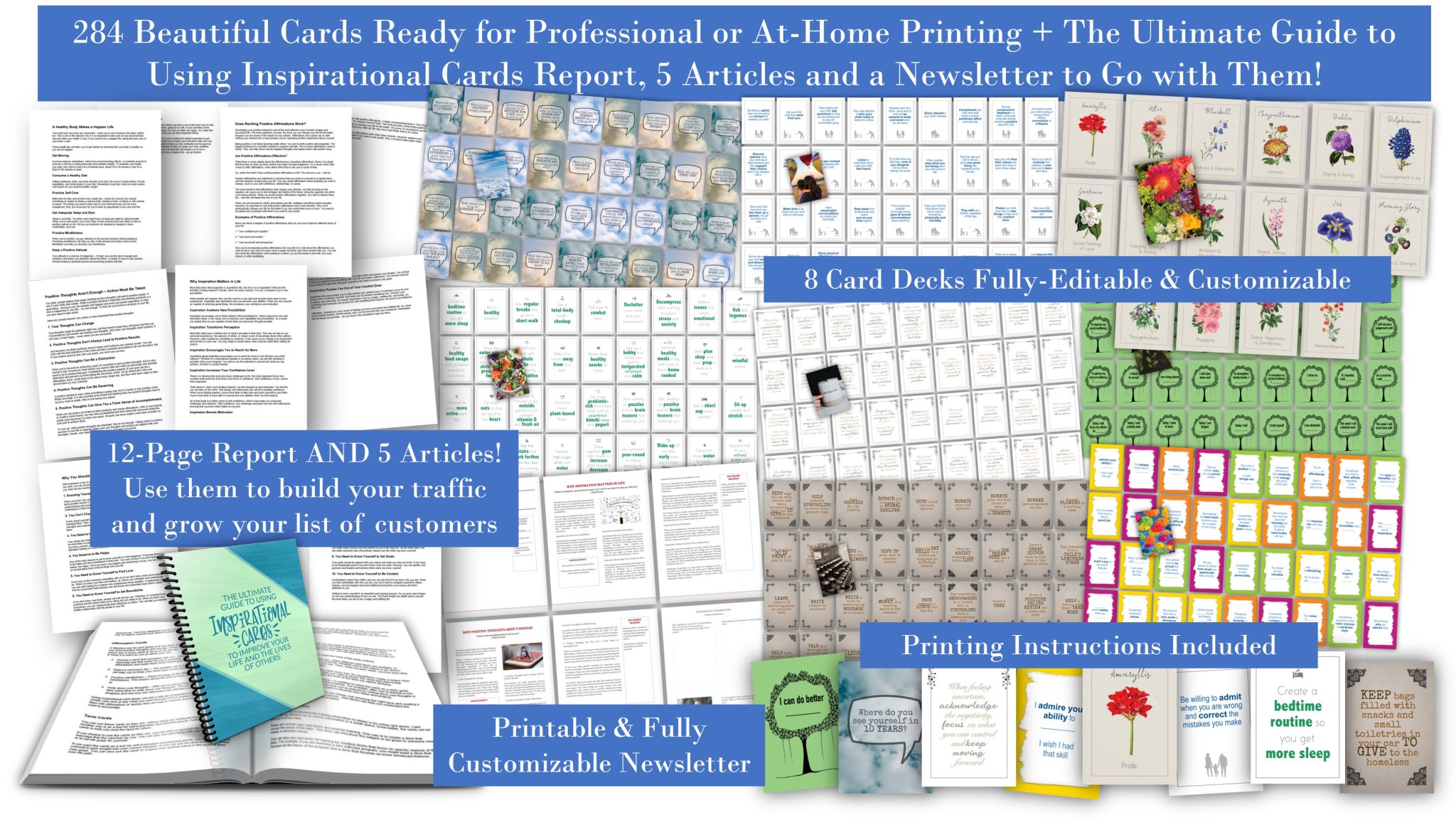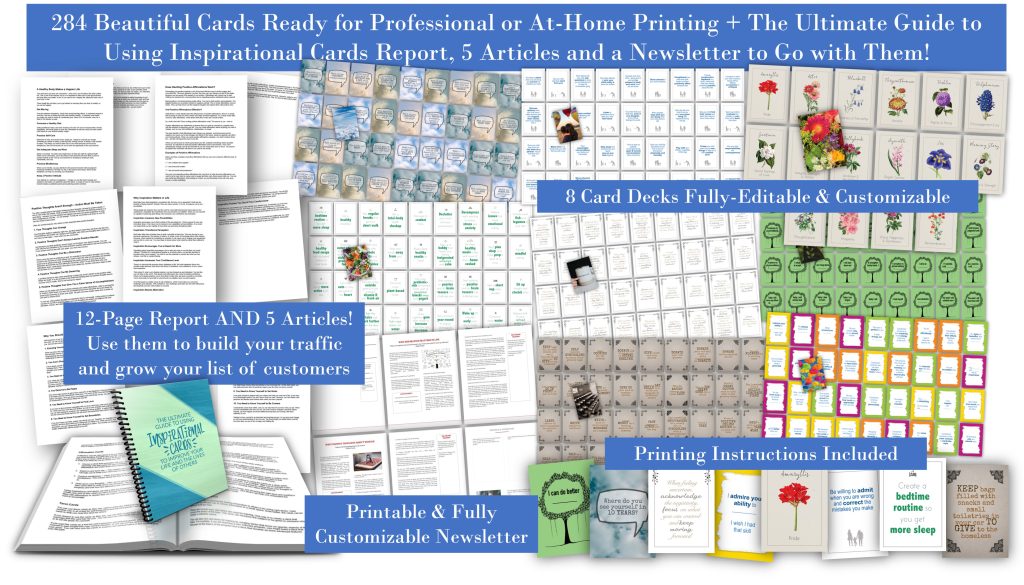 This specially priced EKit includes:
Fill-in-the-Blank Inspirational Card Deck
Turning Negative Thoughts into Positive Actions Card Deck
Getting to Know You Card Deck
Random Acts of Kindness Card Deck
The Sincere Compliments Card Deck
Be a Better Parent Card Deck
36 Days to a Healthier Me Card Deck
The Meaning of Flowers
A report to share the love of inspirational card decks
5 inspirational articles
Printable newsletter
Click here to get yours at special pricing while you still can
And be sure to look at the optional upgrade. 16 MORE beautiful card deck designs + double the audience-building content is waiting for you.
Go grab yourself a GREAT deal!
To your publishing success,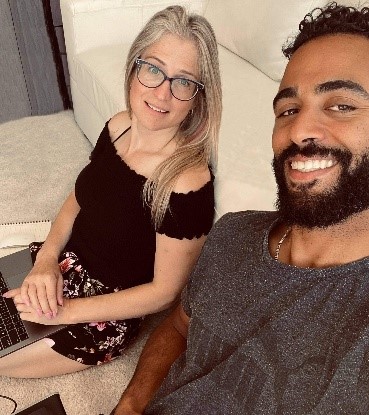 Yusef Kulan and Alice Seba
Your Partners in Easy Product Creation at EKitHub.com