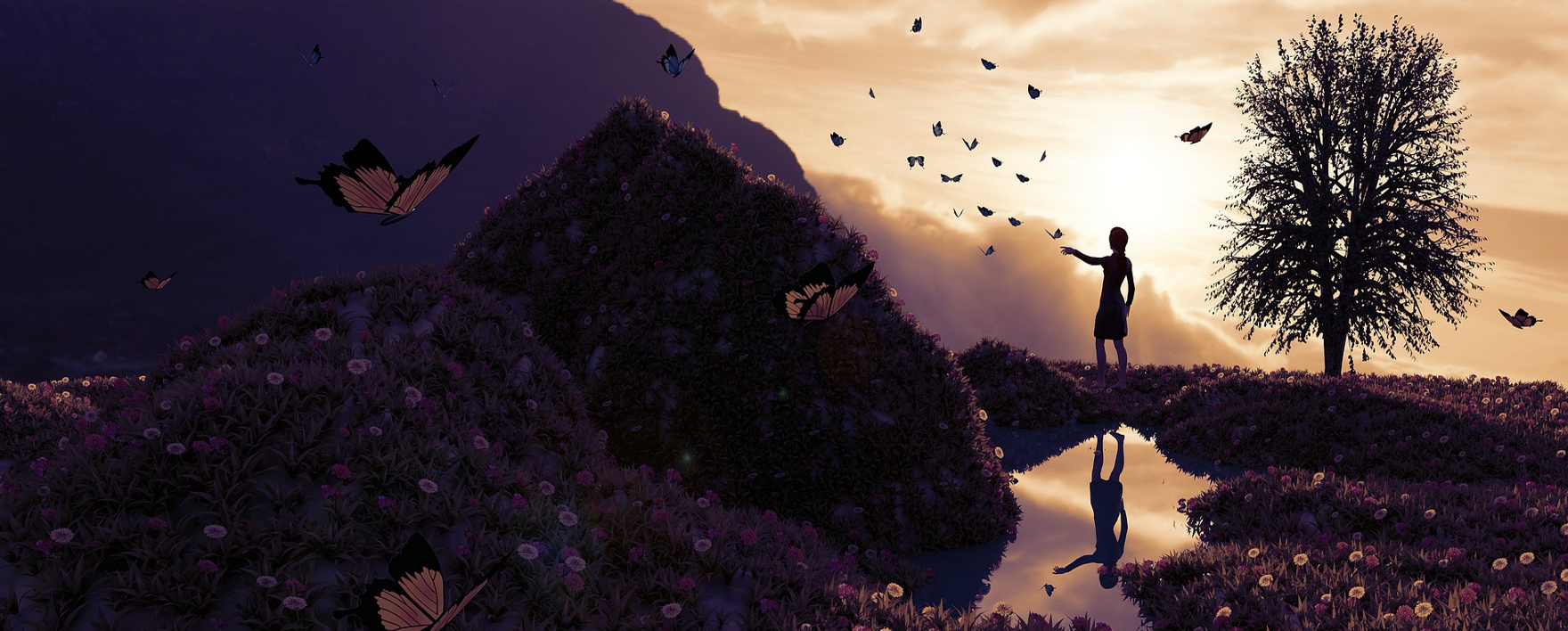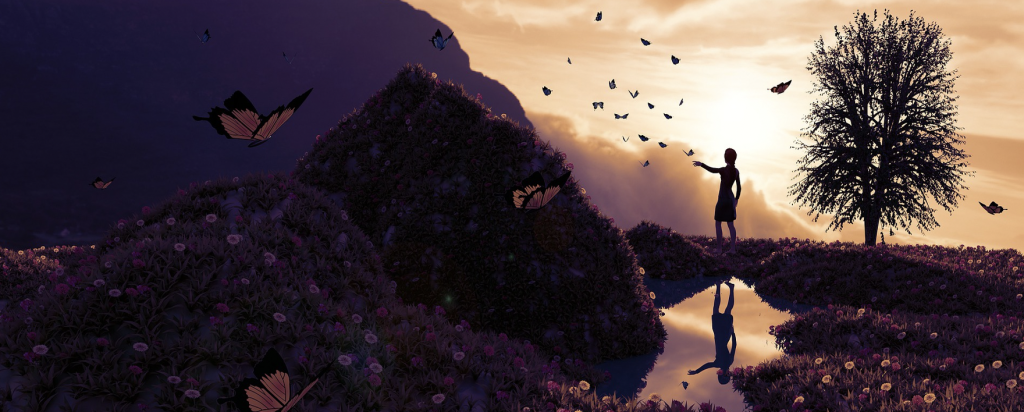 If you're looking for quotations to use for yourself or to use on social media or in your printables for sale, we've got you covered. Here are 25 design your dream life quotes that are perfect for helping your audience find that dream life for themselves.
You are most welcome to copy and paste this collection and use them in your own writing, printable creation or share them with your clients.
Copy-Paste Design Your Dream Life Quotes
These design your dream life quotes can inspire you and/or your customers and clients to seek out your dream life. You can use them on your blog, as a writing prompt, add them to your books, printable products and more.
And, of course, the credit goes to those quoted. We've just created the collection for you to use. If you're looking for more done-for-you content on the topic of living your dream life, go here for a special offer on our Creating Your Dream Life with Your Own Vision Board.
"Start where you are. Use what you have. Do what you can." – Arthur Ashe
"Dream as if you'll live forever, live as if you'll die today." – James Dean
"You don't have to see the whole staircase, just take the first step." – Martin Luther King, Jr.
"The only thing that will stop you from fulfilling your dreams is you." – Tom Bradley
"The future belongs to those who believe in the beauty of their dreams." – Eleanor Roosevelt
"You are never too old to set another goal or to dream a new dream." – C.S. Lewis
"Dream no small dreams for they have no power to move the hearts of men. "– Johann Wolfgang von Goethe
"Yesterday is but today's memory, tomorrow is today's dream." – Kahlil Gibran
"To accomplish great things, we must not only act, but also dream; not only plan, but also believe." – Anatole France
"There is only one thing that makes a dream impossible to achieve: the fear of failure." – Paulo Coelho
"Remember to celebrate milestones as you prepare for the road ahead." – Nelson Mandela
"If you take responsibility for yourself, you will develop a hunger to accomplish your dreams." – Les Brown
"I have had dreams, and I've had nightmares. I overcame the nightmares because of my dreams." – Jonas Salk
"Amateurs sit and wait for inspiration, the rest of us just get up and go to work." – Stephen King
"Do not be embarrassed by your failures, learn from them and start again." – Richard Branson
"If you are not willing to risk the usual, you will have to settle for the ordinary." – Jim Rohn
"Never give up on a dream just because of the time it will take to accomplish it. The time will pass anyway." – Earl Nightingale
"A year from now you may wish you had started today." – Karen Lamb
"The indispensable first step to getting the things you want out of life is this: decide what you want." – Ben Stein
"A journey of a thousand miles must begin with a single step." – Lao Tzu
"You Can Never Cross the Ocean Unless You Have the Courage to Lose Sight Of The Shore." – Christopher Columbus
"If You Want Something You Never Had, You Have to Do Something You've Never Done." – Thomas Jefferson
"The Distance Between Your Dreams and Reality Is Call Action." – Ben Francia
"Nobody Is Too Busy, It's Just a Matter Of Priorities." – Unknown
"All your dreams can come true if you have the courage to pursue them" – Walt Disney
Looking for Some Done-for-You Create Your Dream Life Content? Get a Special Offer on our Dream Life EKit Now…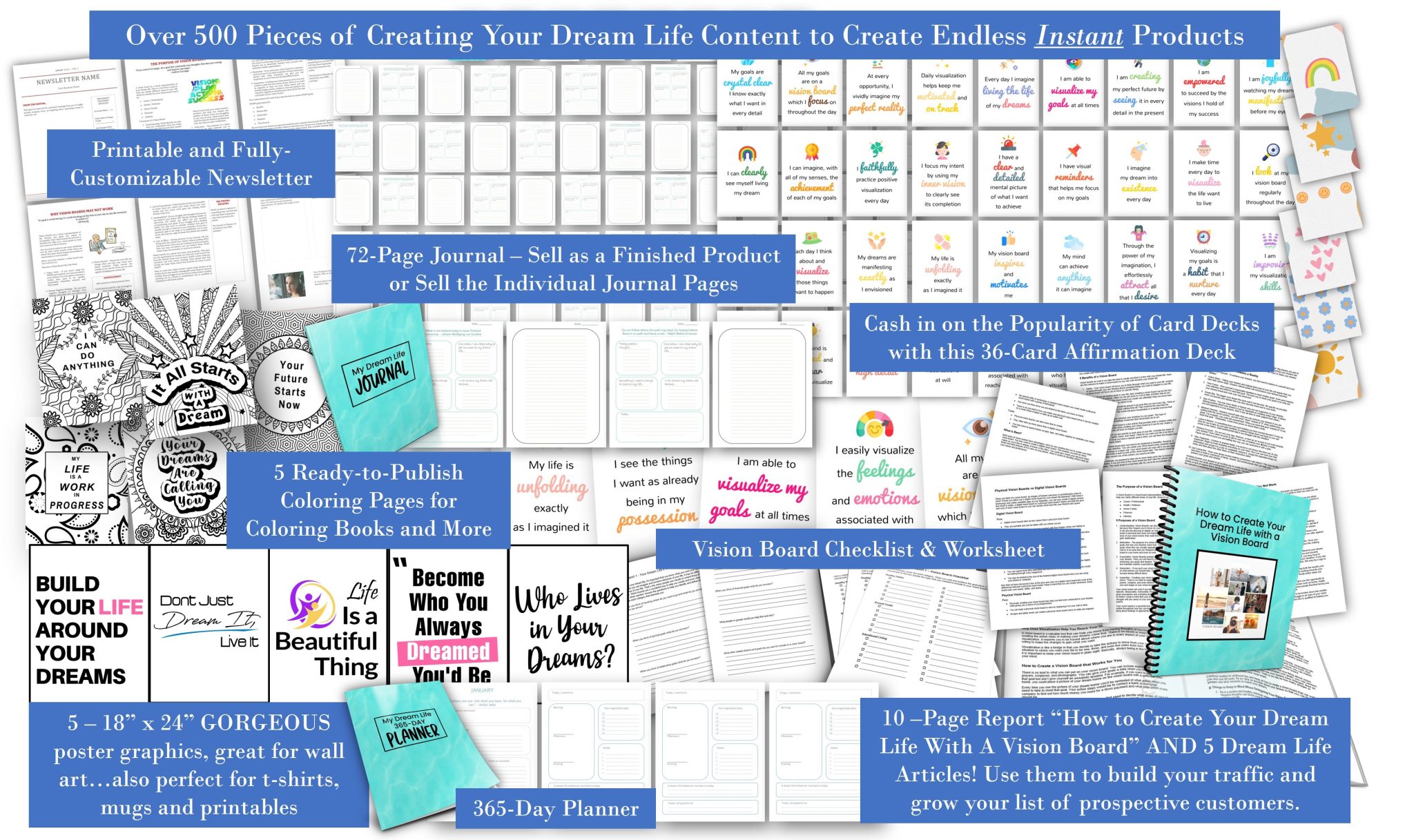 If you didn't know it already, EKitHub specializes in fully-editable, done-for-you content that you can brand, monetize and publish as your own…and one of customers' favorites is our Creating Your Dream Life with Your Own Vision Board EKit.
If you browse through our EKit collection from our website, you'll see this one available at regular price. But as a thank you for checking out our blog post, here is a link to a special price for this EKit.
In this package, you'll find:
10 Page Report: "How to Create Your Dream Life With A Vision Board" (.docx) (10 pages/ 5,003 words)
Professionally-Designed Ecover Set: JPG and PSD with flat cover and 4 x 3D versions to go with the report.
Worksheet: "Your Dream Life's Vision Board" (.docx) (2 pages / 181 words)
Checklist: "Your Vision Board" (.docx) (4 pages / 197 words)
5 Articles – for your social media, blog and more. (6 pages / 2,710 words)
Newsletter: fully editable newsletter in .docx format includes 2 of the articles in this EKit and includes plenty of space for your personal thoughts
5 – 18″ x 24″ Poster Graphics – for wall art, mugs, t-shirts, social media, book covers, inserts…and more.
72-Page "My Dream Life Journal " – (.pptx) Sell as a Finished Product or Sell the Individual Journal Pages
Professionally-Designed Ecover Set: JPG and PSD with flat cover and 4 x 3D versions to go with the Journal.
365-Day Planner – (.pptx) 1 year (365-day / 397-page) planner that is ready to sell.
Professionally-Designed Ecover Set: JPG and PSD with flat cover and 4 x 3D versions to go with the Planner.
36-Card Printable Affirmation Card Deck – Card Deck with fully editable cards. They come formatted for commercial or at-home printing. Instructions included.
5 Coloring Pages – coloring is a hit with children and adults alike. Use these sheets to generate traffic or create downloadable or print coloring books for sale. (PNG / PSD 2550 x 3300 px)
Go here to get all the inside peeks and a bunch of ideas for putting this content to work for your business.
Click here to get yours at a special price now.
Just do it quickly…we're offering this specially priced package for a limited time.
To your publishing success,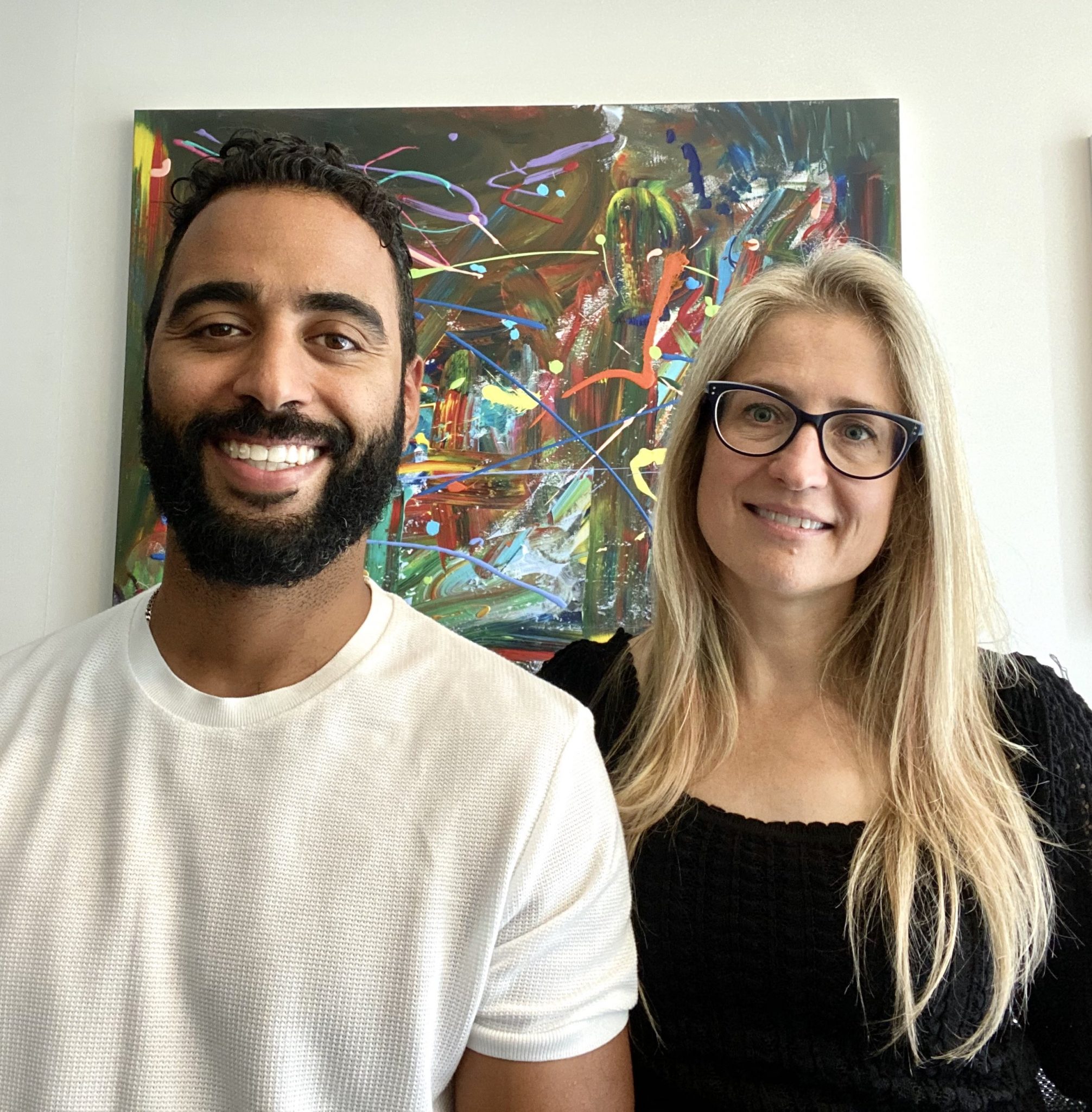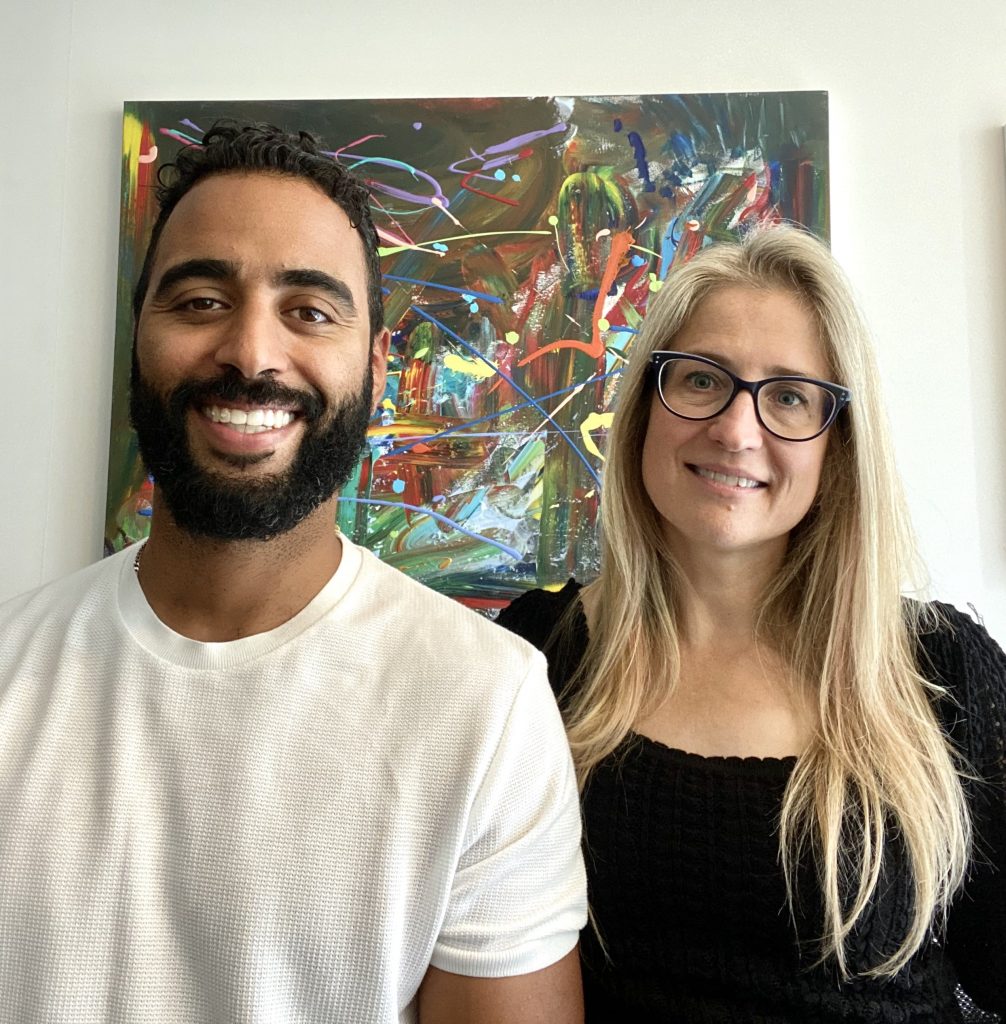 Yusef Kulan and Alice Seba
Your Partners in Easy Product Creation at EKitHub.com