Click here to subscribe to our YouTube Channel
Inspirational poster graphics are certainly popular around the Internet. You see them on social media, used on merchandise and other products, incorporated into printables and more. They're attractive and they have inspirational sayings that audiences love.
But how you can YOU use inspirational graphics in your business? We've got 11 ideas to use and repurpose poster graphics…PLUS, 7 rock solid strategies to make sure you are using them to GROW your business.
After all, there is no point in publishing all this content or creating products…if no one is paying attention.
So let's get you started on the right foot…
11 Ways to Use and Repurpose Inspirational Graphics
Here at EKitHub, we make a lot of inspirational poster graphics for our customers. They can publish them as is or edit them as they wish, add their branding and more. In fact, we have a pretty impressive collection you can pick up for a great price here.
Here are 11 ways our customers use inspirational graphics…and we'll talk about each in depth, including examples, so keep reading to make the most of this tutorial.
#1: Wall Art Shipped to the Customer
#2: Printable Wall Art (Customer Prints)
#3: Create other Print-on-Demand Merchandise
#4: Social Media Posts
#5: Social Media Stories
#6: In Your Books, Reports and More
#7: Use Them as Writing or Speaking Prompts
#8: Use Them As Journal Covers, Planner Covers
#9: Give Them Away as a Free Printable Download
#10: Turn Them into Coloring Pages
#11: Add Them To Presentations, Video and Classes
Now let's talk about each one…
#1: Wall Art Shipped to the Customer: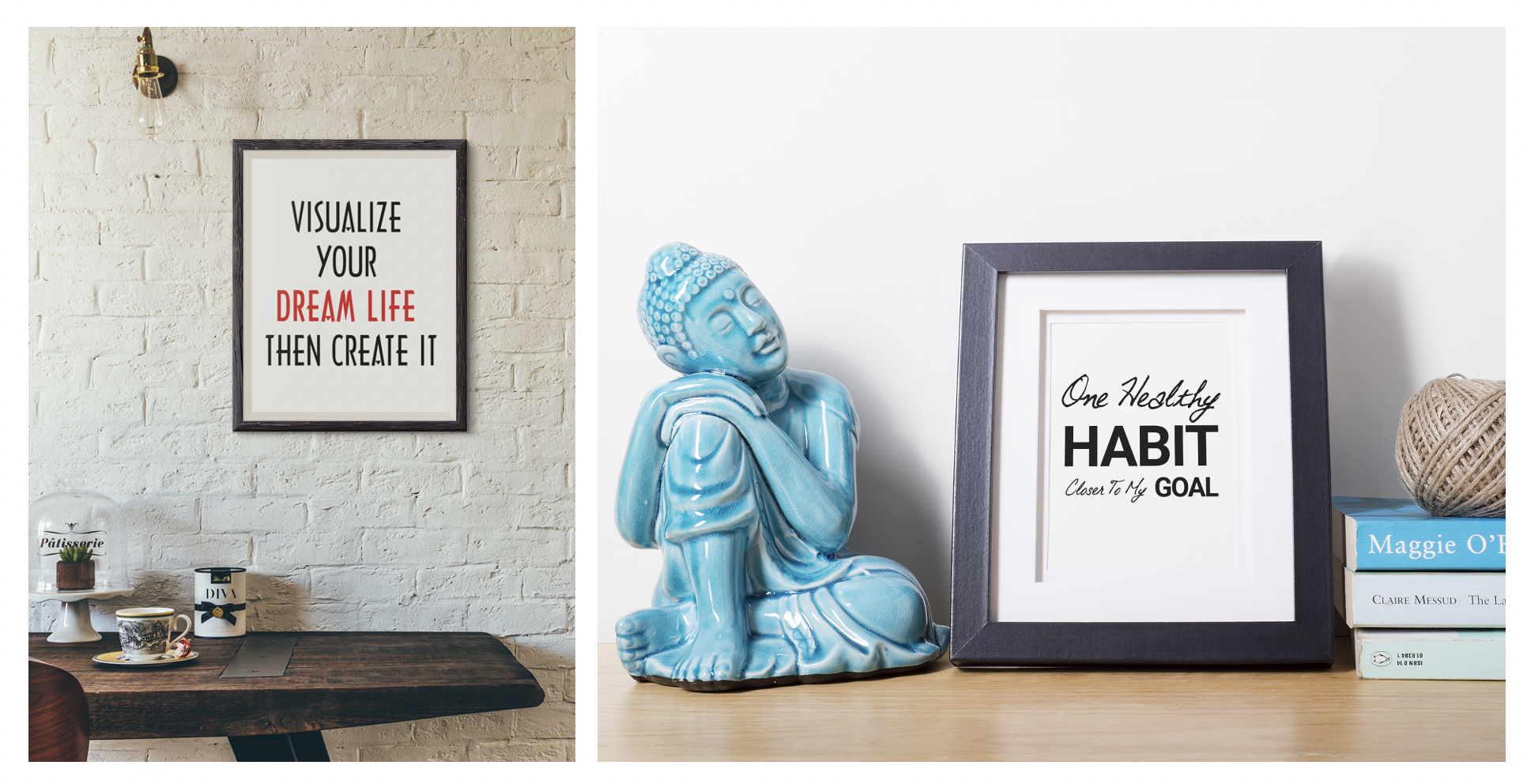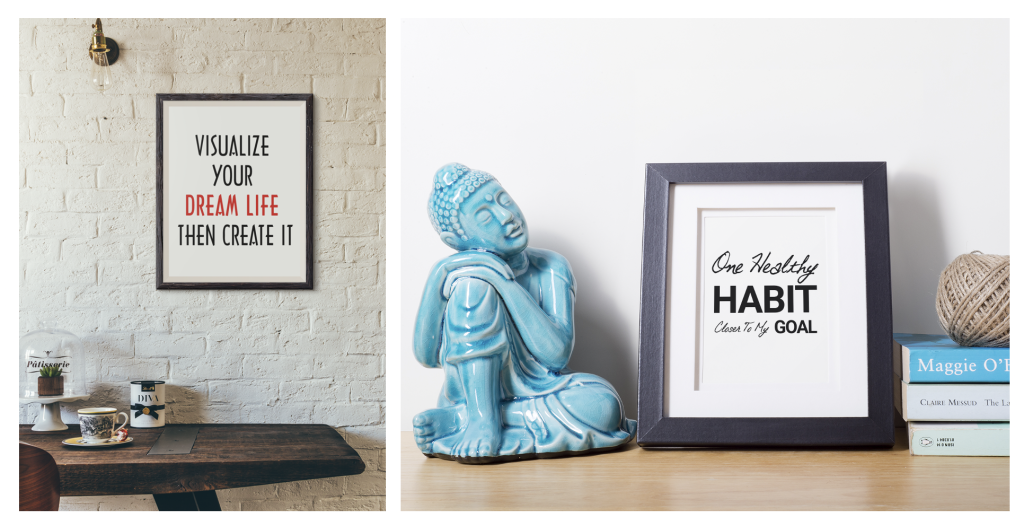 Inspirational wall art is big business these days and if you've got a design ready (like the ones we create for you – they're ready to publish), you can have your own products for sale FAST.
All you have to do is create an account at Gooten or Gelato and they can ship out framed art or canvases for you. Plus, you only pay when you make a sale, so you don't have to pay for a bunch of inventory or have big start up expenses.
#2: Printable Wall Art (Self-Printed by the Customer):


If you don't want to mess with print-on-demand (but it is really easy), you can keep your wall art products completely digital. If you look at Etsy you'll see many sellers with printable wall art that their customers print themselves…and they're HUGE sellers.
Your customers could print at home or use a variety of local or online printing services to create their wall art. Digital options means the customer usually gets a better price and they can also come back to buy more prints regularly anytime they want to change their decor, send a gift, etc.
#3 Create Other Print-on-Demand Merchandise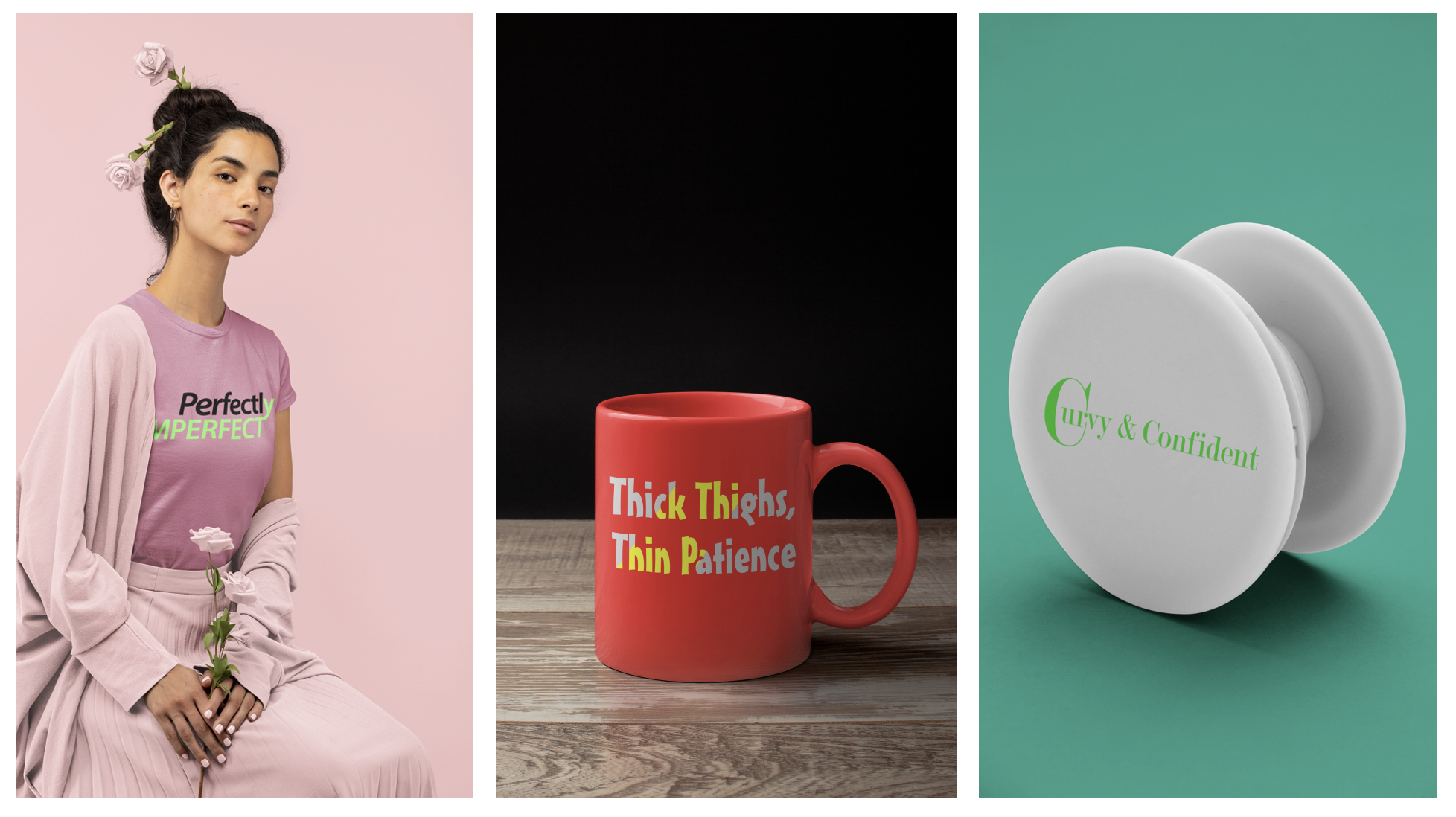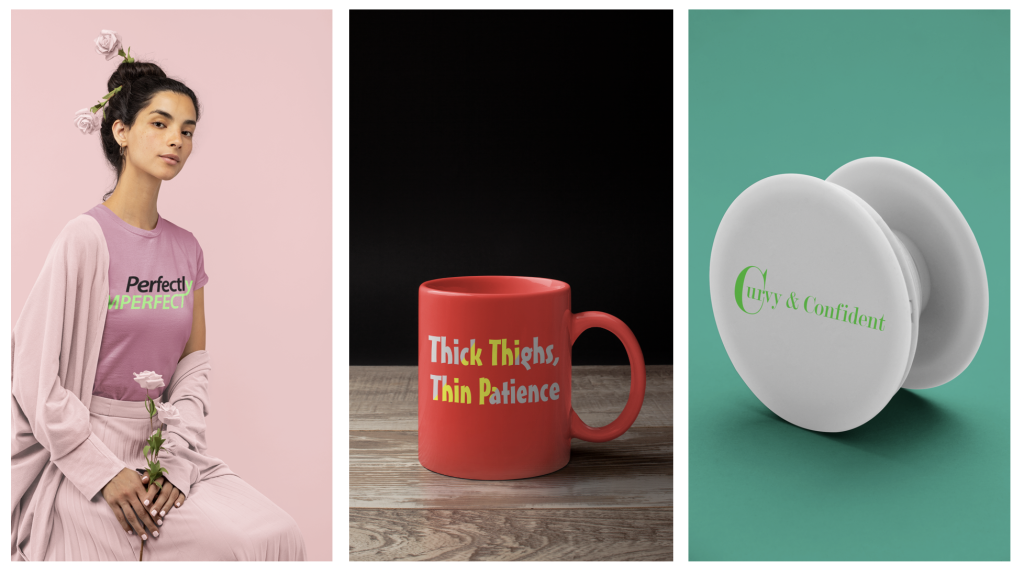 These graphics can easily be repurposed to create other merchandise like mugs, tshirts, magnets, phone cases, phone grips and more. You can also use print-on-demand services like Gooten, Gelato or one of our favorites, which is Printful.
You can make these as products for sale, use them as client gifts, bonuses or prizes. Plenty of options!
Not interested in selling merchandise? There are TONS more options….
#4: Social Media Posts


And of course, these would look fabulous on your social media and are perfect for sharing. You can easily crop and resize for the platform you need. Be sure to include your thoughts about the saying and why you're sharing it. You can also add your branding or promotion…whatever is relevant to your post.
Remember, if you're offering these as posters or other products for sale…this type of content is a good promotion for your product for sale. Plus, the thoughts you share about the saying can be incorporated into your product sales pages as well. Use and reuse this type of content in a variety of places. You've put some thought into it and done the work…use it to your full advantage!
#5: Social Media Stories and Reels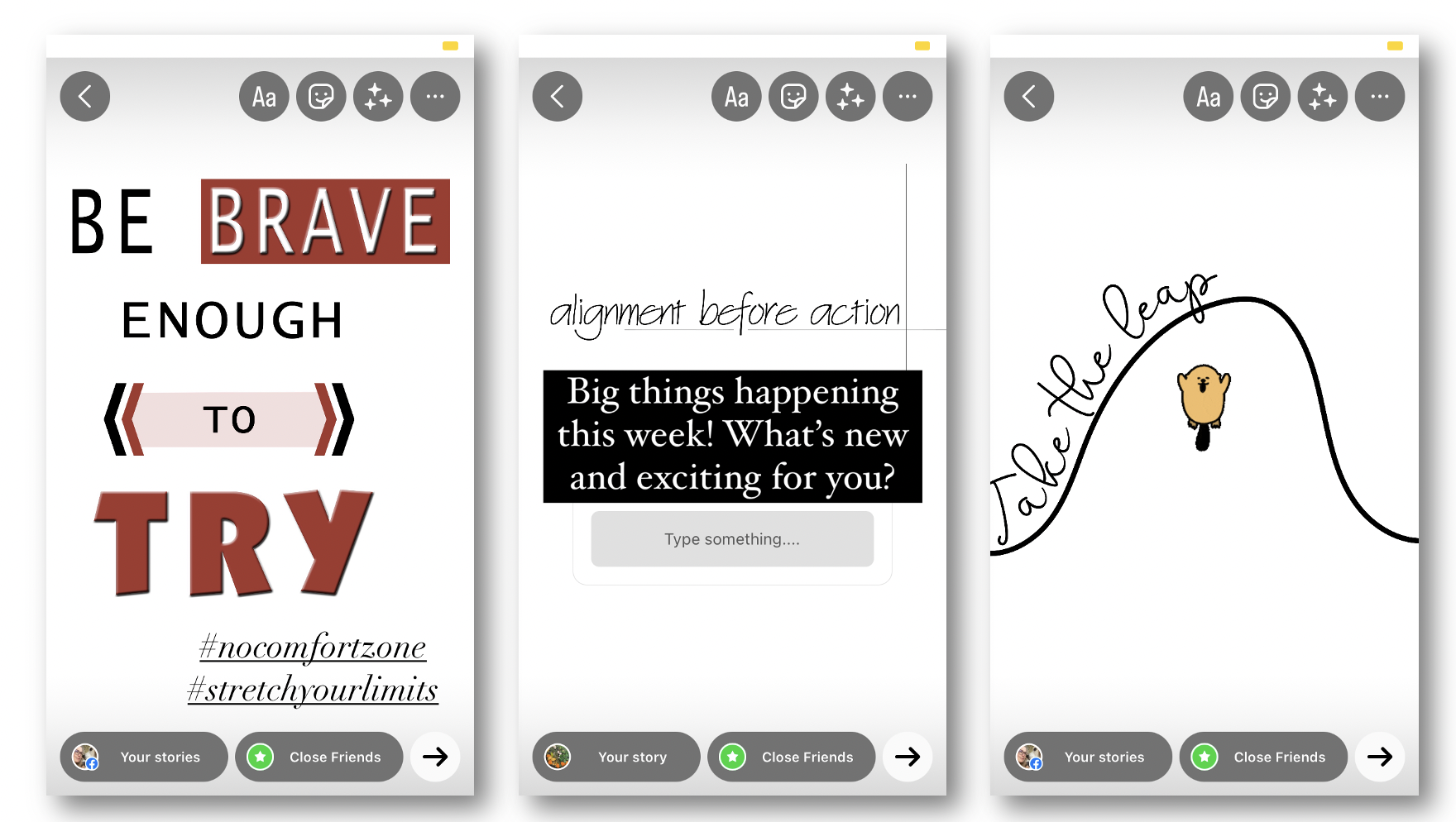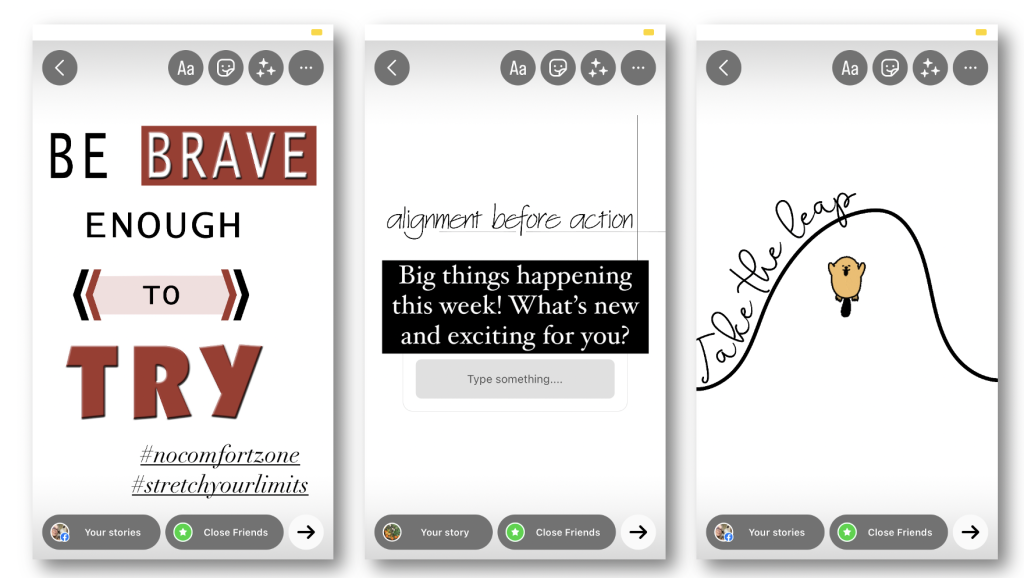 Also on social media, you can incorporate these graphics into your social media stories or even use them to create reels. They can be shared just for their inspirational impact or you can include a video of yourself or some audio talking about the significance of the inspirational graphic.
The above examples target hashtags, create engagement with a question and inspire with a cute little gif. Stories are often great relationship-building content and keeps you in the mind of your prospect, but you might also feature your products – particularly if you're running an ad through stories.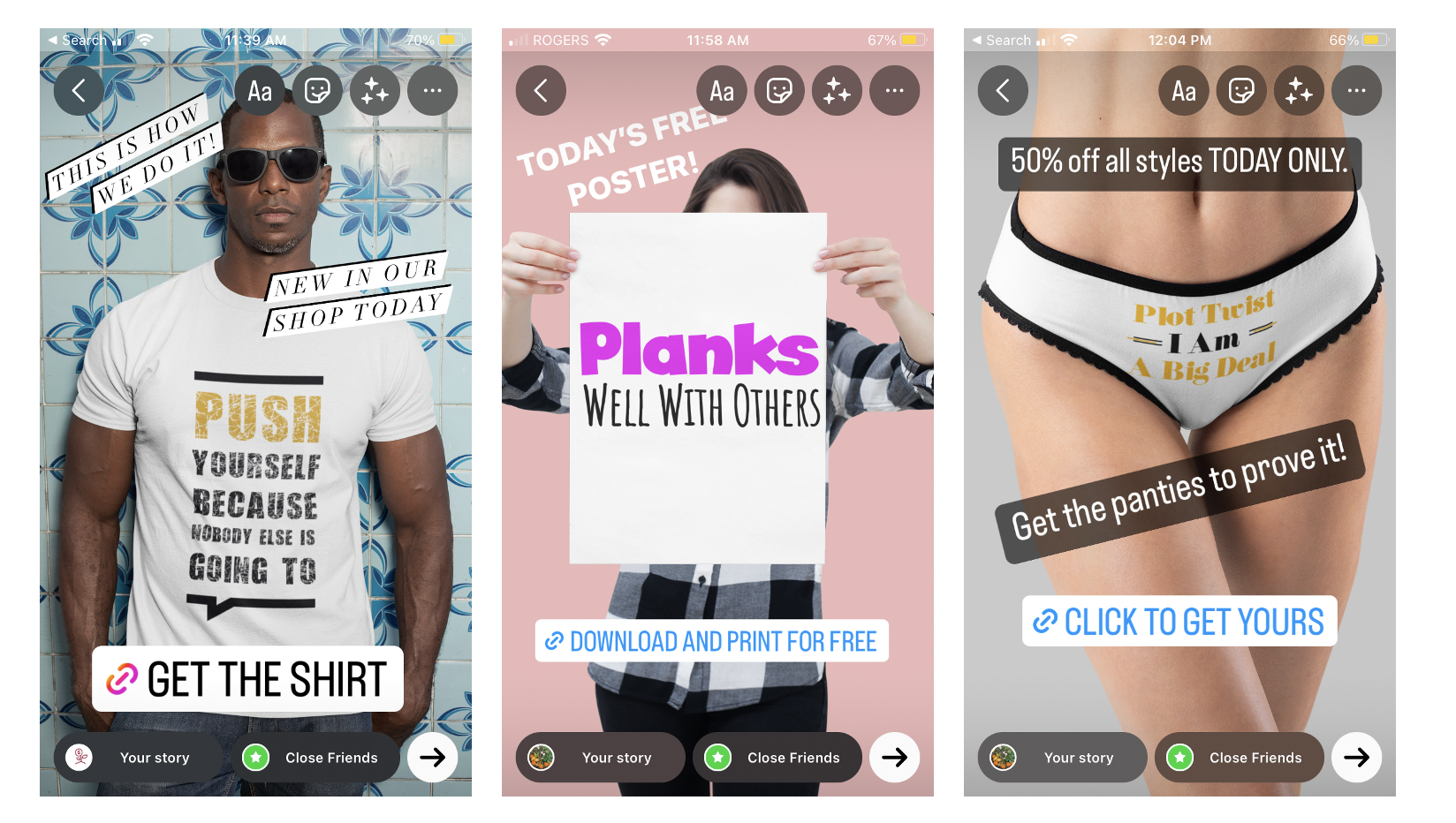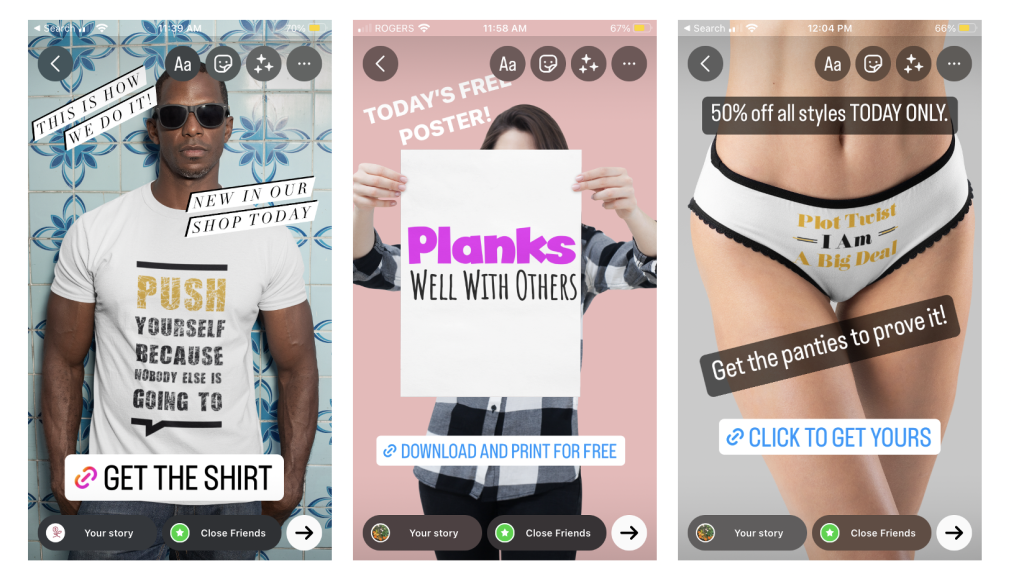 And just like above, this kind of content can be used to promote your products that you create of out of these graphics. Be smart and use this content in a variety of ways to draw attention and build interest for your products.
#6: Add Them to Your Books, Downloadable Reports and More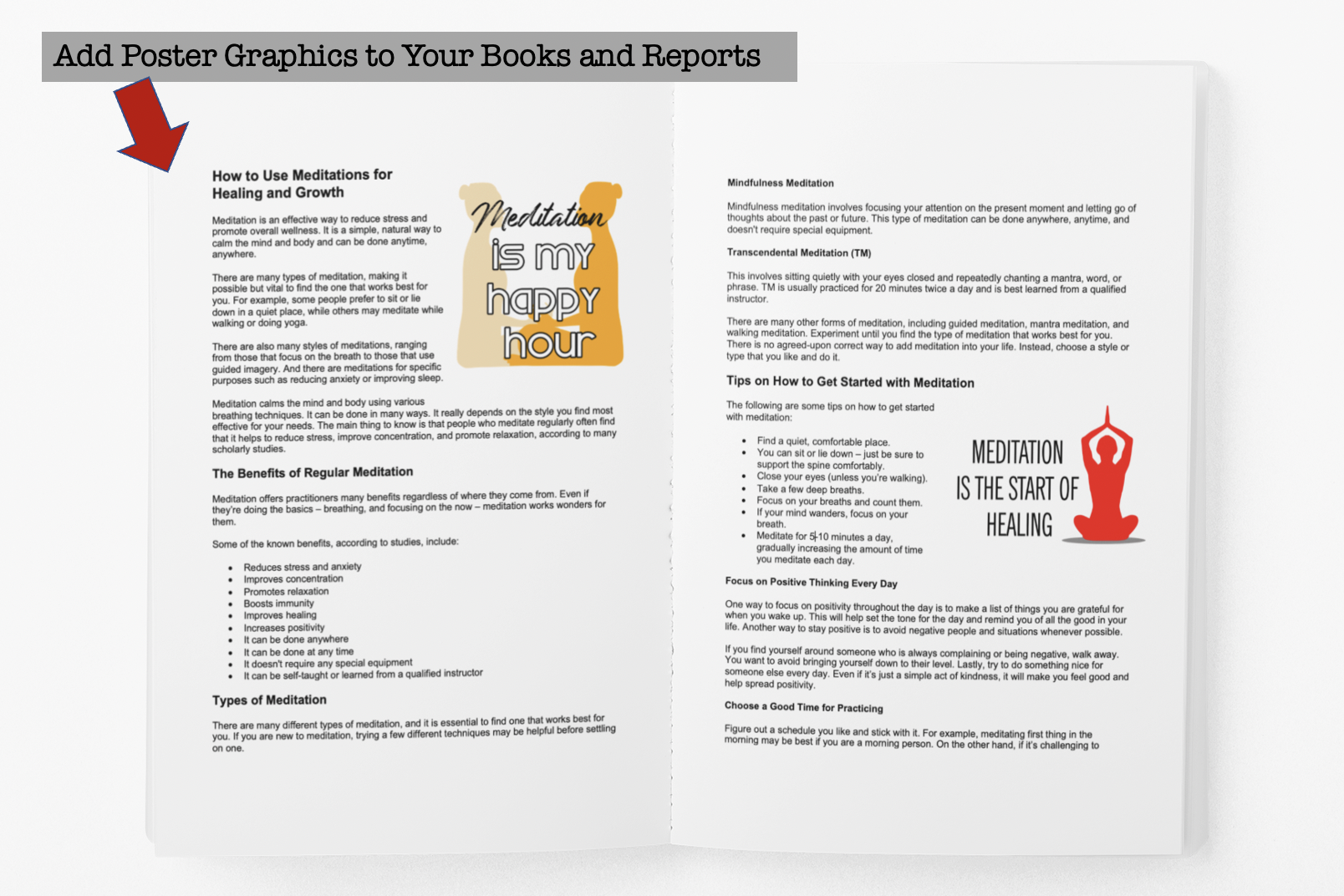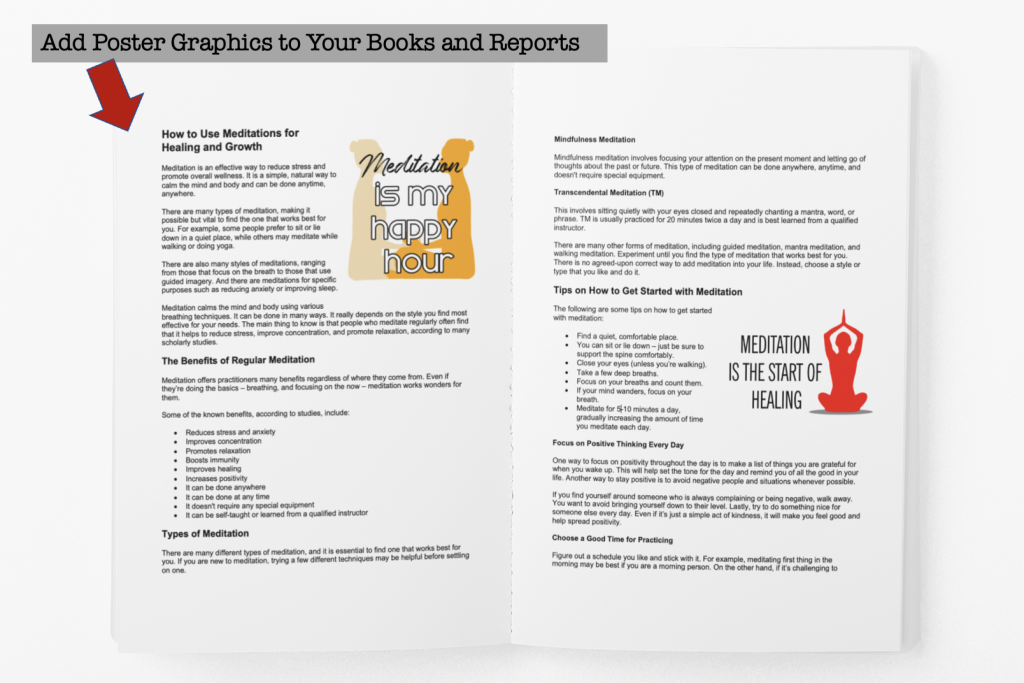 Add some visual elements to your books and downloadable reports. Use them in appropriate chapters or use them as writing prompts, as we'll talk about in the next section.
#7: Use Them as Writing or Speaking Prompts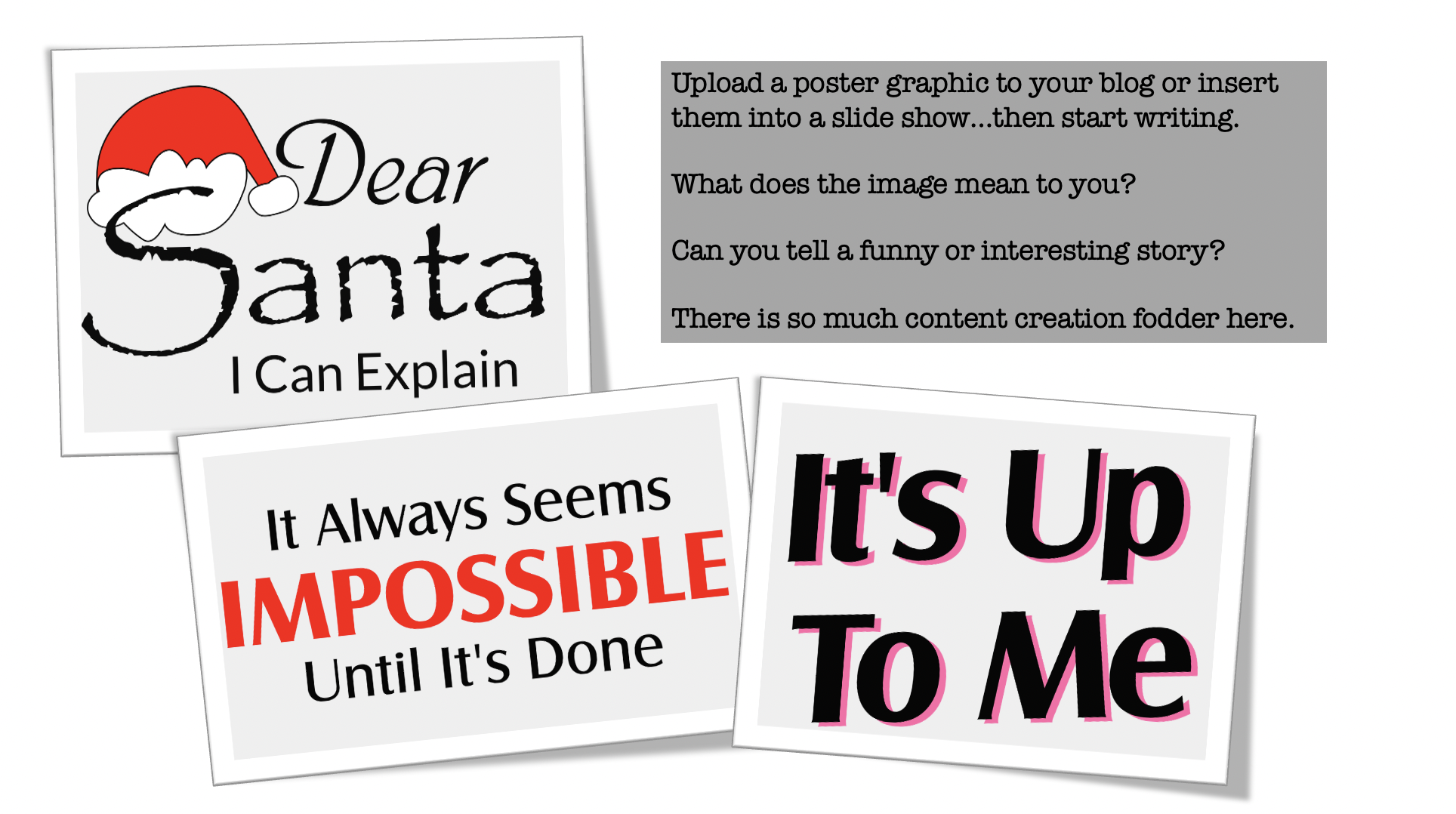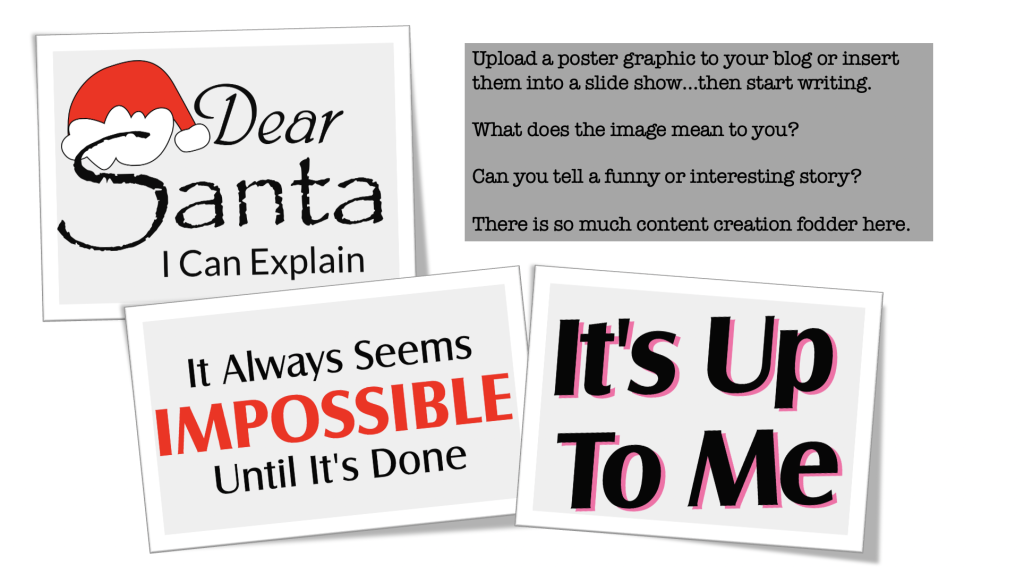 These are great content creation fodder. Whether it's on your blog, for a video you are creating, a book your writing…ANYTHING. Use these images as writing and speaking prompts to get your creative juices flowing. Just present the image and start writing or talking about it.
#8: Use them as Journal and Planner Covers or Planner Dashboards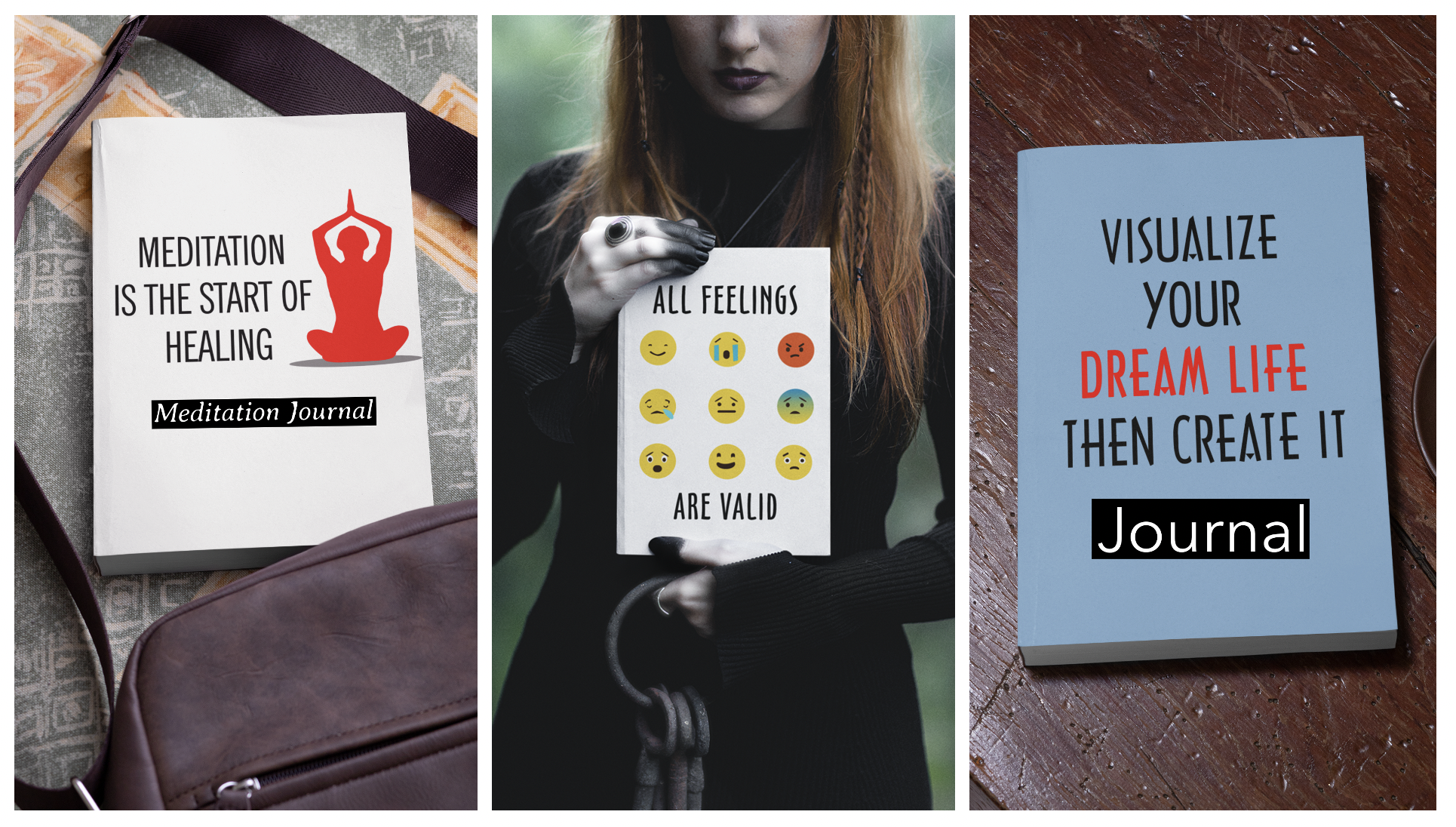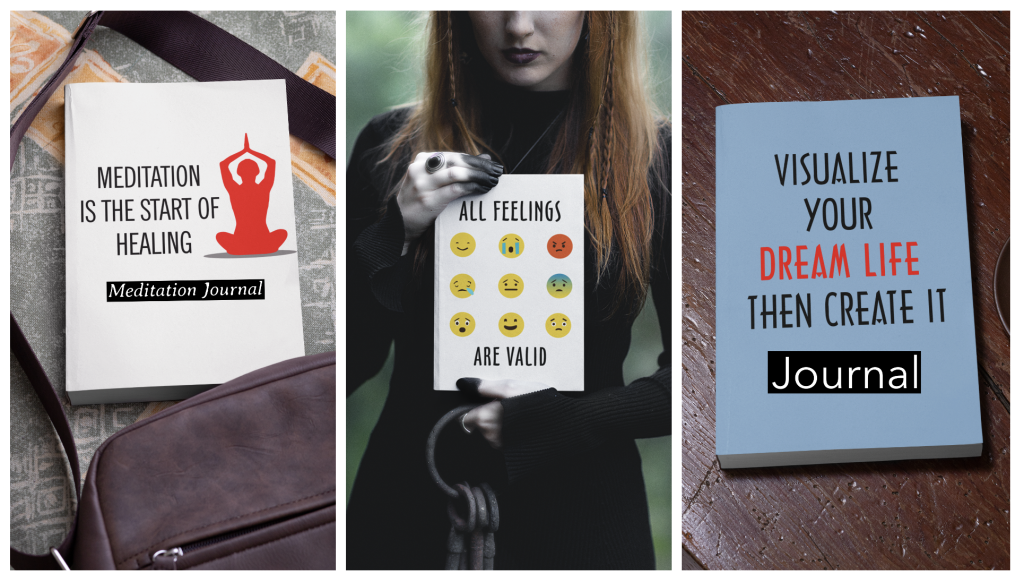 This is easy peasy cover creation for your journals and planners. Just use them as is as covers or add a subtitle or description of the books contents. You can also use them as planner dashboards…either in the planners you sell or allow your customers to download and print them for themselves.
#9: Give Them Away as a Free Download (and grow your list)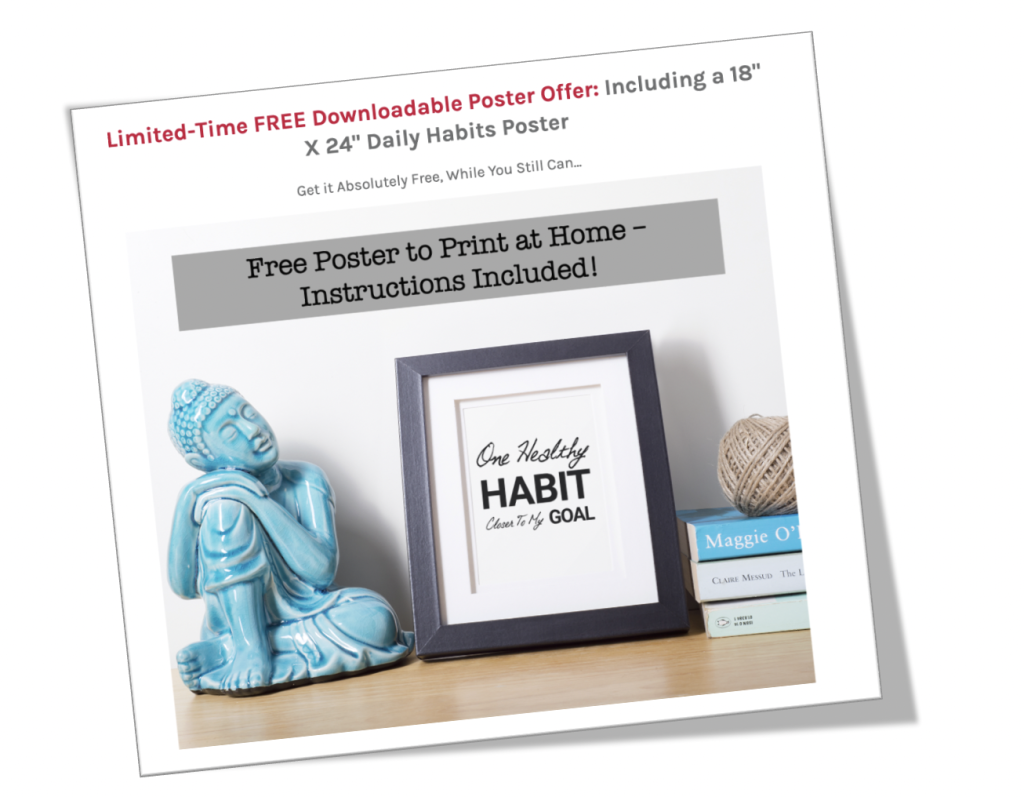 These are great printable giveaways to grow your list…and if you sell the designs in products, you can promote those once the subscriber signs up.
#10: Turn Them into Coloring Pages
We offer the PSD files for all our poster graphics, so that means you have a lot of editing capabilities. You can use Photoshop, but you can also edit with the FREE GIMP and Photopea editors.
We even have a tutorial to show you how to turn our poster graphics into coloring pages, using the free GIMP editor. Just click play above to watch.
#11: Add Them to Presentations, Videos and Classes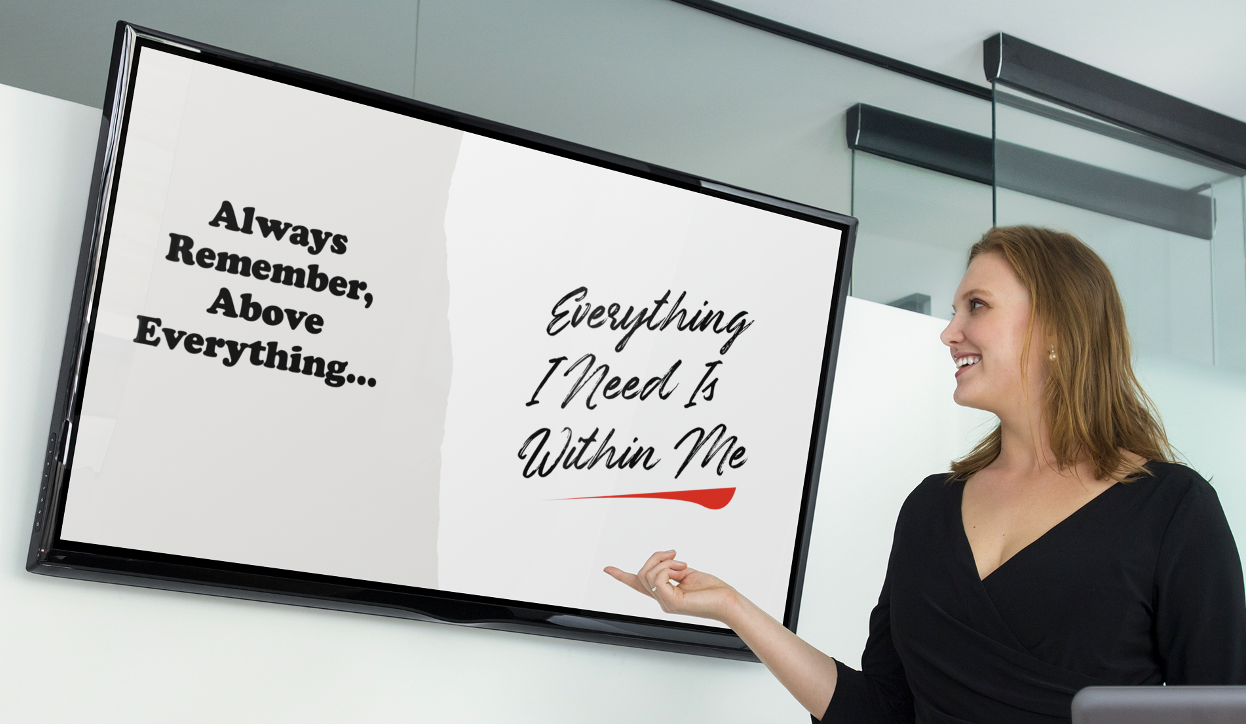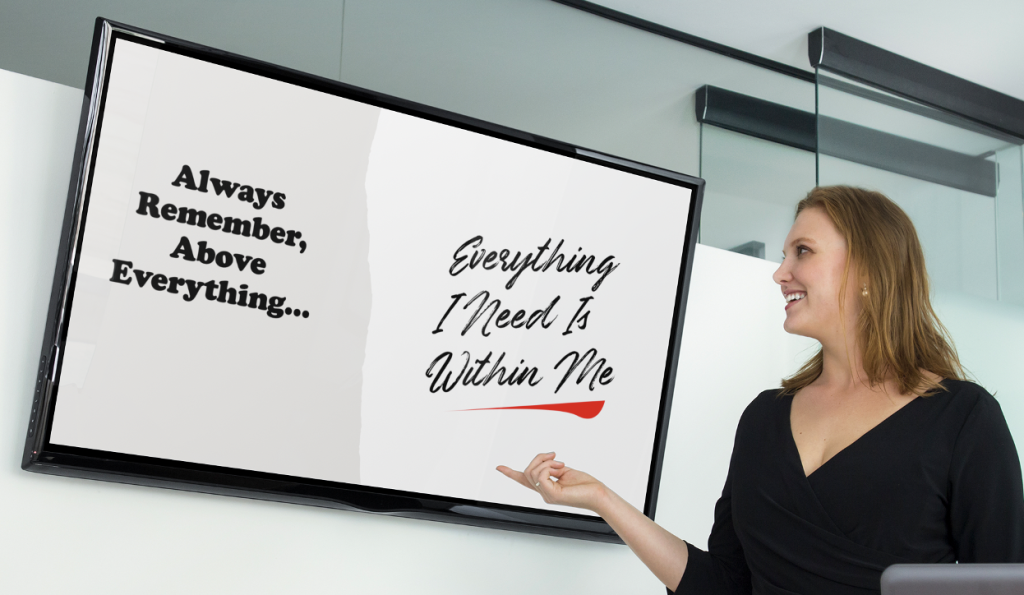 If you run classes, do presentations or create videos, here are some great thought-provoking images you can add as you'd like. Many people insert quotations…here's something just as inspiring, but with visual appeal too.
Just a few ideas to get you started. Of course, the above are business building ideas, but they won't necessarily grow your business in themselves. So next up, let's talk…
7 Smart Strategies Using Inspirational PLR Graphics to GROW Business
Let's get to the nitty gritty here. You have LOTS of ideas for using and repurposing your poster graphics…but how to do the grow and increase your business? Here are 6 strategies for you…
#1: Products for Sale
There are lots of options for creating products we already covered including wall art, mugs, t-shirts, journal and planner covers…and much more.
Always create mock ups that demonstrate your product. If they're print-on-demand, the company you use will usually provide you with mock ups. If you're doing printable products, we love using Placeit to create all our mock ups.
#2: To Grow Your Mailing List
You should always be building your mailing list of potential buyers, so use the graphics and the content you create around them as opt-in offers.
You can offer a printable poster graphic as a download for free. You can give them a report that you created by using the graphics as writing prompts. You can allow them to download a planner dashboard and then introduce them to your planning products and/or course.
So many possibilities, but the key is to create plenty of free opt-in offers that make it easy for you to promote your products to your new subscribers.
#3: Build Traffic
People are always searching for free printables, sayings about certain topics, help with achieving certain goals, etc. With that in mind, conduct some keyword research (there are lots of free keyword tools around) to find out how you can draw in traffic from your target audience.
And of course, people love sharing inspirational content. Make it easy for your visitors to share and create word of mouth for you.
#4: Promotions for Your Products
If you're creating content around these images (ex. saying why you love the saying and what it means to you), incorporate that content into your sales pages and promotions. It helps your potential customer connect with the saying in a more meaningful way and can inspire them to make the purchase.
#5: Bonuses for High Ticket Products
If you sell high ticket products or coaching programs, here's how to make a big impact on your new clients. Send them some wall art, t-shirt, mug or other thoughtful item as a thank you for signing up.
Encourage your new students to share their free gift on social media, so they can get more accountability for the program they're about to embark on…and you get word-of-mouth promotion.
#6: Gifts for Your Best Customers and Clients
Once in a while or during the holidays, why not go through and find your best customers and ship them a gift as well? You can make a nice basket of gifts with sayings you know they'll love, creating a deeper relationship between you and them. And a deeper relationship, usually means repeat purchases, recommending you to friends and more.
#7: Donations for Giveaways, Bundles and Fundraisers
Look for colleagues creating giveaways, fundraisers or bundles and be sure to donate your products. This generates good publicity for you that you can leverage for goodwill. Or create your own contest, giveaway, fundraiser and more.
Ready to Put These Ideas to Work? We've Made the Graphics for You!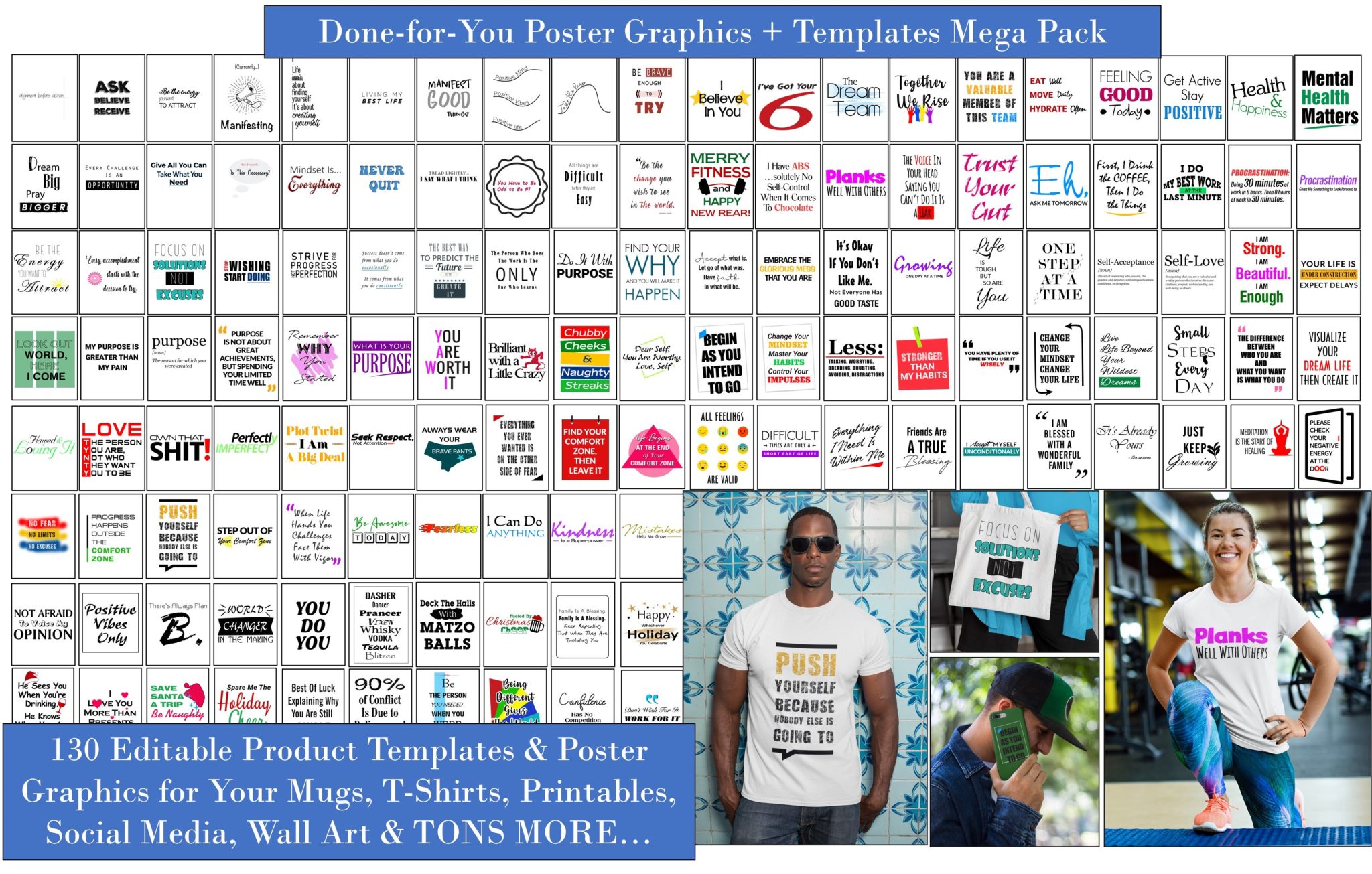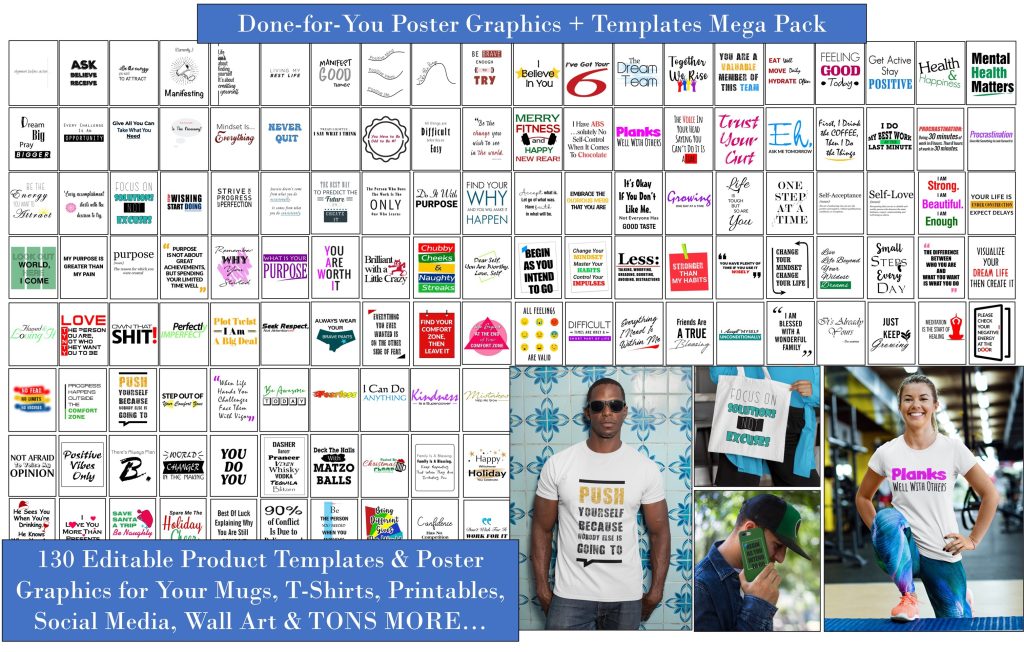 What we've done is put together 130 of our most popular poster graphics and put them into one handy package for you. They are fully editable and brandable…and available for commercial use.
Plus, we've added a few very handy extras including…
10 Bonus Inspirational PLR Graphics:
These are also fully editable and come in PSD, PNG and PDF format. Just work your magic.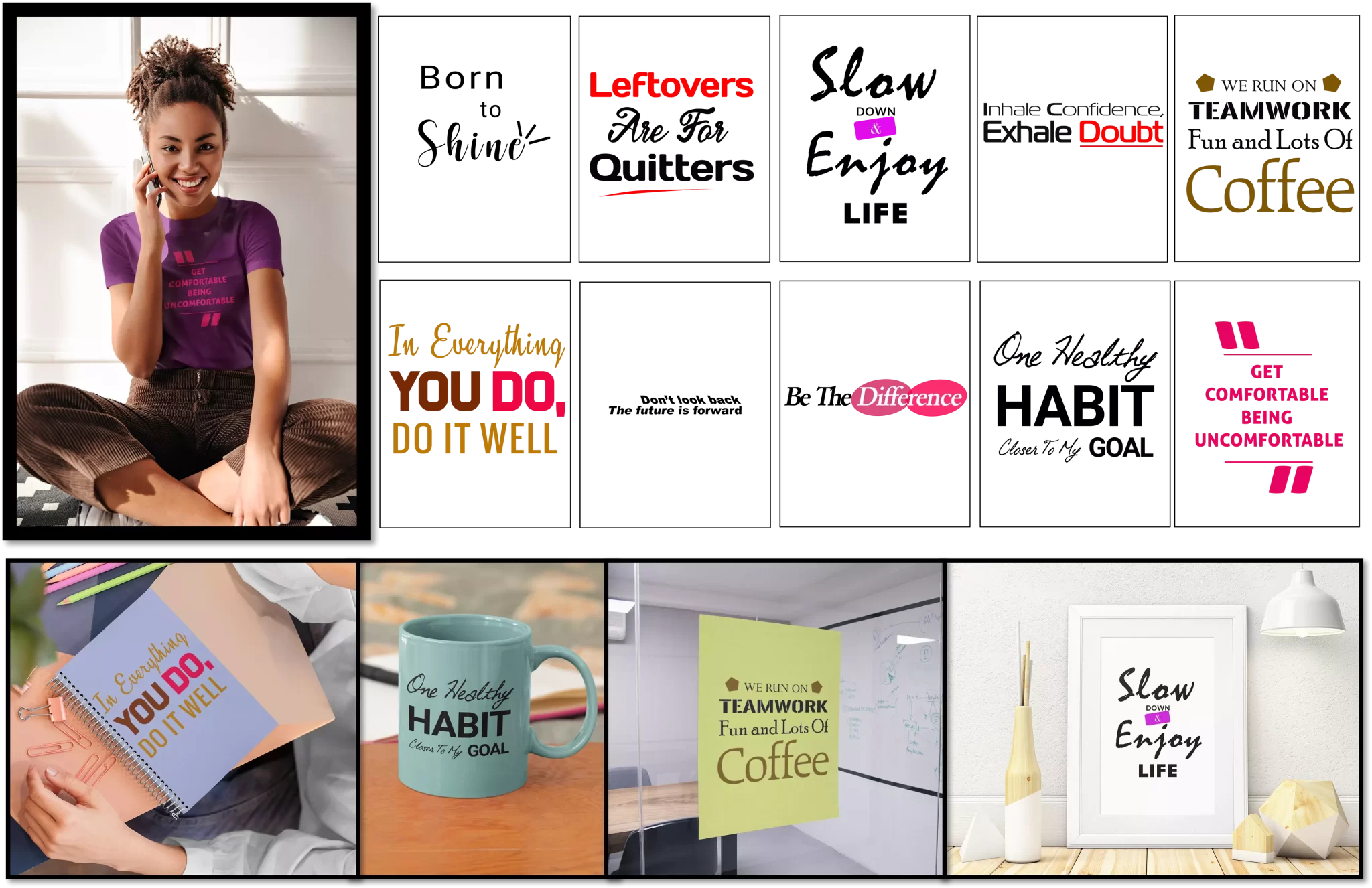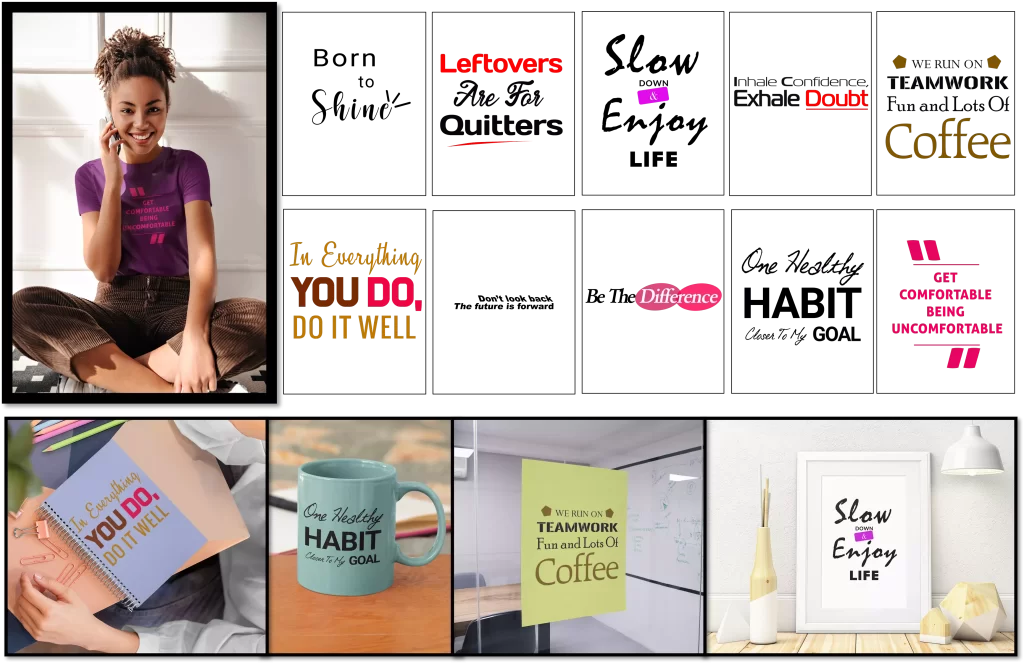 And then to make it easy to create your own library of inspirational graphics for a long time to come, we've added…
365 Days of Inspiration + Templates Bonus
This is a handy bonus that includes 122 inspirational quotes, 122 motivational questions and 122 motivation and inspiration tips. PLUS – there are 5 PowerPoint templates you can work with to create your own designs.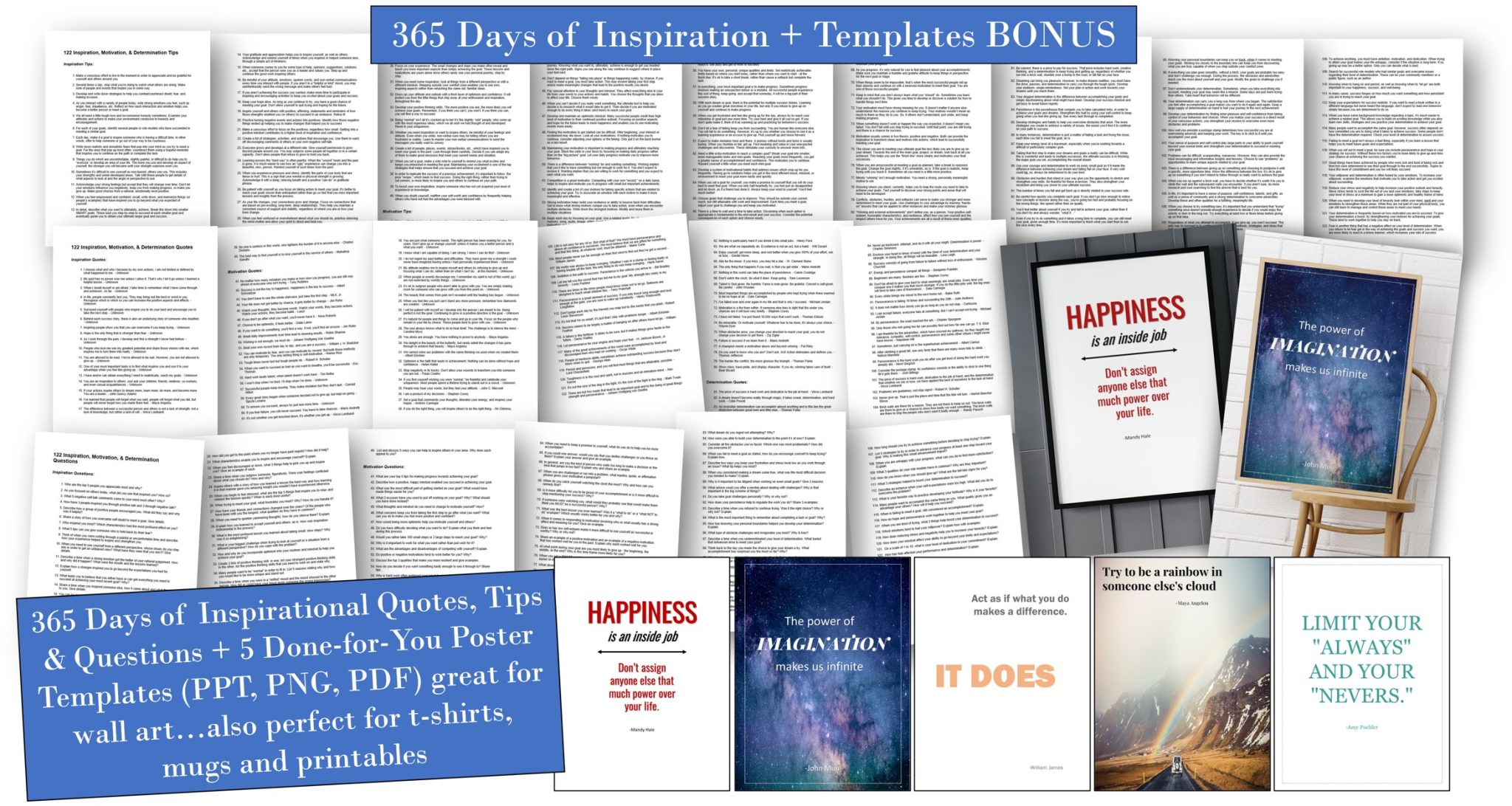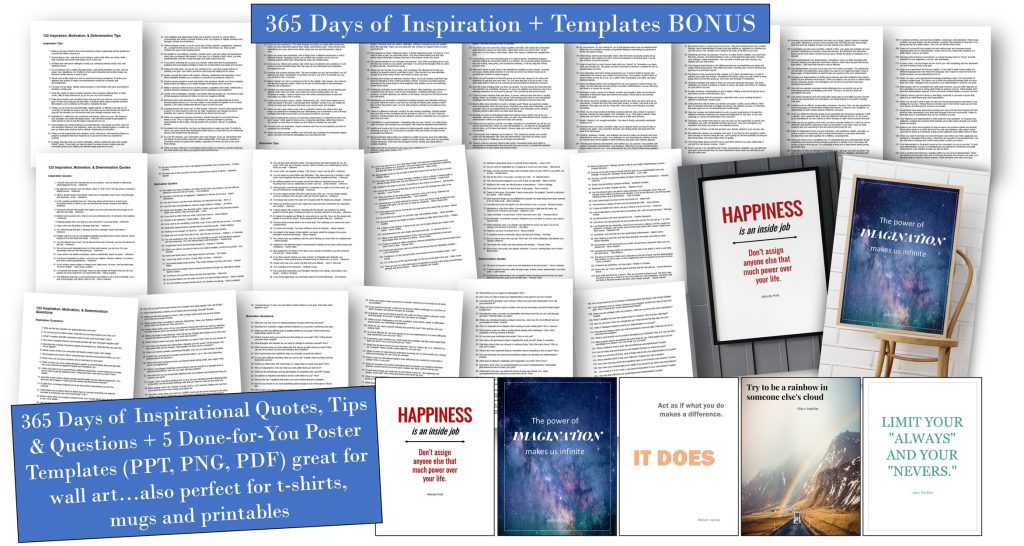 And you'll even be able to download a copy of this tutorial with your package, so you'll have these ideas at your fingertips anytime you need.
So much great content to help you master poster and inspirational graphic marketing.
Click here to get all this content at very special pricing.
And no worries, If you have questions or brainstorm ideas, we're in the EKitHub Facebook Group, ready to help! You'll find the link on your download page.
Go grab yourself an amazing done-for-you content deal and get growing that business!
Your partners in easy product creation,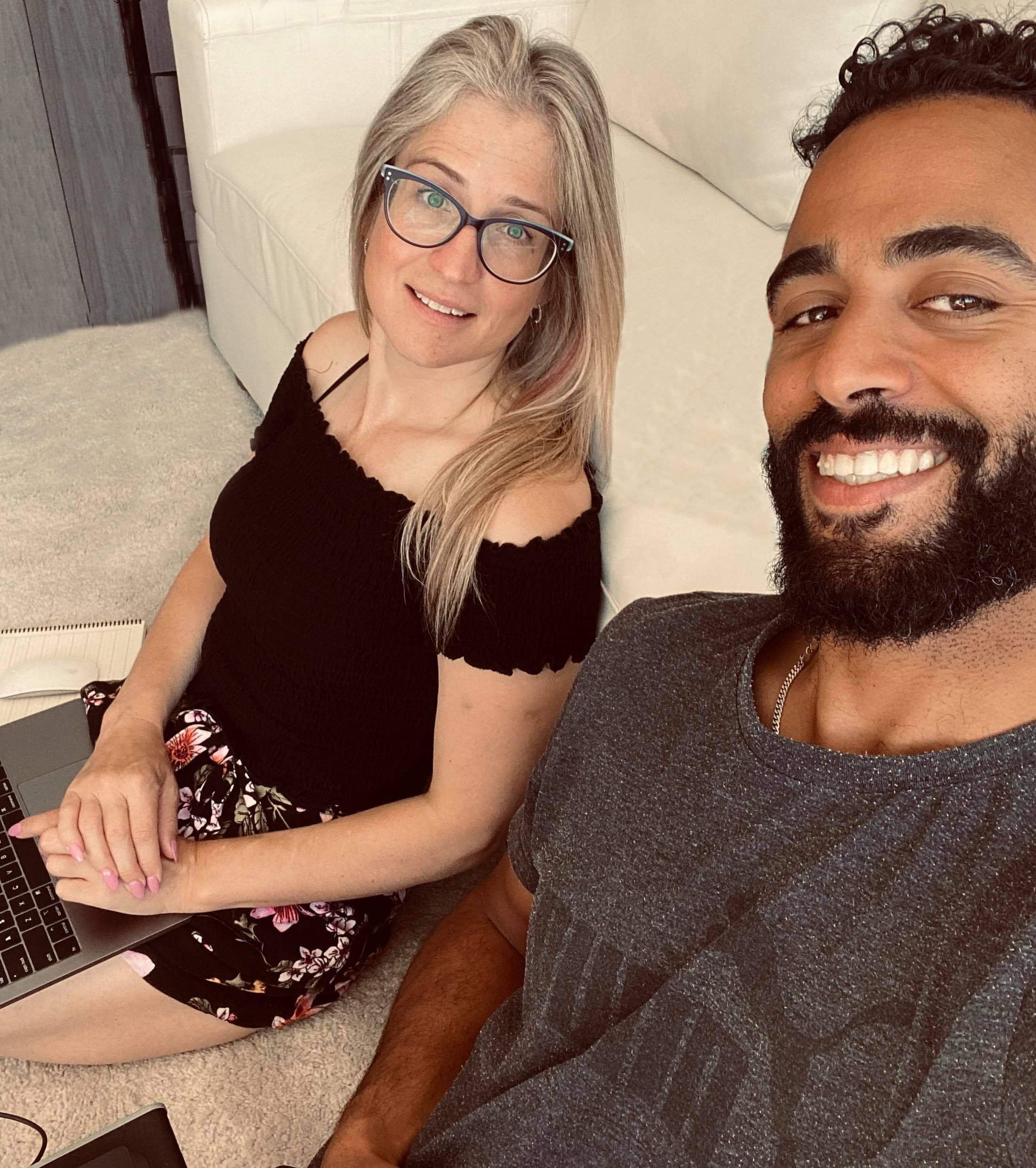 Alice Seba and Yusef Kulan