Click here to subscribe to our YouTube Channel
Living in a digital world means there are more opportunities than ever to make a living without having to have a dreaded old J-O-B. But the problem is, our digital world not only comes with opportunities, it comes with a lot of distractions that it's often hard to develop discipline in business.
Add to that, all the other things you've got going on in your life, how do you get focused and productive.
Watch the video above with some really smart tips and an example from Alice. It comes from the perspective of a very disciplined individual, who is also very protective of her time. If you've got multiple priorities in your life that keep you from having as much discipline in business, you should definitely watch this.
Here's Alice shares in the video to get more discipline in business.…
"If you don't find yourself particularly disciplined…or just want to become more disciplined within your business, here is something that might work for you.
Let's be real, most people really aren't that ambitious about HAVING a business. They are ambitious about the BENEFITS of that business. To have lifestyle freedom, to have enough money to do the things they want, etc.
But all of that requires discipline in order to get what you need to get done…done.
Start with a Frame for Your Work – It Will Guide Everything Else
One of the best ways to develop discipline is to create a frame for your work…and then work on filling that frame with goodness each day.
If you'll allow me to share example from my own experience, it might light up some ideas for you as well.
My frame has always been to have a mailing list of people to share my products with. I do this because I know an email list is still the most powerful way to reach customers with commercial messages over and over again.
So I consider it the most important activity of my business and have taken ownership of it. That's the frame.
Then to fill the frame, I have to:
Create opt-in offers and free gifts to grow that list.
Email that list every day.
Have products for sale to share with those subscribers.
Have content that keeps our subscribers interest AND serves as a promotion for our products as well.
Which means I am consistently…
Building my traffic and growing an audience
Creating and selling products
…which is all you need for a successful business.
But giving you a look at my schedule…I try to keep it pretty gentle, giving myself the grace to work more or less, depending on my mood week to week.
So at minimum, each week, I must:
Write emails for our subscribers and customers each day.
And if that's all I feel like doing, so be it. I will do promotions for previous products and share or rework old content to make it possible.
But when I'm feeling ambitious or have more time:
I create new content that we publish on our blog, YouTube channel, etc. Sometimes other people do that for us as well.
And in the background, I am consistently planning and delegating:
Regular free opt-in offer creation
Regular product creation
I have built a team that relies on me for work, so I have that built in accountability to plan it and then they run with it.
Even if you don't have a team yet, you can still create a frame for yourself. Think about what the most important task for your business and make it your sole duty to be disciplined about…then all the other pieces should fall into place."
We hope that you find that a useful way to look at it. And if you don't actually know what your business frame should be…use Alice's. It's not likely you can go wrong by using email marketing as your frame. And if you have questions at all, come see us in the EKitHub Facebook Group.
For now…
Share Discipline Inspiration With Others – Free Commercial-Use Content
Whether you teach your audience to become have more discipline in business OR in any niche…OR perhaps you want to give yourself more accountability by sharing content that shows your commitment to be more disciplined, we have a FREE mini EKit you can pick up and share it with your audience.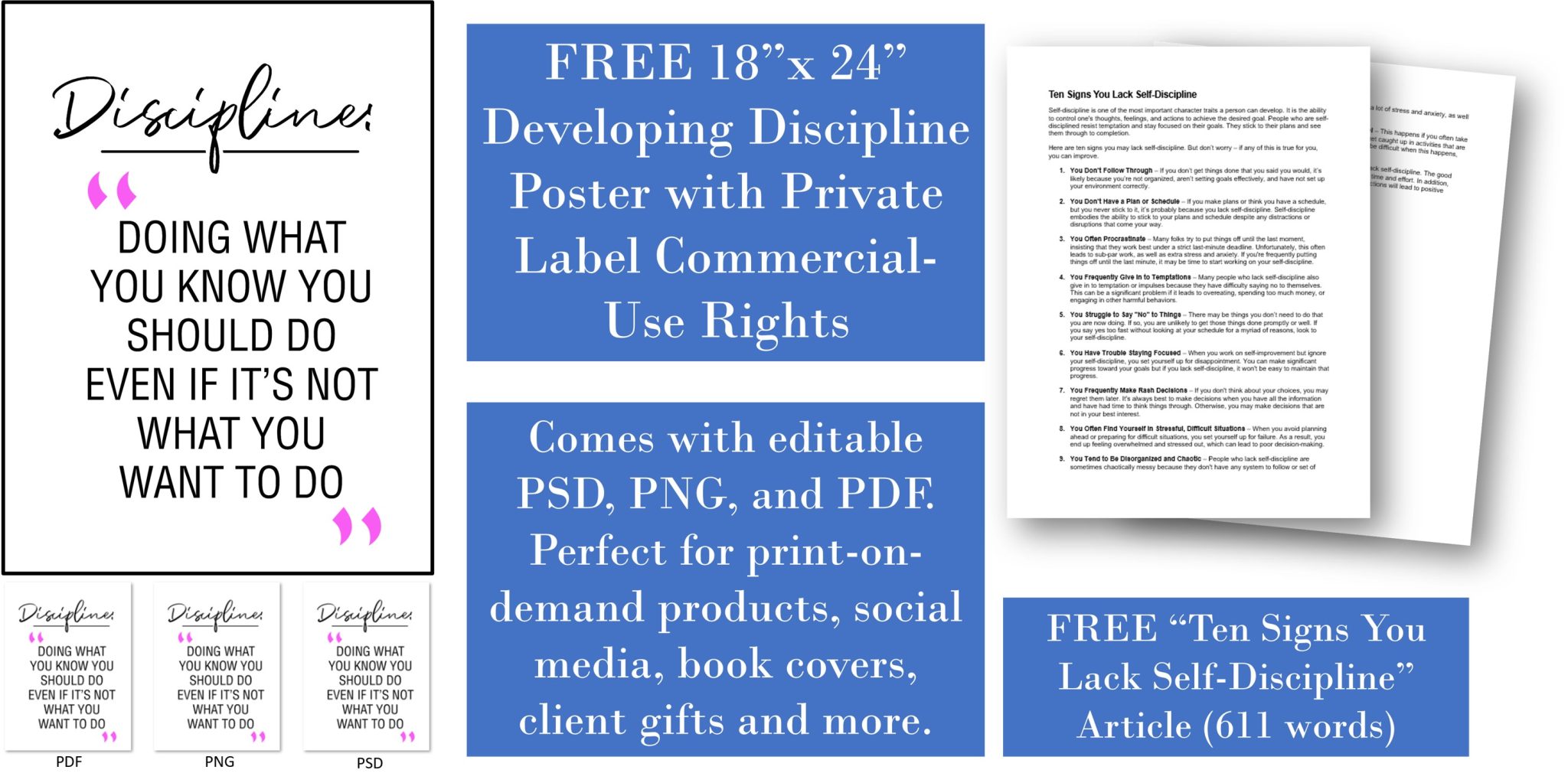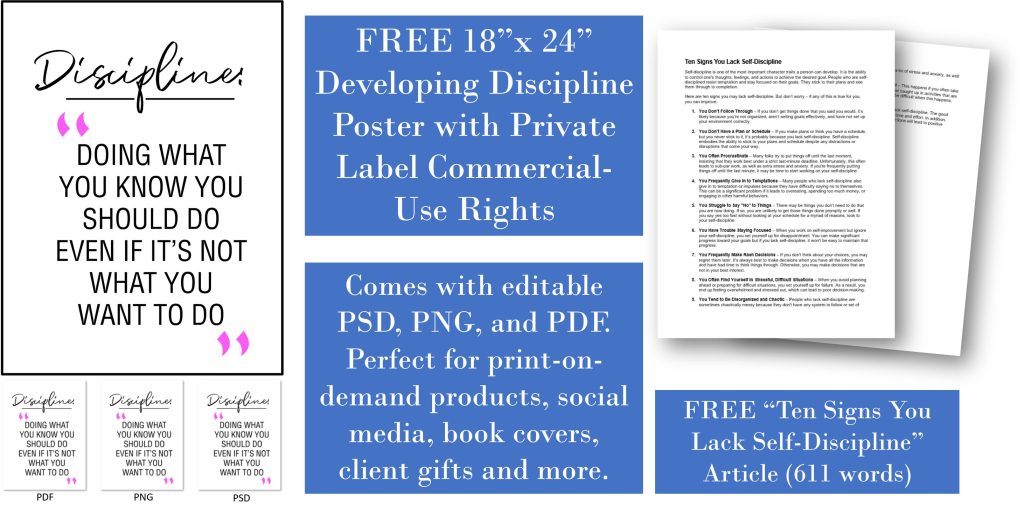 The package includes:
18″ x 24″ graphic poster that you can use to create or sell wall art, for your social media, add to your printable planners and journals and more.
"Ten Signs You Lack Self-Discipline" article that you can publish as your own. It's also fully customizable, so you can add examples for each of the ten signs, so they are meaningful for the topic of interest of your audience. For example, if you teach about weight loss…you might use examples that share discipline problems with diet, exercise, sleep, etc.
Get your free Discipline PLR right here.
All the content is fully editable…and can be published for commercial-use. Be sure to grab yours now and if you need more discipline content and to take advantage of the very special offer more done-for-you discipline content. You'll see it on the thank you page.
To your publishing success,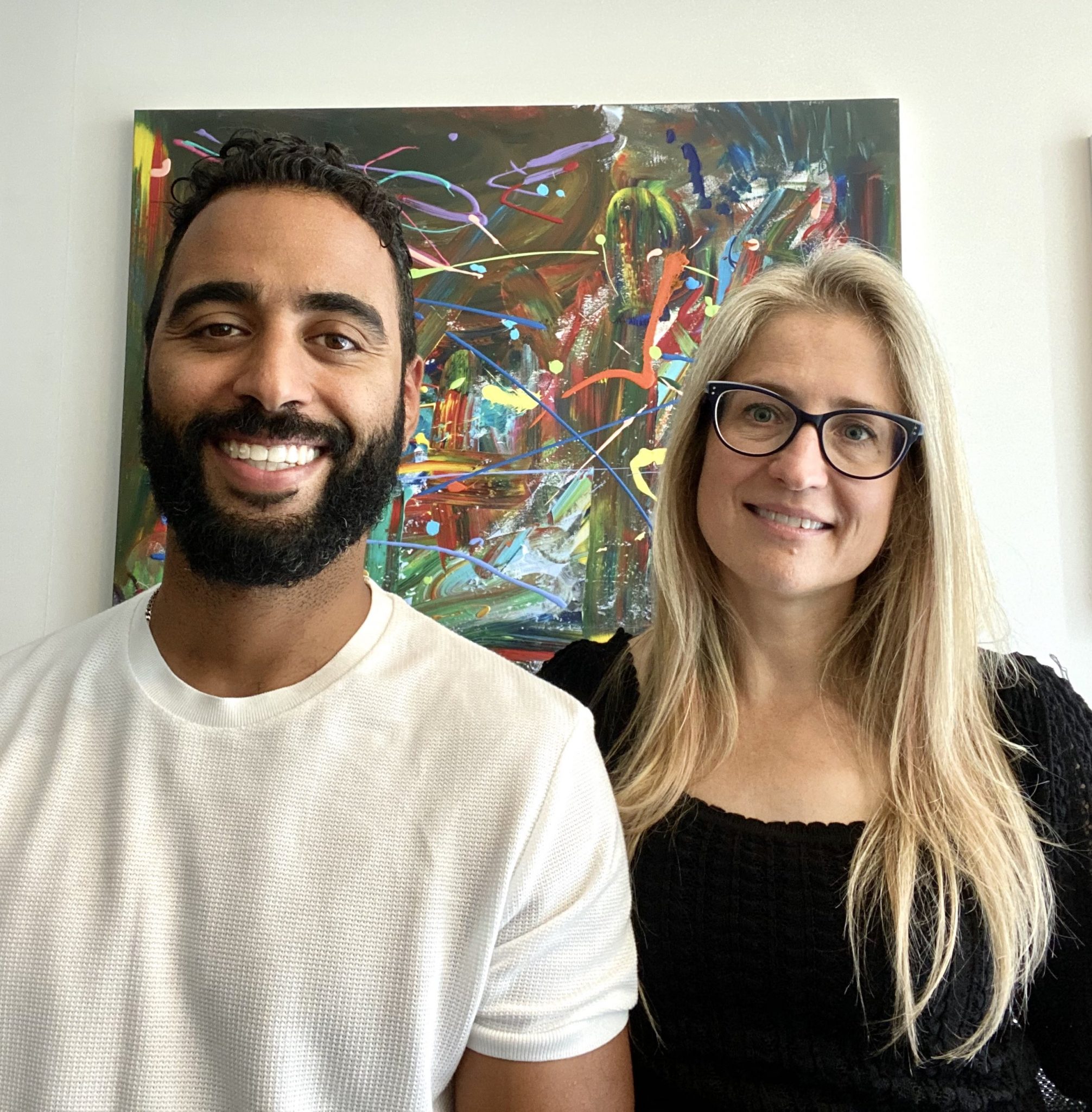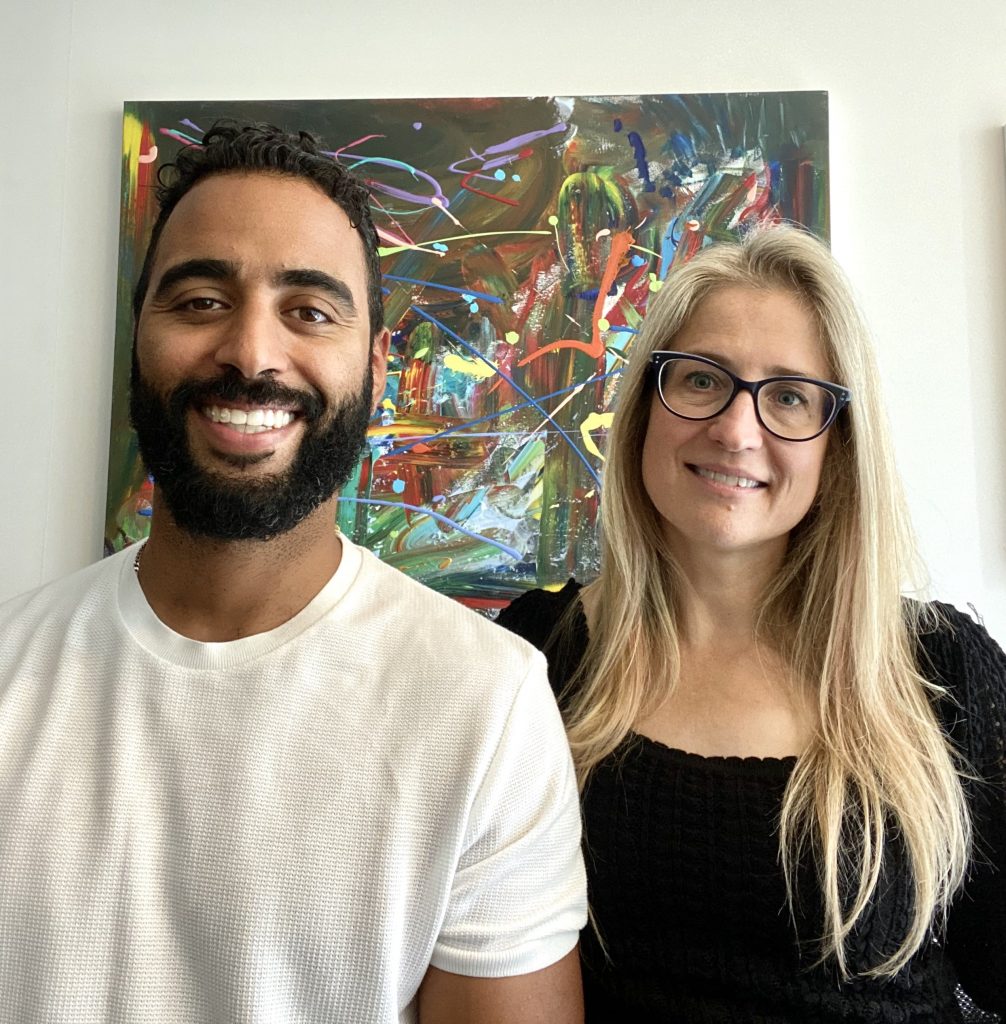 Yusef Kulan and Alice Seba
Your Partners in Easy Product Creation at EKitHub.com