Click here to subscribe to our YouTube Channel
You've probably heard that you should collect testimonials to create "social proof" to sell your products better. This is ABSOLUTELY TRUE!
But what's the fastest and easiest way to collect testimonials? Alice has you covered in the video above. This is all part of her Content Synergy training that shows you how to leverage all your resources to get BIG RESULTS with your content marketing.
Leverage Your Resources to Collect Testimonials with BIG Social Proof
(From the Video:) Here's another example of creating content synergy in your business, which includes creating valuable assets you can draw on at anytime to help boost your business.
In this example, we're talking about quickly and easily documenting social proof that boost your reputation.
Here's what I mean…
When I was creating the sign up page for the Content Synergy session, I wanted to include some fresh testimonials and social proof that showed me as someone who has a deep understanding of content marketing and who nurtures and builds others up to effectively use content in their business.
Personally, I do have automated systems for collecting and publishing testimonials and I'll share those in class as well. But for this specific example, I wanted fresh and current testimonials that directly applied to what I was teaching.
Step 1: Ask Your Community
I started by going to my Facebook Group to ask for feedback. I posted it and mailed it out to my list.


Of course, this step highlights the need for building and nurturing a community. It doesn't matter what platform you use, but a community is a tremendous asset to have. It doesn't have to be a huge community. Just a handful of people you connect with and who love your work.
Why Use the Group? Easy Publishing and Built in Social Proof
Using the group was the fastest option to collect and the act of doing that naturally built in even more social proof. You can certainly create a form to collect testimonials…then have people submit the form and then you take the responses and format them to your website page. We do that as well, but on the fly and for a specific purpose, this is super speedy and effective.
All you do is make the post and they comment.
The fact that these are comments on Facebook adds more validity as they're written by real life profiles of real life people. Their names and pictures can generally be verified to exist.
Step 2: Reply to Comments (optional, but recommended)
Next, I went to each comment and made a thoughtful reply. This was for a few reasons:
a. It allowed me to show gratitude for my customers' time.
b. It also gave me a chance to highlight what I felt was most important about the comment they made…cementing the social proof further.
c. It also shows me as an active member of my community who is all about seeing her members succeed.


Step 3: Screenshot and Publish
Next I took screenshots of the comments and my replies and put them on the course sign up page. Instant testimonials, already nicely formatted!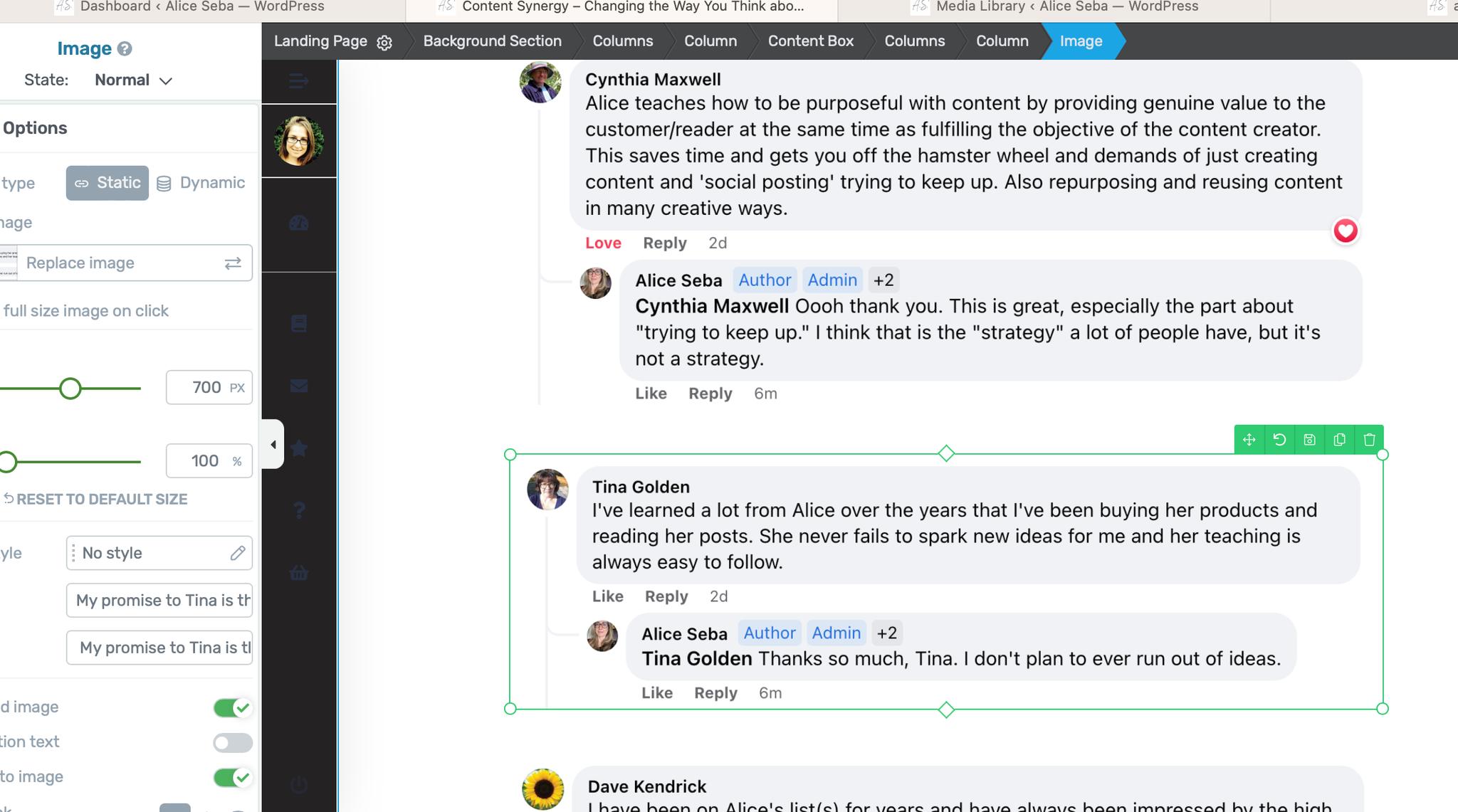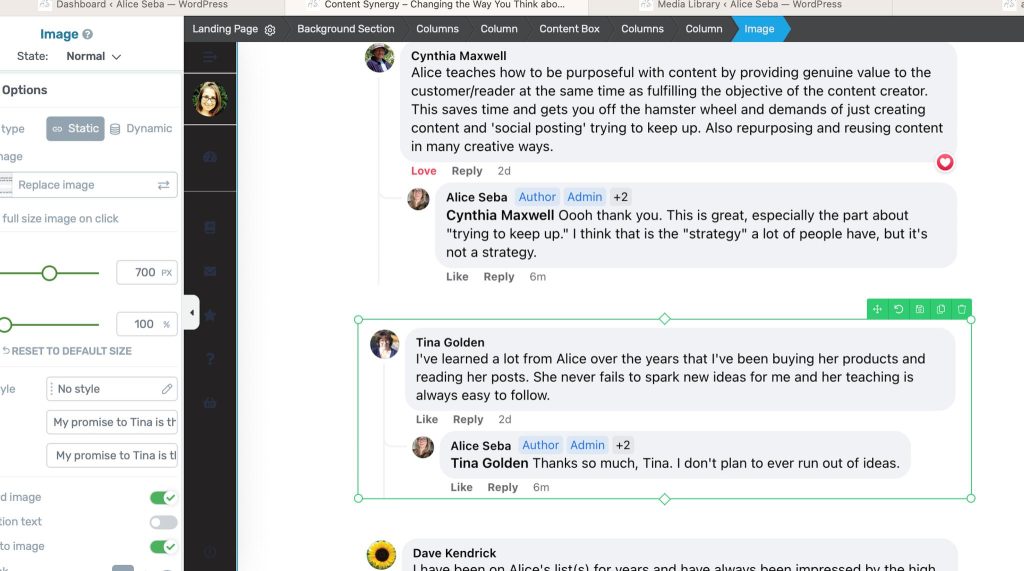 I can also add the comments to other content pieces like videos, blog posts and social media posts. It could just be part of a promotion for the course or I could make a whole piece of content around what they said.
For example, Mr. Daley said he bought content, but hasn't taken action. Shocking, I know…but now I could create a whole piece of content with steps to take action that would benefit him and the rest of my audience.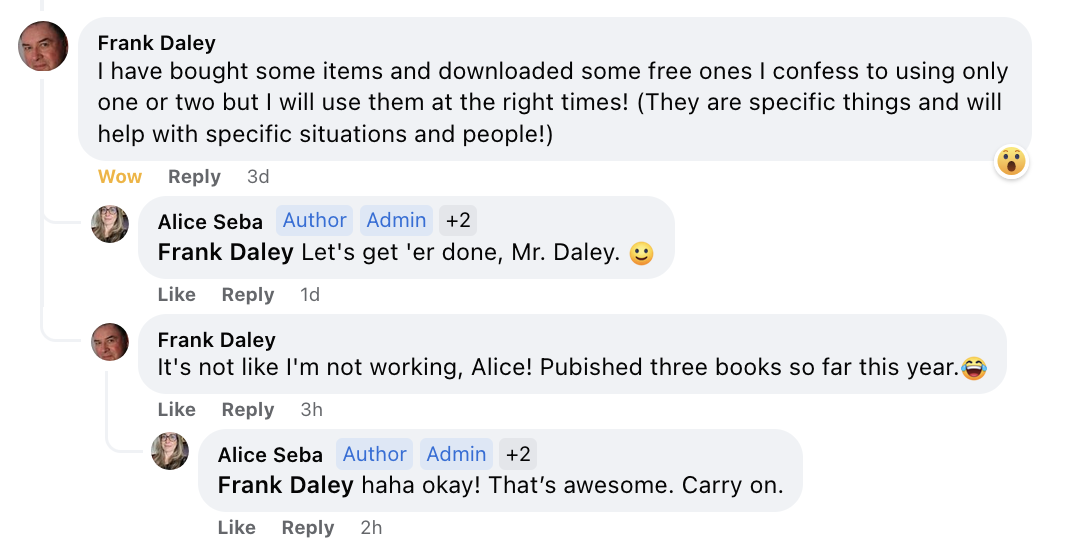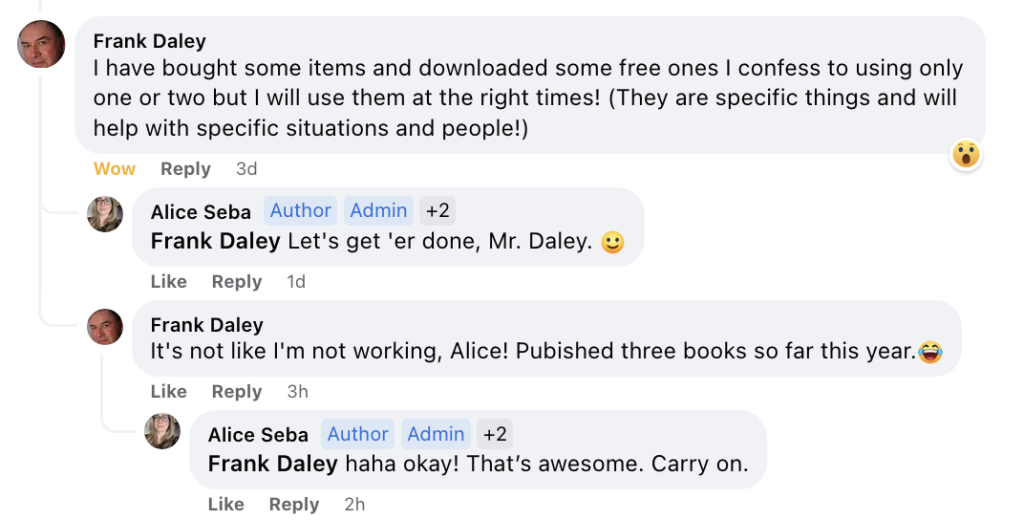 There's so much you can do when you grow a community…no matter what size. These people offer instant feedback, social proof, content ideas and so much more. Leverage this asset wisely!
What To Do Next: Immerse Yourself in Content Synergy to Get More Traffic, Subscribers and Sales
If you're looking for ways to simplify your content marketing and get BIGGER results through that simplification, this is exactly what you need.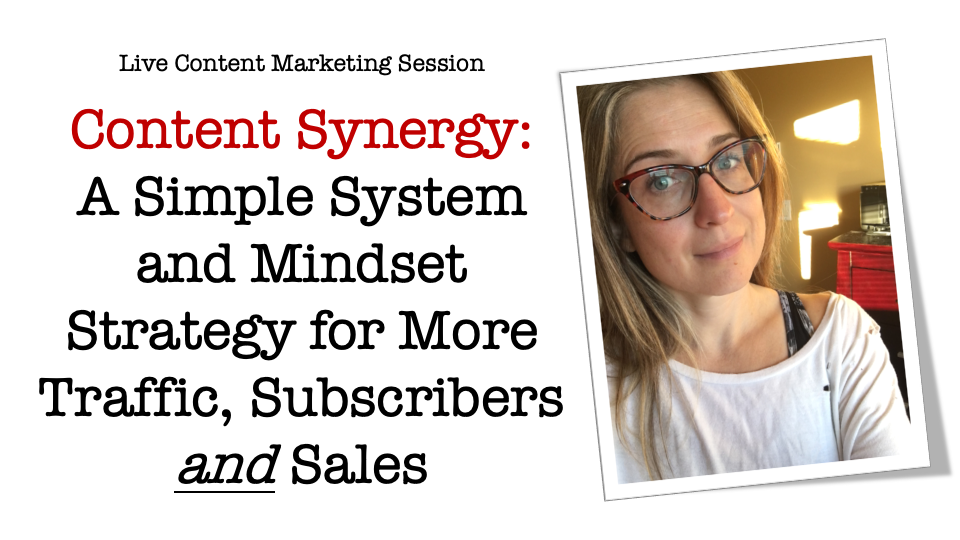 Sign up here right now and Alice will show you how to…
Stop wasting so much time on creating content.
Make your content work overtime for you, while you take care of other things and life.
Use content strategically to grow your business.
Leverage the power of content to boost your reputation in all areas of life and business.
Understanding how all the different platforms and businesses you run can work POWERFULLY TOGETHER, instead of treating them as separate high maintenance entities.
Use content to stay motivated and moving forward with your goals. Content is not just for your audience…it's for YOU as well. Grasp this and you'll never feel like content is work again.
Receive so much benefit from your content you will not even care how many "views" or "likes" your content gets.
Truly find WHO you are and the message you want to share with the world. Then the rest is easy.
And you can get started by clicking here right now.
If you've spent countless hours on creating content…OR spent any amount of money on content that didn't work out as well as you'd hoped…this is for you. This is going to save and MAKE you so much time and money in the long run, you'll wonder why you were doing it wrong all this time.
To your publishing success,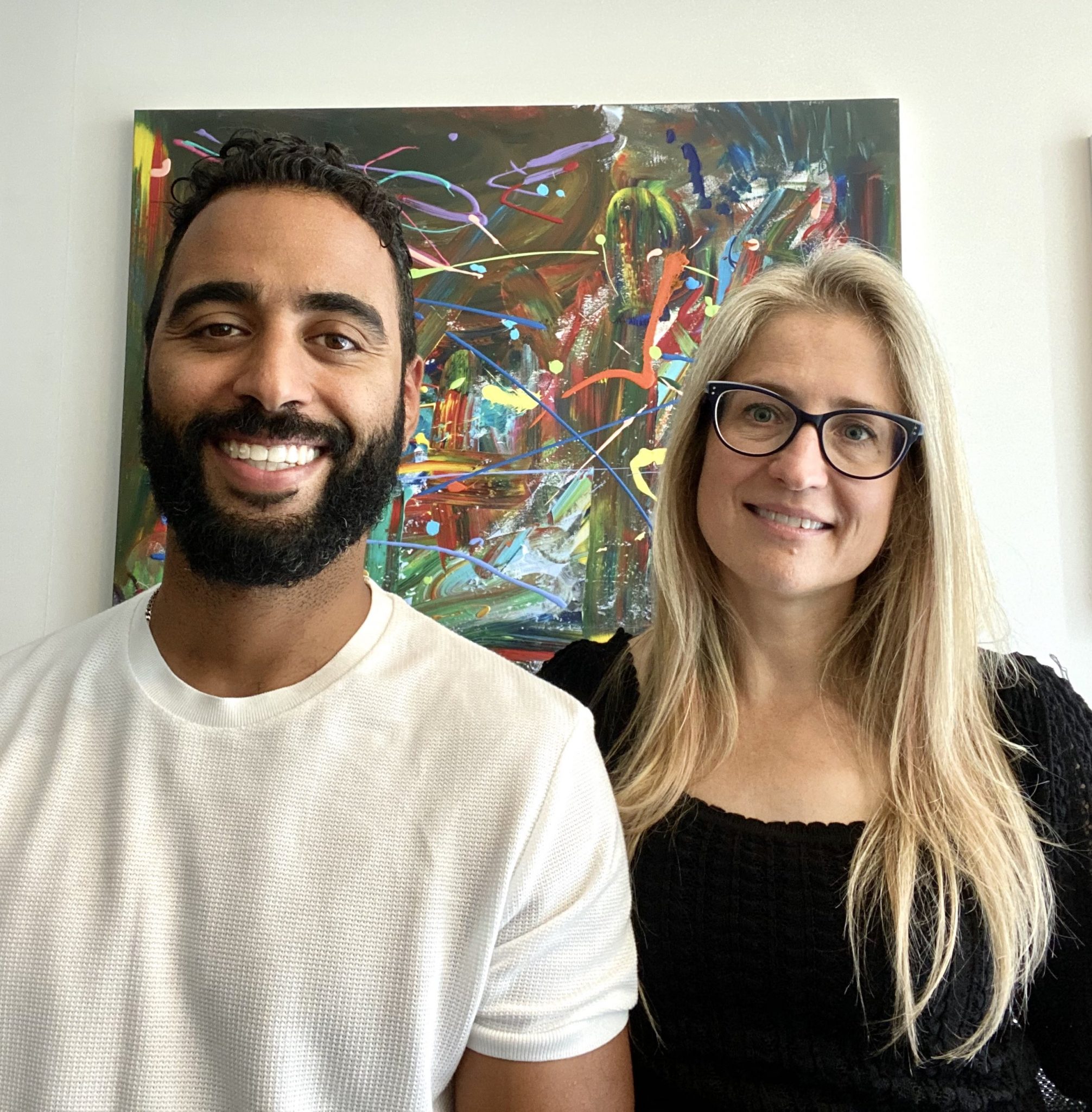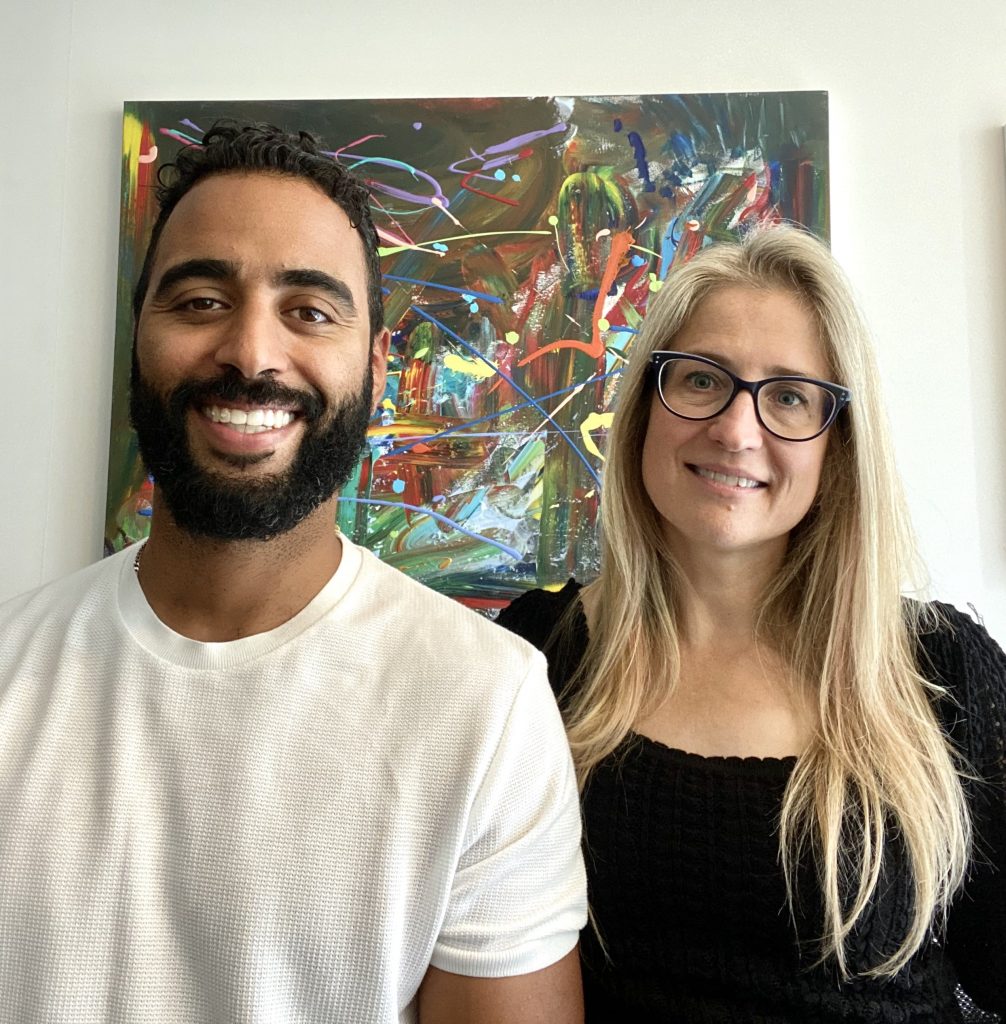 Yusef Kulan and Alice Seba
Your Partners in Easy Product Creation at EKitHub.com