Click here to subscribe to our YouTube Channel
If you've spent any time around us, you'll know the MONEY IS IN THE LIST and it's important to always be growing your subscriber list. Of course, growing the list isn't enough. You also need to follow up!
In the above video, Yusef demonstrates how set up your new list in Aweber and create a follow up email series. This video is one of the extra tutorials created for our Fast & Simple Course Creation students.
Aweber is our preferred newsletter management service that allows you to collect email addresses and email your subscribers You can also use it to create sales pages and free event pages.
We hope you'll find it useful. Watch the video above or read the tutorial below.
Tutorial for Setting up a Mailing List and Follow Up Campaign in Aweber
This tutorial is divided into two parts – creating a list and setting up a campaign.
Creating a List – So when you want to create an e-mail list on Aweber, the first thing is to log into your Aweber account. Once logged in, go to the top left corner and make sure you are on the correct list. Next, go all the way down and click on Create New List.
Type in your company name. It's optional if you want to add your website and then enter your address; then click next.
Under Create a List, add in the List Name and a description of the list and the name and e-mail address you want to send from and click Next.
Now choose the language and the approved subject line. I'm going to leave it at "Please confirm your request for information". Click on the Create List button.
Setting up a Campaign – First, make sure you have the correct list selected in the upper left-hand corner. It should be the one your created in the first step – Create a List. Once selected, go down to messages.


Here you can create messages or emails that you will later connect to your campaign section. Just click on the Create a Message button on the top right side of the page and use the drop in drag e-mail builder.
Fill in the Subject Line and then write your message. As shown in the above image, on the left side of the page are a number of Elements that you can click and drag into your messge if you want. For example, you drag and drop the Image element and either upload an image from your computer or choose one from your gallery and add it to your message.
Once you've created your e-mail, then you just click on the Save and Exit button and the email will show up in the DRAFT section of your Messages. Later, you can use this e-mail as part of your campaign.
So now that you have the emails, proceed to the campaign. Go to Automation and then click on Campaign > Create a Campaign and choose whether you want to work on a blank campaign or welcome series.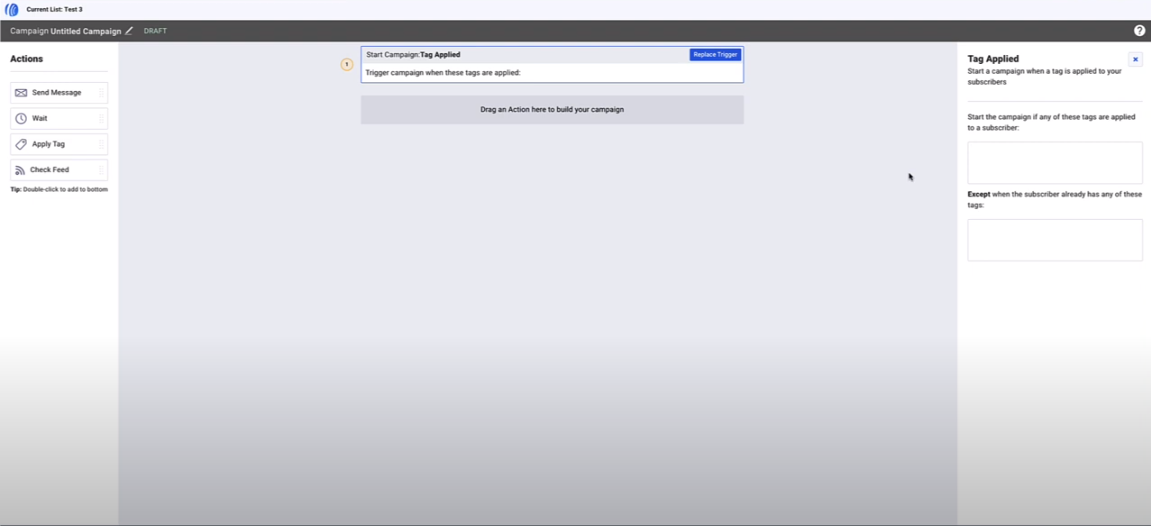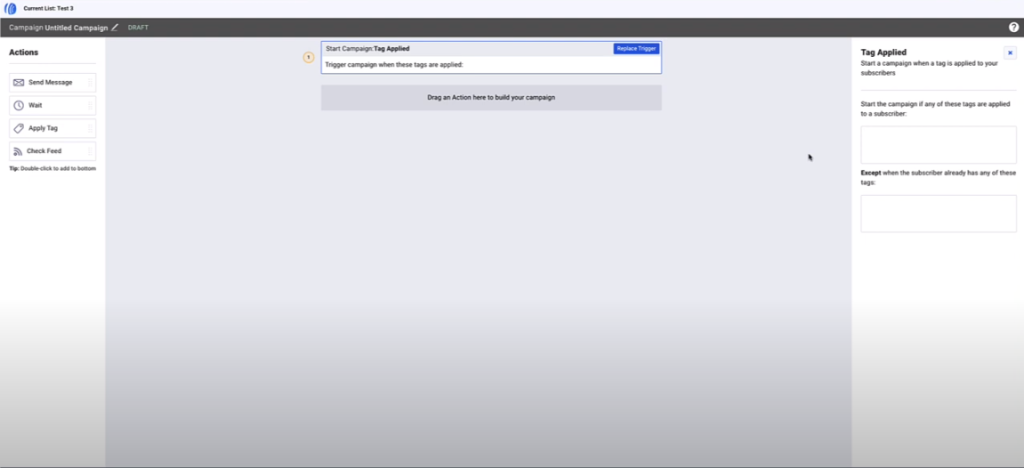 If you want to welcome some somebody to your brand or to your company, then you can create a welcome series or you can choose from any of the other templates – blog automation, YouTube automation, Lead Magnet, etc. I normally like to build one from scratch. So once you do that, you come to the Welcome to the Campaign editor page. Choose the Tag Applied option.
Next I'm going to choose which action I want in this campaign; it's drag and drop as you can see to add them. We have Send Messages, Wait which is the waiting period, and Apply tags to choose from.

We're here at this first stage, so this campaign gets triggered when somebody buys a product. The campaign will be triggered once, somebody gets assigned with this tag. They will be get assigned this tag when they buy product it is assigned to.
So what this tells a Weber as soon as somebody as subscriber on this e-mail list gets tagged with a the tag assigned to tht product, then a number of actions can take place and we will decide which action is next.
Once it gets triggered, the next action is to drag the Send Message option over into the workspace and select the message you want sent or create a new message. I'm going to select the welcome e-mail just to welcome people that just purchased this product. In it they should find more information about the product they purchased, where to find it, and maybe a link to their members area or wherever.
Next, you need to decide the next action. In this case I'll add a waiting time before the next action takes place. Once you drag and drop the Wait element onto your workspace, click on it and you get to decide how long to wait before the next action … which can be another email.
Once they get the last e-mail, assign the Apply Tag again with the same tag but with "end" in front of it. This tag is basically to specify that the campaign is finished, so they don't get these same emails over and over again.

Once finished setting up the campaign, click on the Save & Exit button in the lower right corner. Now go back to the Automation > Campaign to see your campaign. Now click on the three dots on the right and select "Activate" to make the campaign functional.
Please let me know in the comments section if you have any questions. I'll be happy to help you with them and subscribe to the channel if you haven't already.
What To Do Next: Get a FREE Report & Join Fast & Simple Course Creation
If you'd like to dig deeper into high-value course creation, we have a report you Plus, you can also join us for our intensive course creation program with all the guidance to make a hot selling course offer…including all the templates and guidance you need.
#1: Grab a FREE Boost The Value of Your Course Report
If you're selling courses or coaching program, it's easy to get your clients BETTER results and to charge a premium for your programs with the simple addition of printables. And when they get better results, they are more likely to come back for more and tell others about you.
This report has 17 ideas for incorporating printables into a program or course you don't want to miss.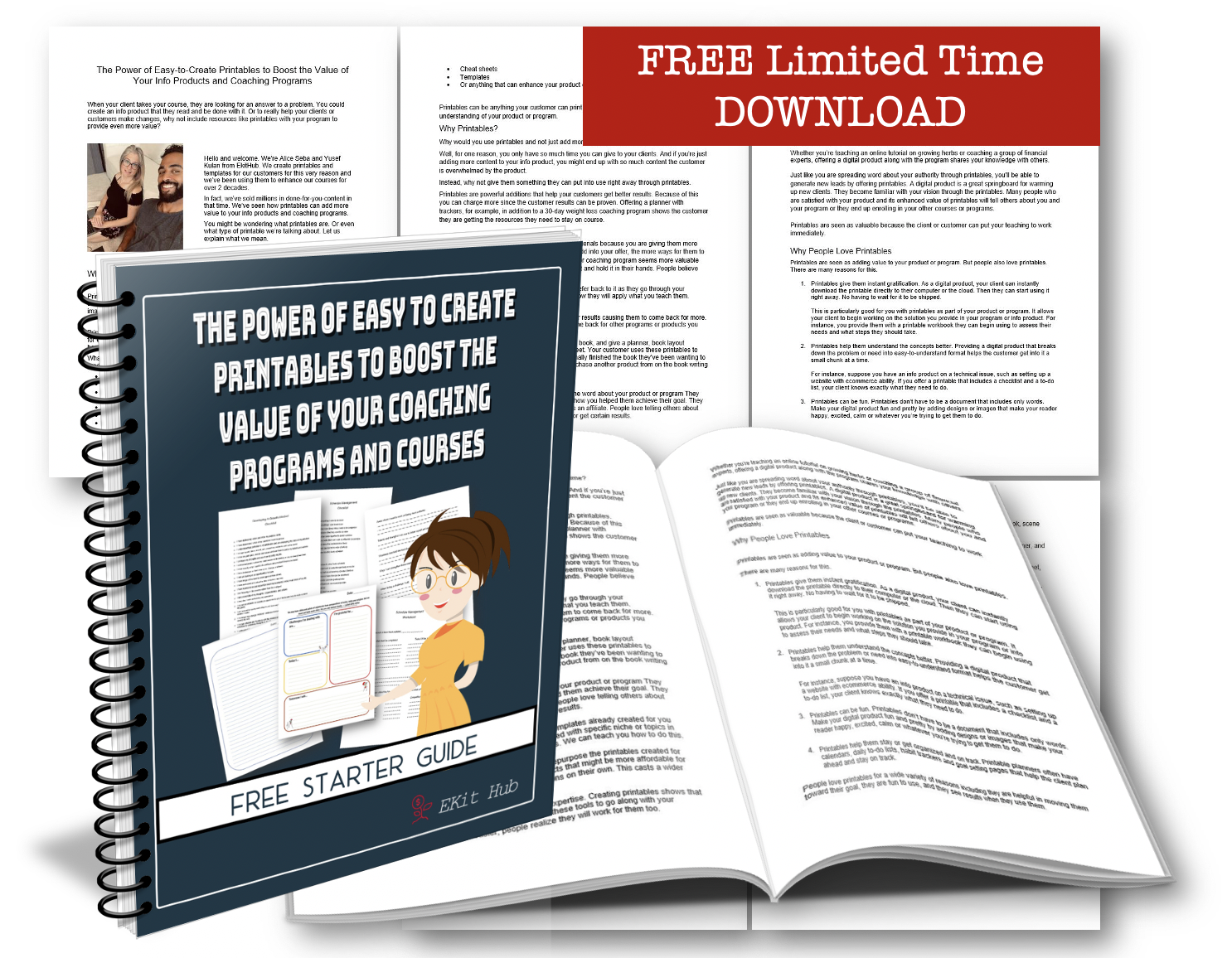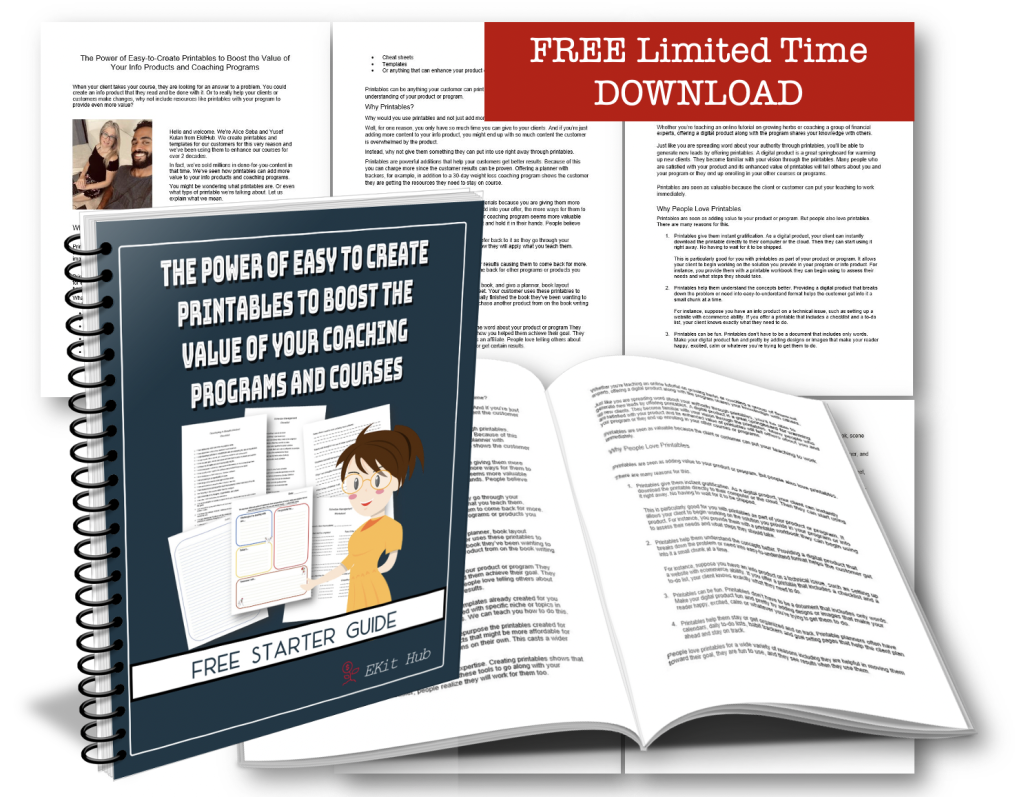 Click here to get the FREE Power of Printables Report
#2: Get Instant Access to the Fast & Simple Course Creation with the Power of Printables Intensive Program
Eliminate procrastination AND streamline the course creation process so it's fast and SIMPLE. Join us for this 4-week intensive program.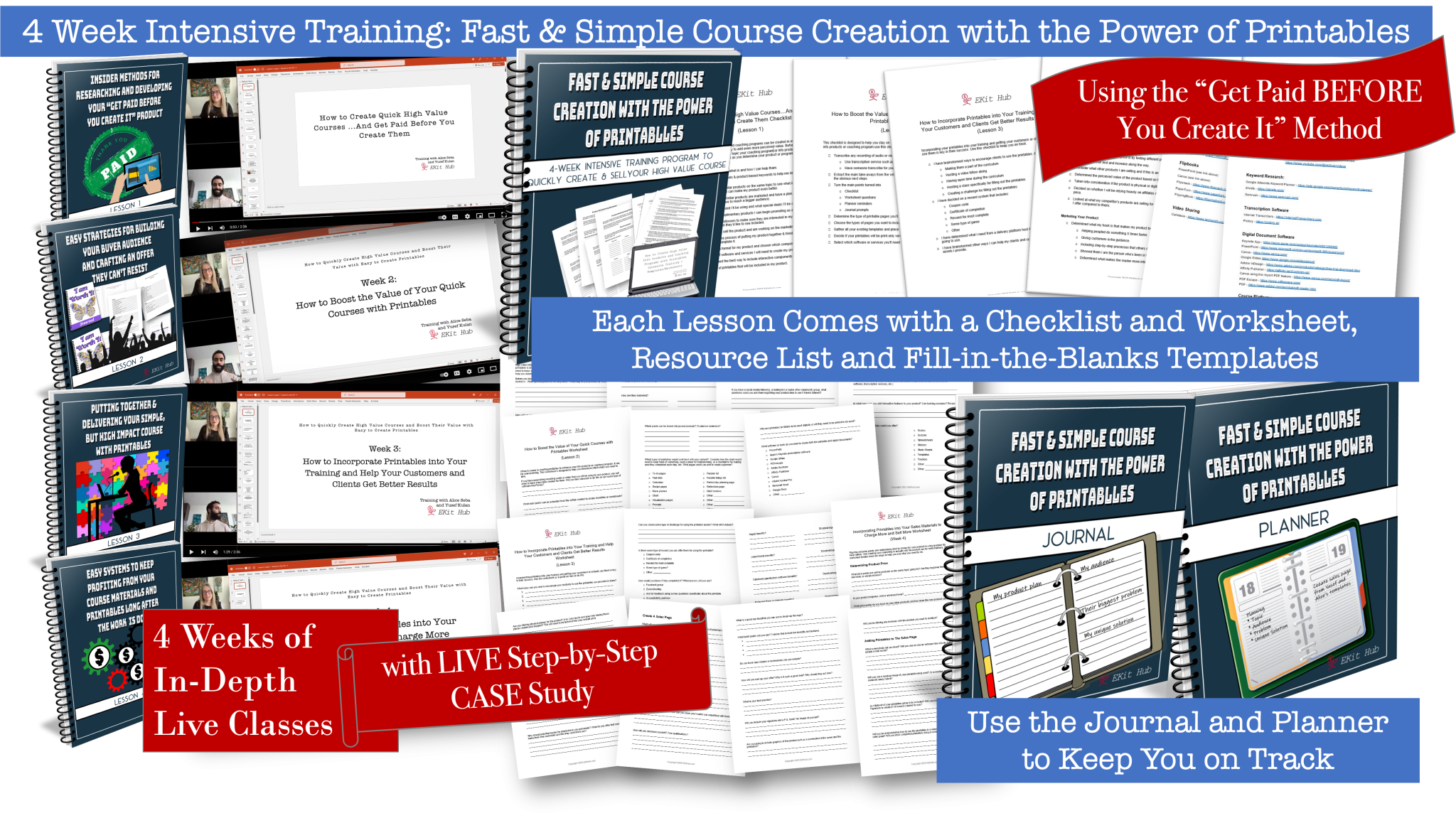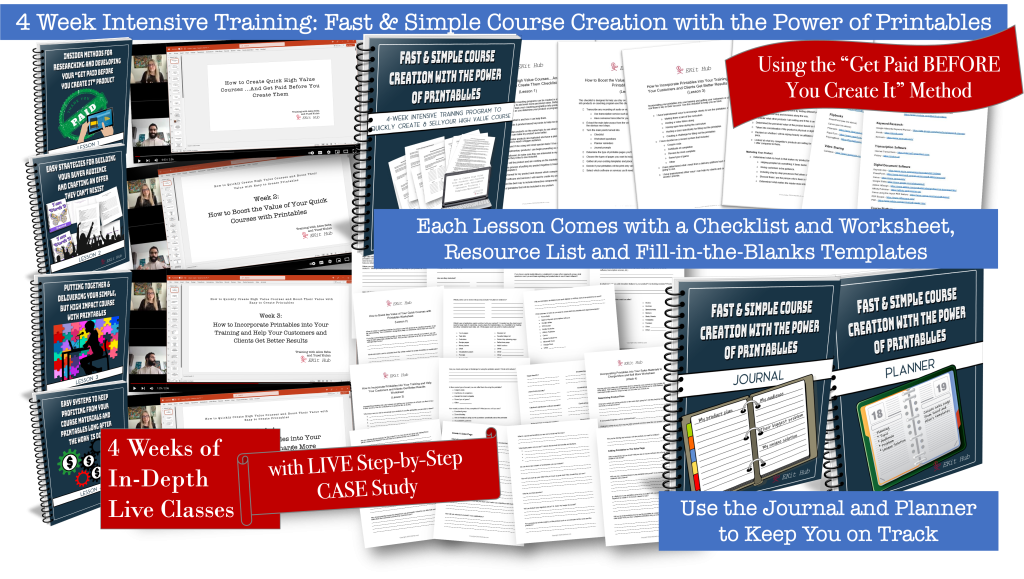 Click here to Access the Course + Templates
This digital world we're living in is a HUGE gift that allow you to earn a living through the power of fast and simple course. Be sure to take advantage of the report and join us for the program. We can't wait to work with you!
To your publishing success,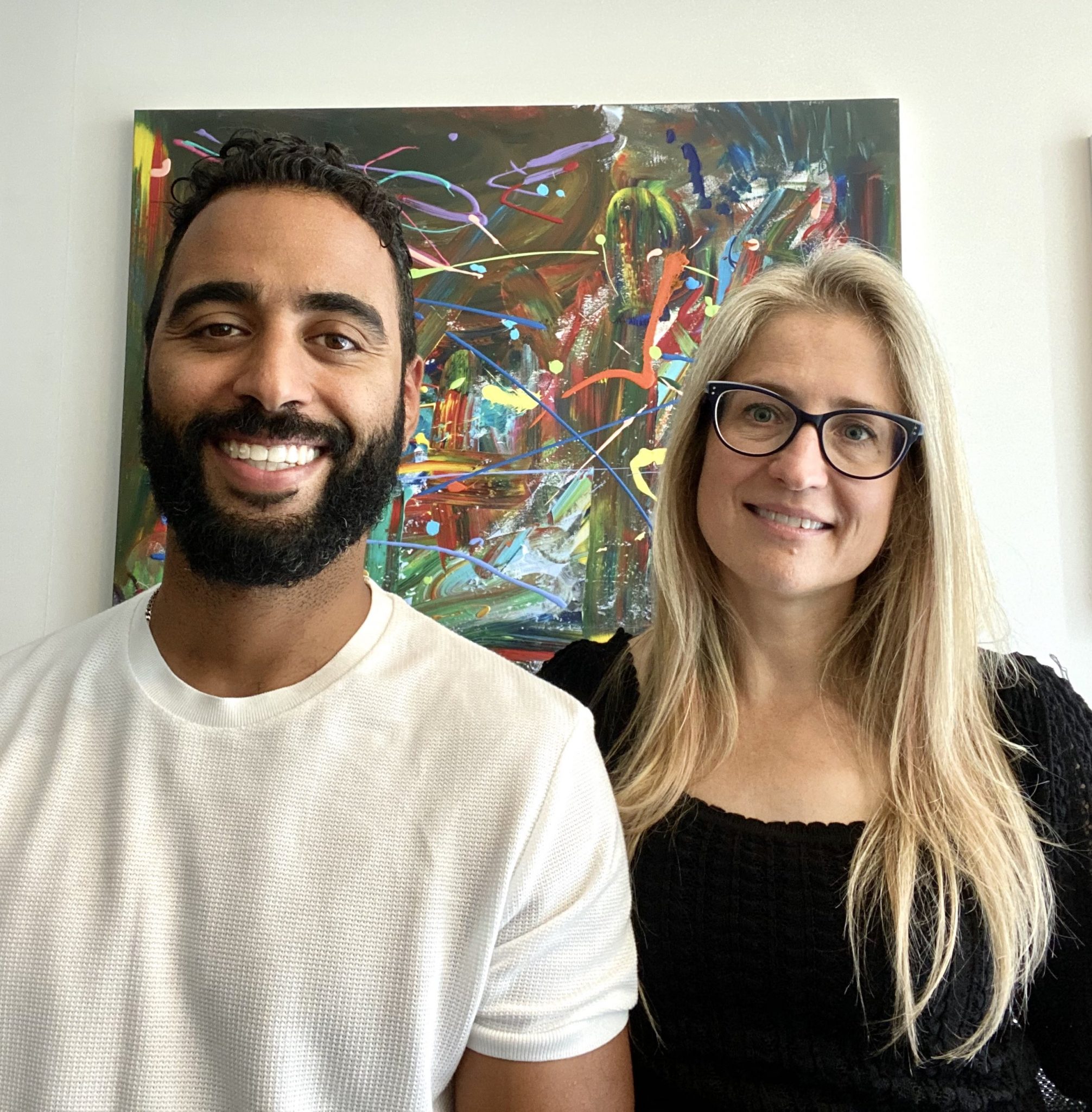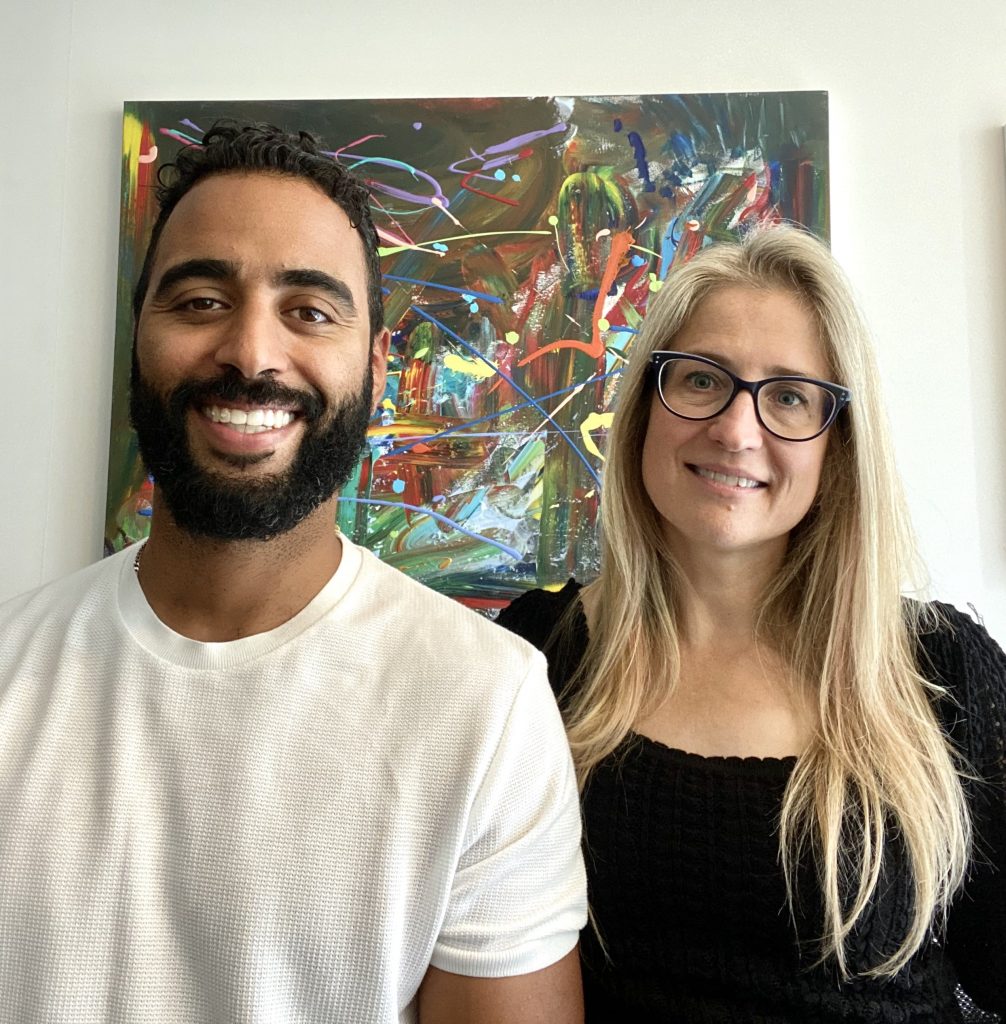 Yusef Kulan and Alice Seba
Your Partners in Easy Product Creation at EKitHub.com