Let's talk growing your list! It's one of our favorite topics, because with a list, you've always got a BUILT-IN audience to consume your content and buy your products. It's more reliable than a social media or search engine algorithm…and honestly, even more reliable than paid ads on many platforms right now.
PLUS, outside the cost of your autoresponder service, it's pretty much free.
Also as a side note, we do have a FREE course + templates on growing your list and turning your subscribers into customers quickly. If you don't have it yet, go get it here now.
Now Let's Talk about FREE Gifts You Can Give Away to Grow Your List
To start out with, here is some general advice about free gifts you can make in the video below. It's a good overview of the types of things you can make. But if you want niche-specific ideas, that's where ChatGPT comes in.
Watch this video for general ideas first. Then let's get niche-specific after that.
Click here to subscribe to our YouTube Channel
Now let's talk about generating ideas for your own unique niche, using ChatGPT.
AI Tools are incredibly powerful idea generators, so if you haven't embraced them, we suggest that you do. We have actually received a few hate emails about talking about ChatGPT and we get that people have concerns about the technology, but it's here to stay. And as an IDEA GENERATOR and a knowledgeable personal assistant, AI tools can't be beat.
We personally use ChatGPT…others may be better for your needs.
How to Ask ChatGPT to Help You Find Free Gift Ideas for Your Niche
We usually tell ChatGPT what we're working on and give as much detail as possible…then ask for ideas. Here's an example for the yoga niche that Alice made up. She loooves yoga, but is not teaching yoga, so this is purely fictional.
Side note: Alice called ChatGPT "my friend" earlier and she called her "my friend" back…so she tried again, but this time, she got no affection from ChatGPT. But that's okay, she still did her job. 😂


To that, she replied…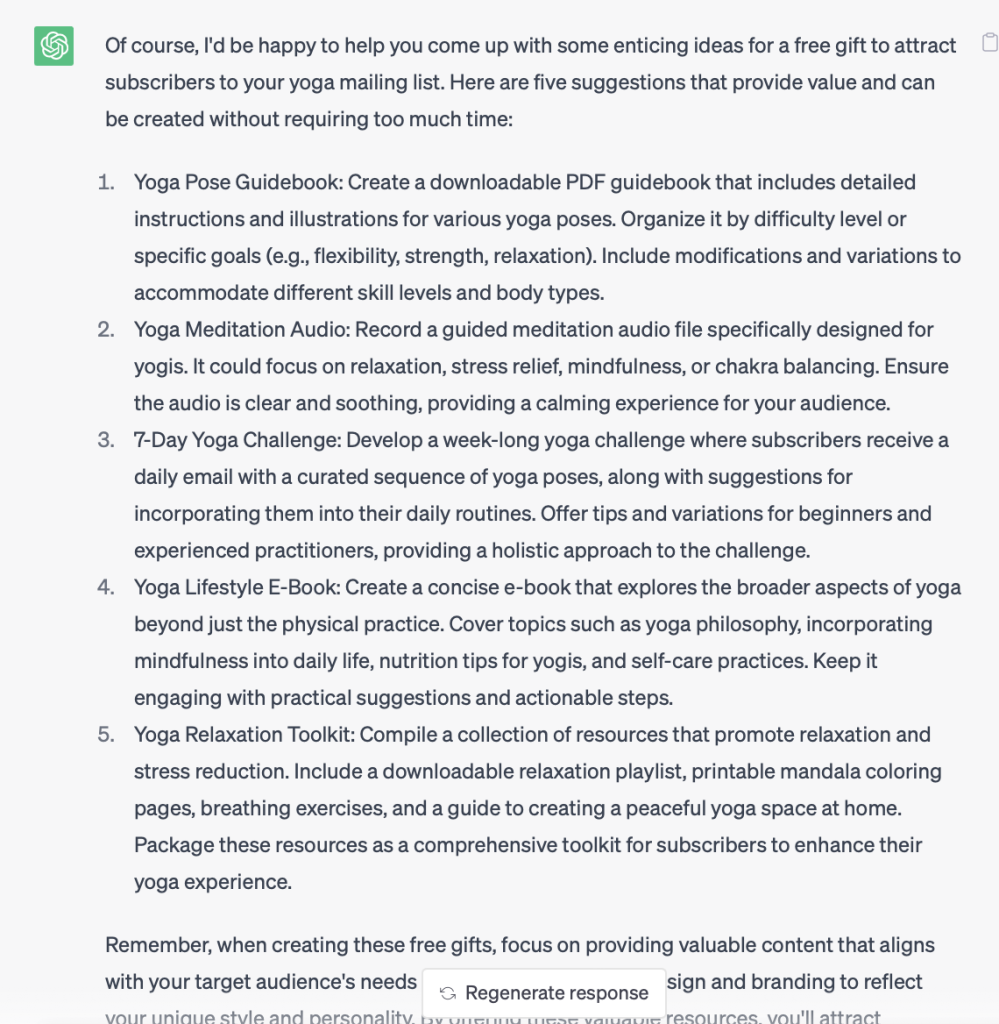 Then Alice followed up with asking for help on titles. And you can do the same. Dig deeper into any of her ideas, ask for help with titles, creating a table of contents…anything you need. She can do it!


And she gave these ideas…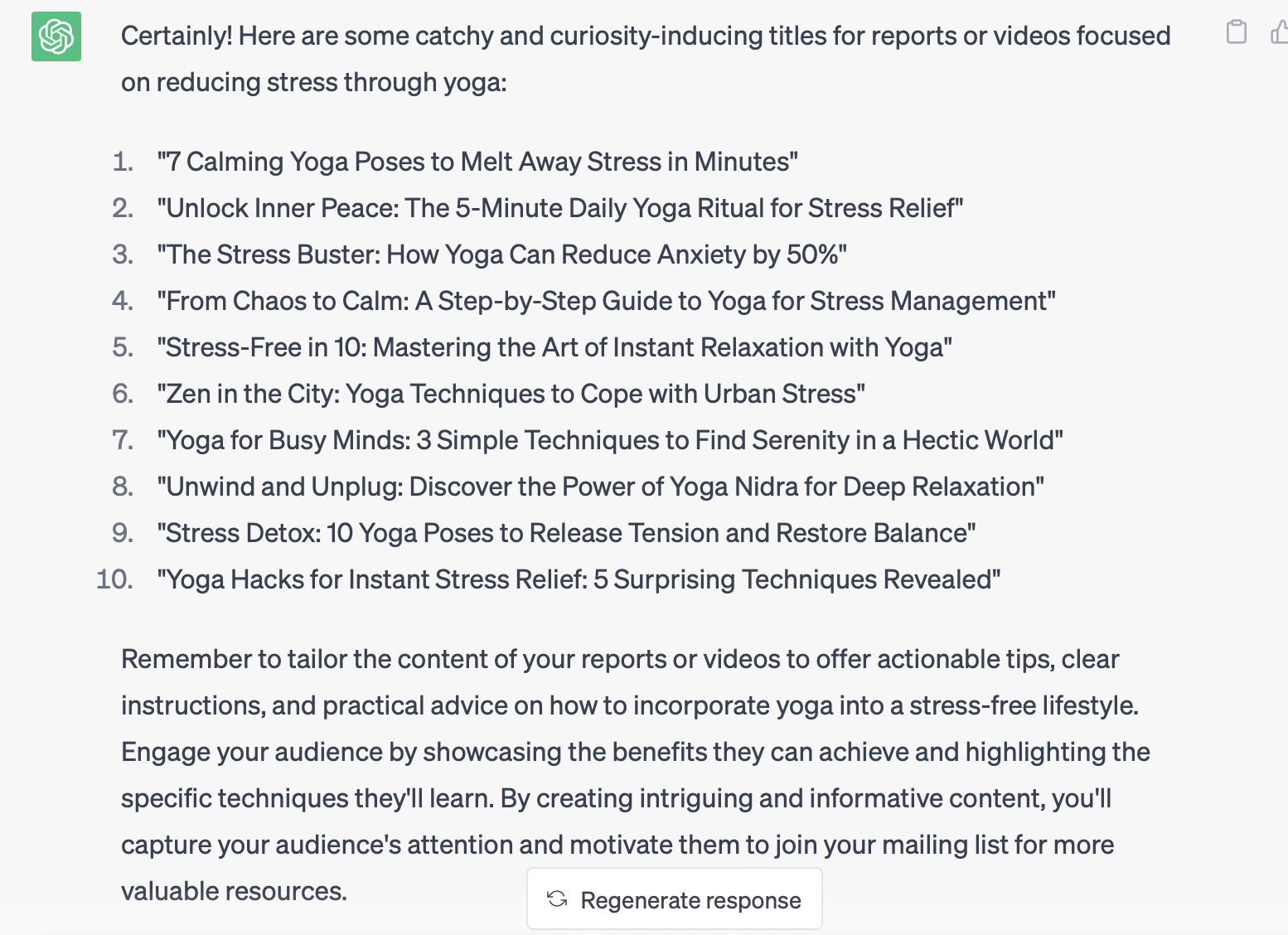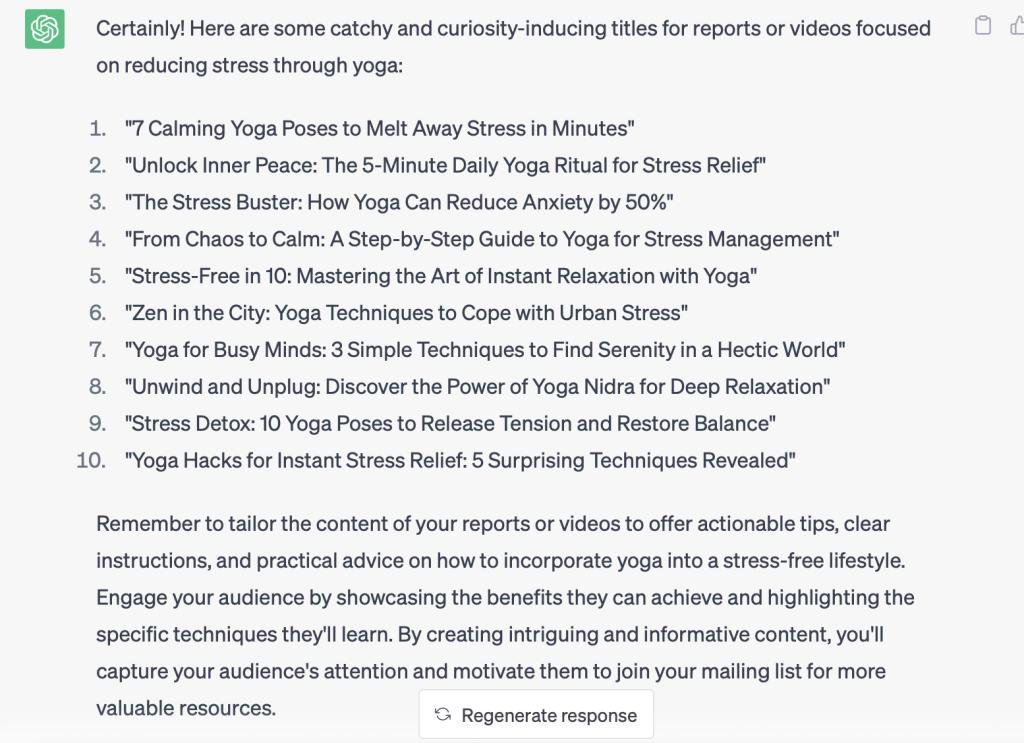 She's full of great ideas and helpful advice for certain. And of course, if you don't like something she said, you can correct her and ask her to adjust her response for your preference, interests, etc. And when she misunderstands your instructions, you also tell her to fix it.
Oh and if you want to ask her specifically about printables, she can handle that as well. Here's what Alice asked her…


She definitely had some ideas for that as well…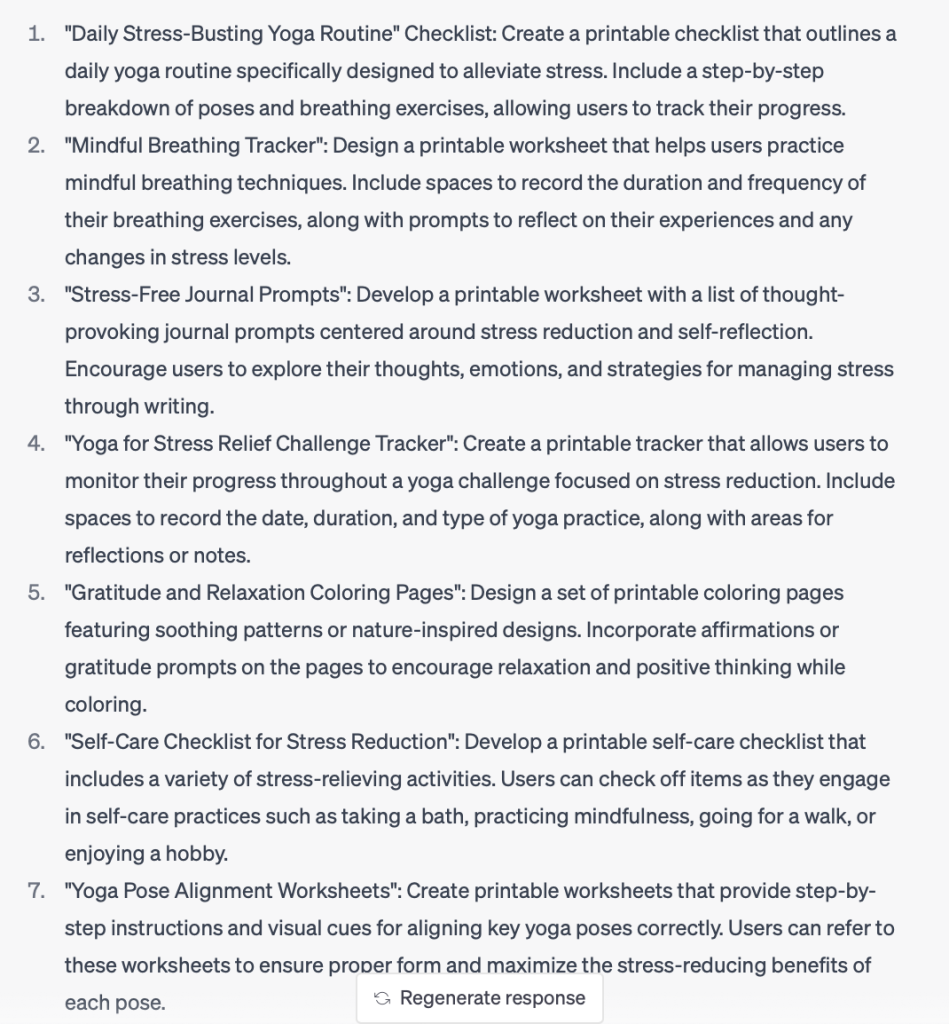 And she's even like your mom and she'll remind you how to do your best at the end of her suggestions…


As you can see, ChatGPT is a brilliant, idea-filled assistant that you can guide in the precise direction you want to go. You can also tell her what your goal is with your free gift and the list your building. Perhaps, you're selling a certain type of product and she'll have ideas of gifts to encourage people to buy it.
Try her out and she what free gift ideas she comes up with, so you can grow your mailing list.
Before You Start Playing, Get Your Free Email Marketing Basics Course + Fill-in-the-Blanks Templates
We call it "email marketing basics" but really, this is ADVANCED stuff most people don't know, but is laid out so beginners can implement and profit.
It's called: Learn the Secrets of Growing Your List AND Turning Your New Subscribers into Paying Customers QUICKLY that we recommend picking up right now to start your email marketing journey the right way.
The course teaches you:
Why the moment you get a new subscriber is prime time to turn them into a customer
Leverage points for turning a subscriber into a customer
Examples of free offers that convert to customers
Creating your free gift designed to sell your product
Creating an opt-in landing page and thank you page
Crafting your thank you email and follow up series
Collection Testimonials and Case Studies
Leveraging FAQs to make more sales
…and includes a bunch of handy templates to make it easy to get started.
Click here for instant access to the free email marketing class + templates.
Do this and you'll be ahead of most of your competition. No need to try to big social media followings. This will give you the biggest sales results…and the fastest.
To your publishing success,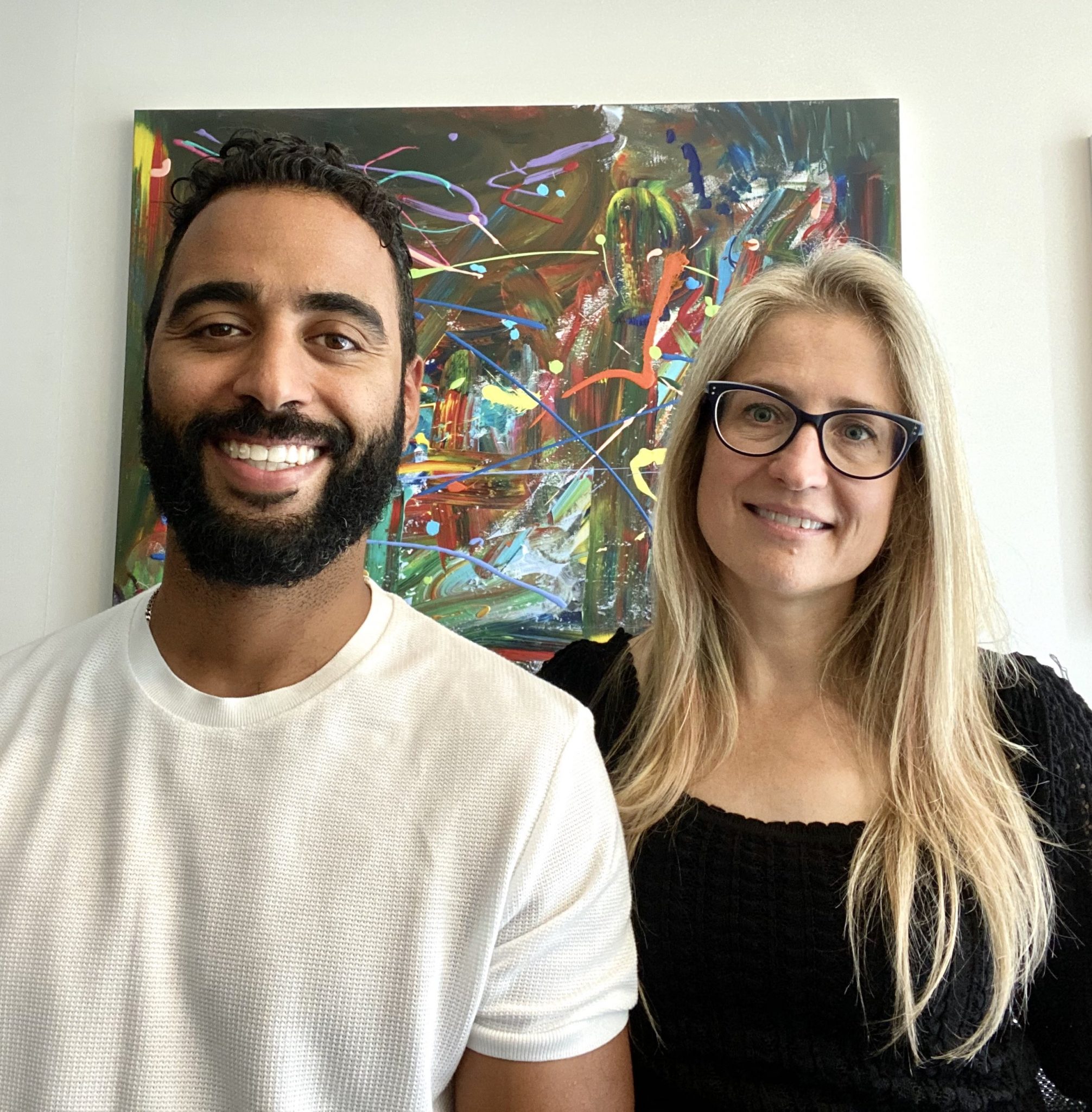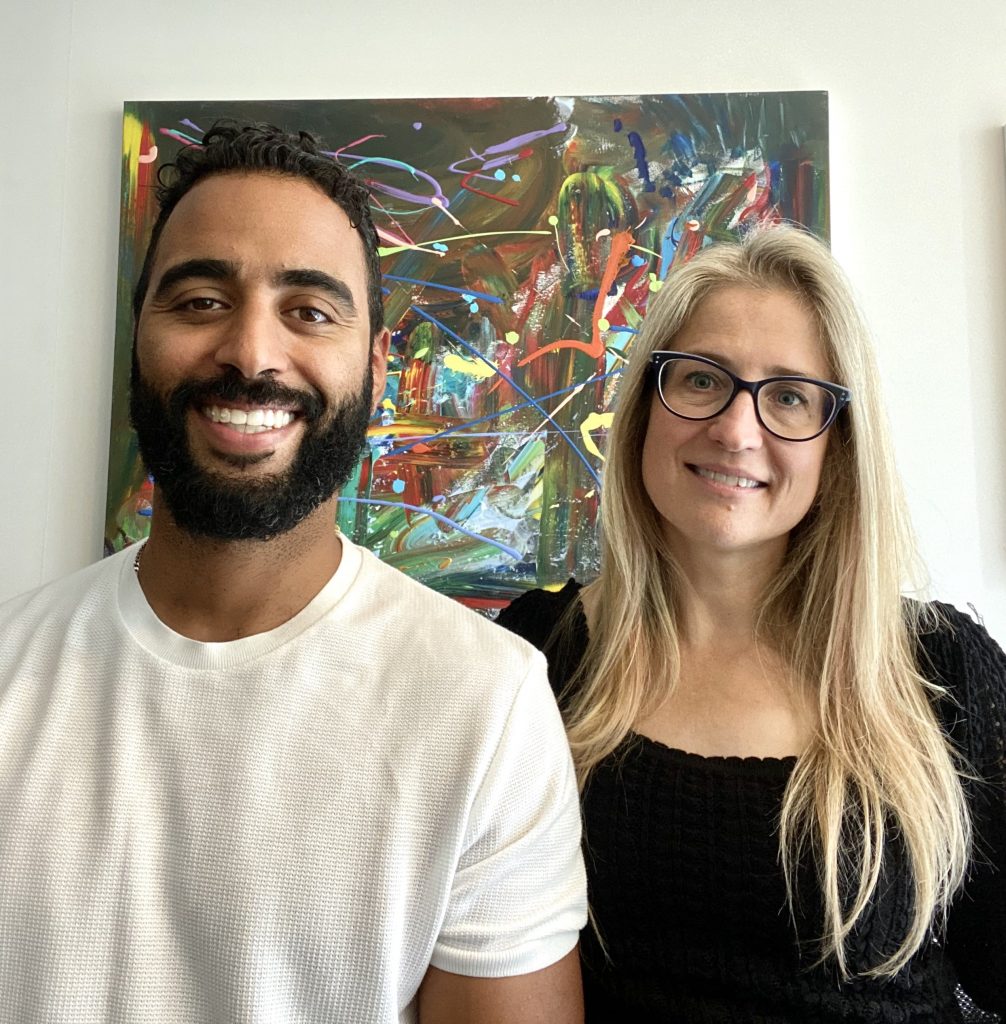 Yusef Kulan and Alice Seba
Your Partners in Easy Product Creation at EKitHub.com