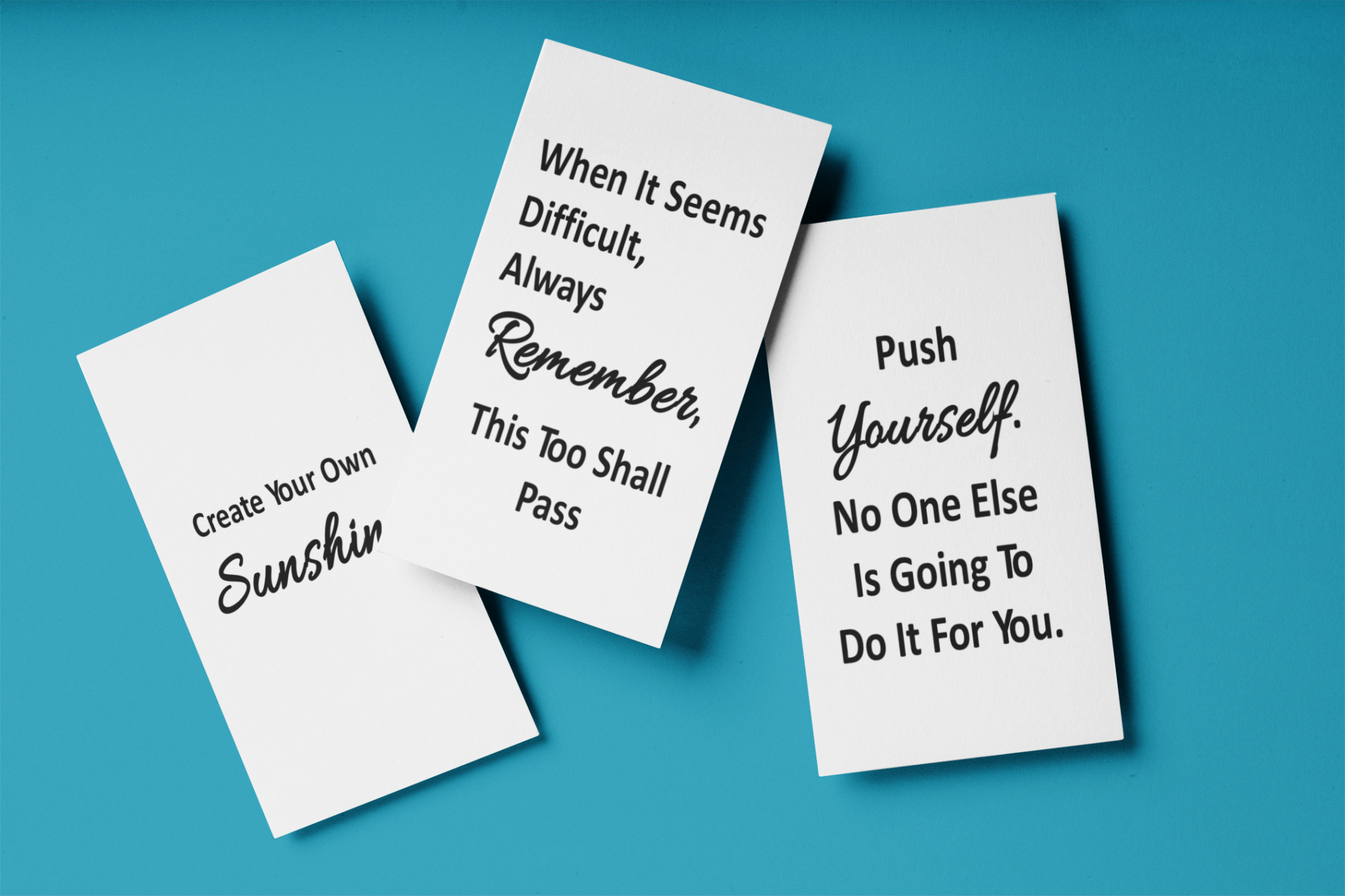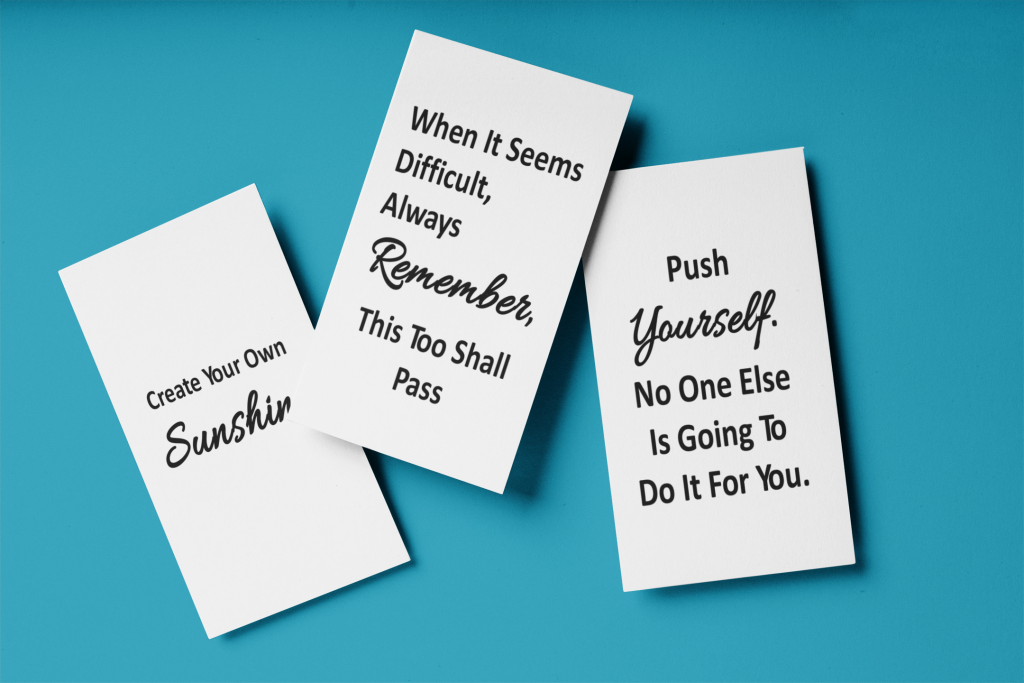 We've received many questions from our customers about creating card decks – either from scratch or using our templates. Here are some of the most popular questions answered for you.
Where can I get my cards printed?
There are probably many places. We format our cards for printing with Vervante. Our customers have also used Game Crafter.
What format do the cards need to be in?
For Vervante, you will need a PDF of all your cards to upload for printing. At Game Crafter, they have a tool that allows you to upload the images directly, so you don't have to create a PDF. Both methods are fairly simple to implement. They just take a bit of patience as you work through the cards.
We explain how to create the PDF with your purchase of our templates. You can also see the quick video here.
If I want rounded edges on my cards, do I have to create images with rounded edges?
No, if you want rounded edges, your cards will just be printed that way. You can still use a rectangular image. Just make sure there aren't any elements around the edges or in the corner that you wouldn't want cut off.
Can I use Canva to create cards or to edit your cards?
You can certainly try to make your own cards from Canva, but ensure that you save a good quality image. A minimum of 300 dpi is recommended by Vervante. Our cards are made in Photohop to ensure best quality and to include the crop marks required by Vervante.
What if I don't have Photoshop?
Photoshop is a worthwhile investment for someone creating print on demand products, but it's not necessary. If you don't have Photoshop, you can use the free Photopea editor.
If I'm creating cards from scratch, how do I get the crop marks on them?
Well, we hired a designer to do that for us, so we aren't quite sure. So why not use our templates to make this step much easier?
How do I edit the cards?
You can edit our cards in Photoshop or using Photopea. We use Photoshop ourselves, we've posted a quick tutorial on the blog and are adding this to the card deck instructions that comes with your purchase.
Where do I sell my cards?
You can sell them from your website, on Etsy, on Amazon and just about any platform you'd like.
Can I print them myself?
You could print your own cards, but obviously the quality will depend on the type of printer and card stock you use. This might be suitable for cards that you give away for free, but probably not as a product for sale.
Can I give the cards for my customers to print?
Yes, you can give it to them as a digital download to print. We provide a PowerPoint file that lays the cards out in a suitable format for at-home printing. Please PDF the PowerPoint file before sending it to your customers, so it's easier for them to work with and to abide by our terms of use.
What else can I use the cards for?
There are so many things you could do with the cards. Obviously, they can be a shipped product or cards that your customers print themselves. You can also bundle them with other products, add them to your coaching programs and more. They can be used as social media content – both for posts and stories. You can add them to your printables like journals, planner and more. Use them as blog post starters….sky's the limit!
What are some ideas for card decks?
Many card decks are inspirational sayings and quotes. You can also do positive affirmations and ask questions. You can create games or educational cards for kids (and adults too). You can teach something through the cards like giving your customers ways to copy with anxiety, improve their finances, etc…whatever you want to teach them.
In the meantime, we'd love to recommend you grab our pack of 180 cards here…they're on for a special price and we'd hate for you to miss it.
Here's a peek at the cards…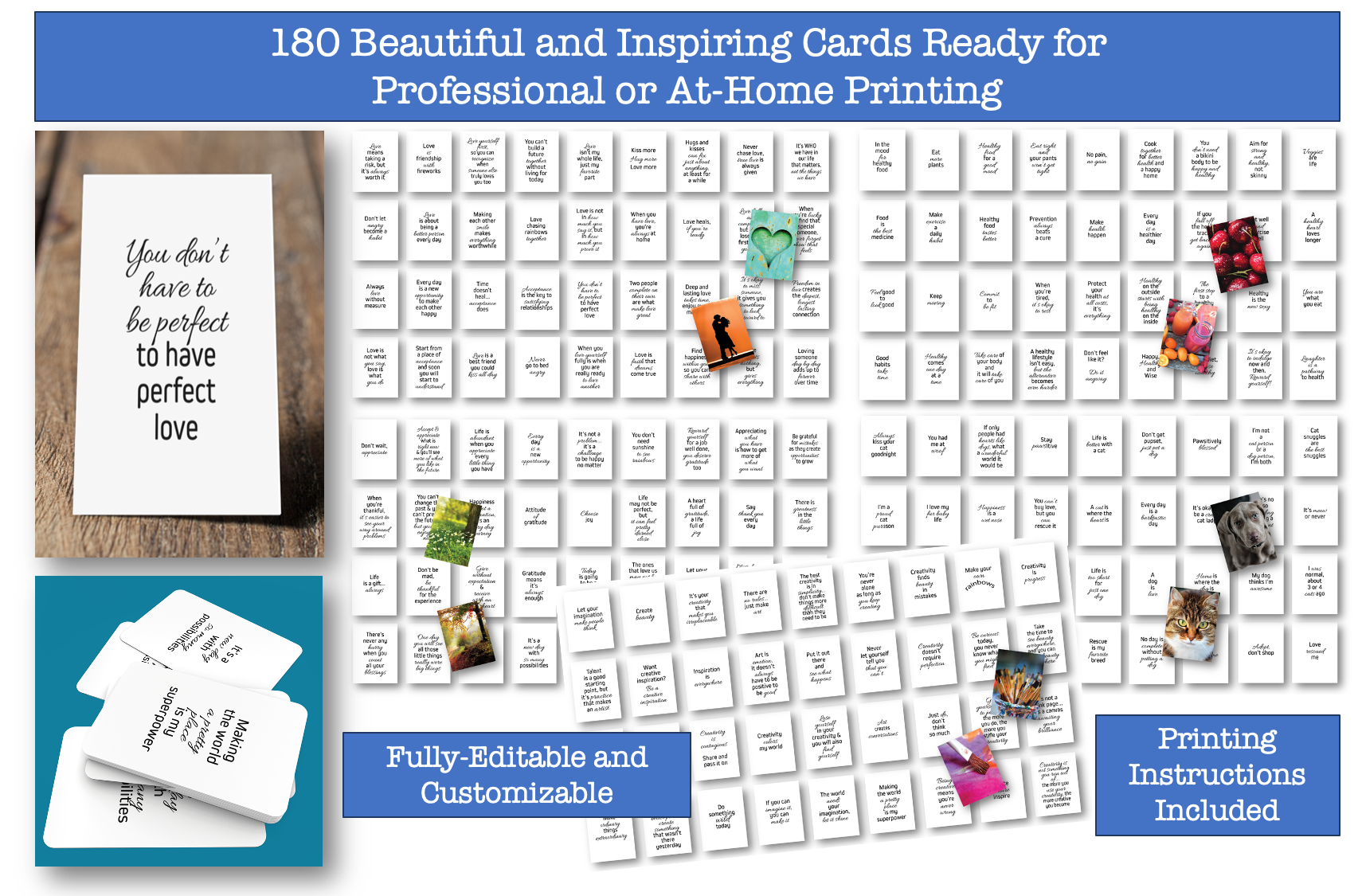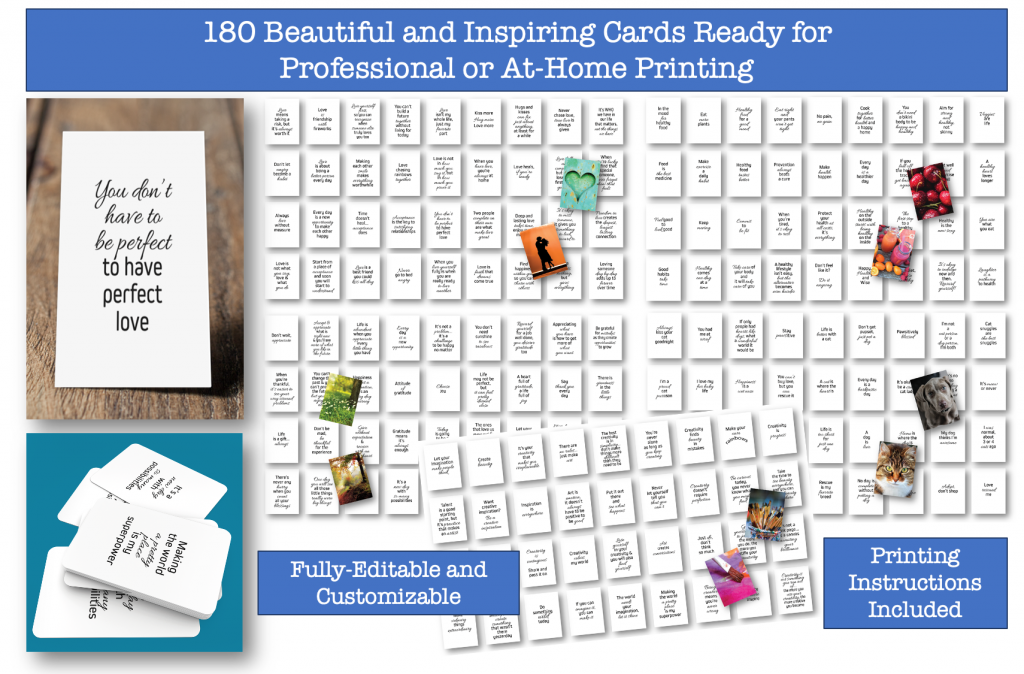 This EKit gives you the foundation of properly formatted cards that you can brand, add to and change up any way you'd like. Go here to get yours.
Let us make things easy for you!