Click here to subscribe to our YouTube Channel
As you probably know, we create templates for publishing wall art. Many of our customers sell these as printable products or have the shipped to their own customers. They also use them for gift giving to grow business through goodwill, loyalty and reciprocity.
You can even find a very large pack of done-for-you poster graphics + templates here…at very special pricing that will save you a lot of time from designing your own from scratch.
If you're wondering what companies you can use to ship wall art directly to your customers, we've got you covered. Here are 5 companies you can use and because they're print-on-demand, this means you don't have to carry an inventory. They'll just print and charge you as you make sales or want to send gifts to clients, team members and colleagues.
It's a perfect solution to offering physical products in a digital world. Let someone else handle that for you. Please do check the specific companies to ensure they have what you need. The details we provided were accurate at the time of publishing, but they may change availability.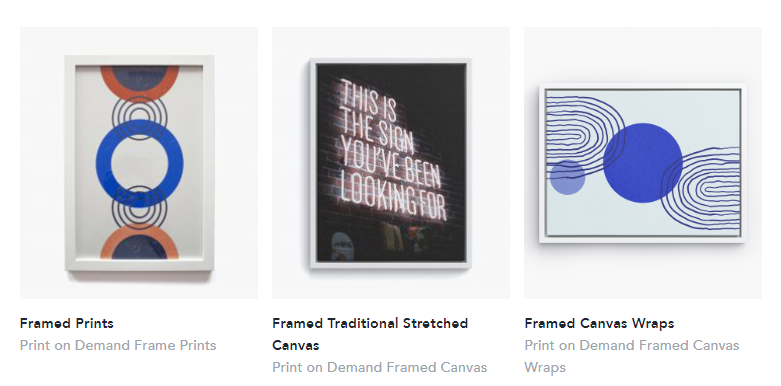 Gooten is a print-on-demand company with a wide variety of products available. It's free to join and you have many options for creating products for sale, gifts and more. They also do wall art printing, so let's look at that.
Framed Prints:
Options: Gloss, Lustre and Satin; 5 wooden frame colors.
Sizes: 19 sizes from 8" x 8" to 24" x 36"
Canvas:
Options: 1.25″ thick with a 100% poloyester base printed with acid-free ink in a scratch resistant finish; 4 wooden frame colors
Sizes: 25 sizes from 5″ x 7″ to 32″ x 48″
Other Details:
Pricing – Framed prints started at $23.90 and go up to $127.40 / Canvas starts at $21.90 and goes up to $124.90
Shipping – Flat Rate from $18.99 to $35.99 USD to U.S. U.S. Territories, Canada, EU. Australia/New Zealand are much more expensive.
Production Estimation – 7 to 9 business days
Shipping Estimate – 9+ Business Days
Integrations: Shopify, WooCommerce and Artist Website via Gooten API
Cost to Join: None
Learn more about Gooten Wall Art printer options here.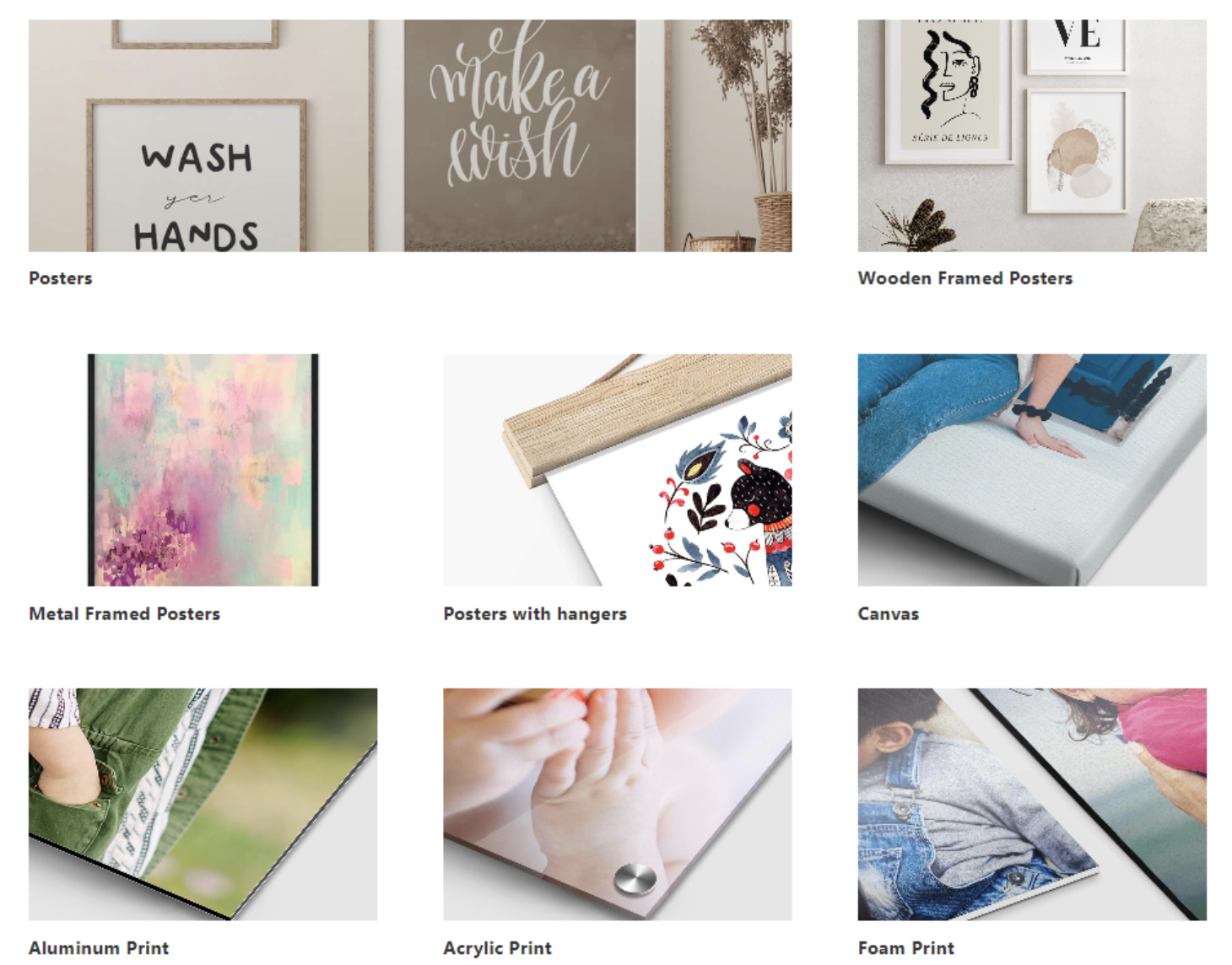 Type of Wall Art – Canvas | Interior wooden frames vary from 0.8″ to 1.6″ thick depending on the type selected: Slim or Thick.
Size – 26 sizes from 8" x 8" to 28" x 40" in either horizontal or vertical
Price – $16.84 to $74.26USD
Shipping – $9.48 to $26.94 USD
Production Estimation – Next day production
Shipping Estimate – 5 business days
Integrations: Shopify, Etsy, WooCommerce, Wix, Squarespace, BigCommerce, and Artist's Website via Gelato API
Cost to Join – Free (1 to 9 orders per month) / Gelato+ $14.99/ month (10 to 49 orders per month / Gelato+Gold $299/ month (over 50 orders per month).
Learn more about Gelato print-on-demand wall art.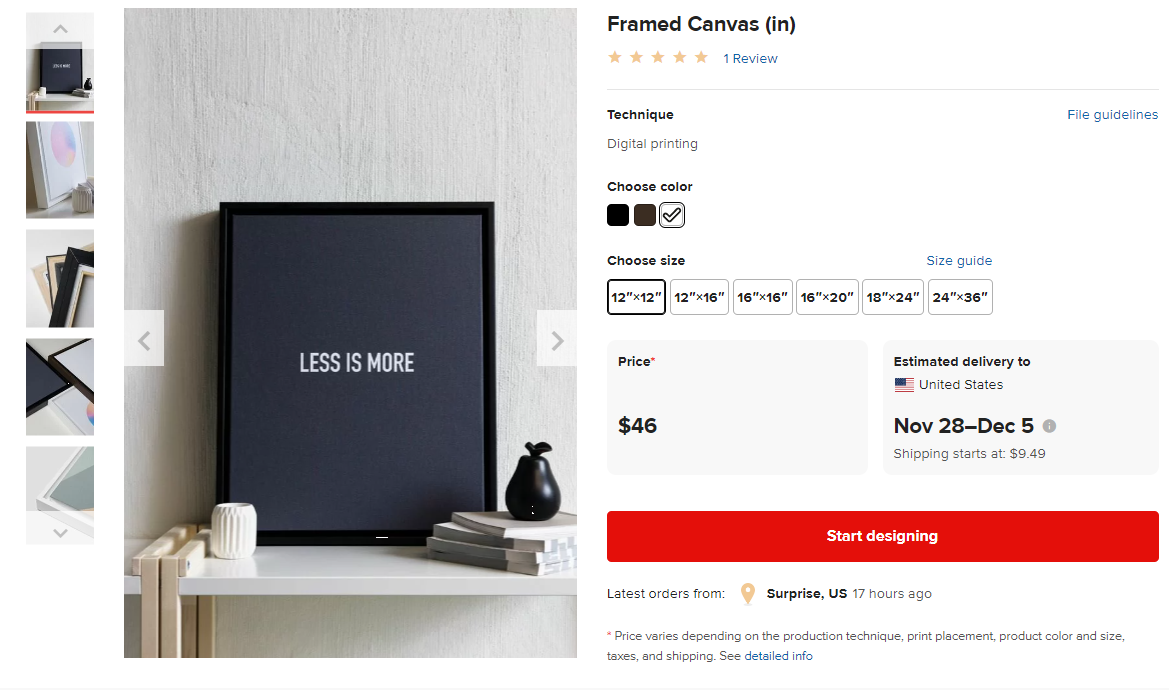 Type of Wall Art – Framed Canvas – 1.25" thick on polyester and cotton blend textured canvas | 3 wood frame color choices – black, brown or white.
Sizes – 6 sizes from 12" x 12" to 24" x 36"
Price – $46 to $98 USD
Shipping – $9.49 to $14.49 USD
Estimated Production – 2 to 5 business days
Estimated Shipping – 4 to 11 business days, depending on fulfillment center location and shipping address.
Note: Thin canvases can only be shipped to the U.S., Canada, Europe and the UK.
Integrations: 28 ecommerce platforms including Etsy, Shopify, WooCommerce, Amazon, Squarespace and Gumroad.
Cost to Join – None
Learn more about Printful's wall art print-on-demand service.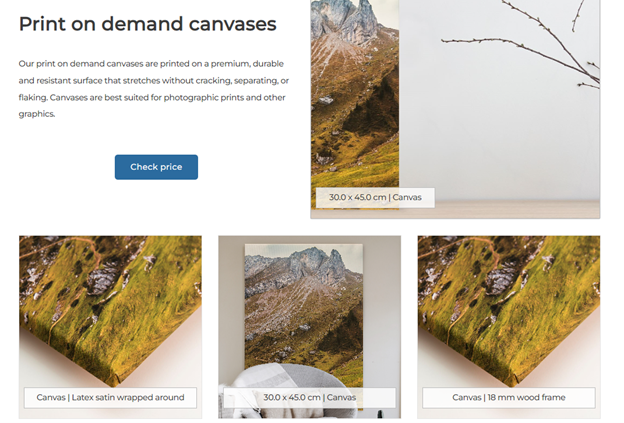 Type of Wall Art – Canvas, 16 mil latex satin
Sizes – 7.9" x 11.8" to 35.4" x 47.2" either rectangular portrait or landscape, or square
Price – $14.38 to $80.14USD (Shipping from $29.79 to $51.37USD)
Production Estimation – 3 to 7 working days
Shipping Estimate – 5 to 7 working days
Integrations – Integrates with Artist Website via their print API.
Misc. – They quote the seller a wholesale price. The seller can either choose to mark it up a certain percentage or use a fixed price to determine profit.
Cost to Join – None
Click here to learn more about Peecho and their wall art printing service.


Type of Wall Art – Framed Prints
Paper – 200-gram FSC-Certified
Print Sizes – 4 sizes: 7" x 5" | 8″ x 6″ | 10″ x 8″ | 12" x 8" in either vertical or horizontal
Price – $8.37 to $9.55 USD
Shipping – Flat Rate of $44.99USD regardless of size| New Zealand and Australia are much cheaper
Production Estimation – 2 to 9 business days
Misc. – Integrates with Shopify, Etsy, Walmart, eBay, PrestaShop, BigCommerce, Wix, WooCommerce, Squarespace and Artist Website via Printify API
Cost to Join – They have 3 plans: Free – up to 5 stores, Premium ($24.99USD/month) – up to 10 stores, Enterprise (Custom Pricing) – unlimited number of stores
Click here for more details about Printify and their print-on-demand wall art.
Which company is right for you is totally a personal choice. If possible, order some prints from a few and see which quality you like best. And if you change your mind later, it's easy…it's just print-on-demand and you can change the integration to your website anytime.
Ready to Make Your Own Wall Art? Pick Up Your Specially-Priced Done-for-You Poster Graphics + Templates Mega Pack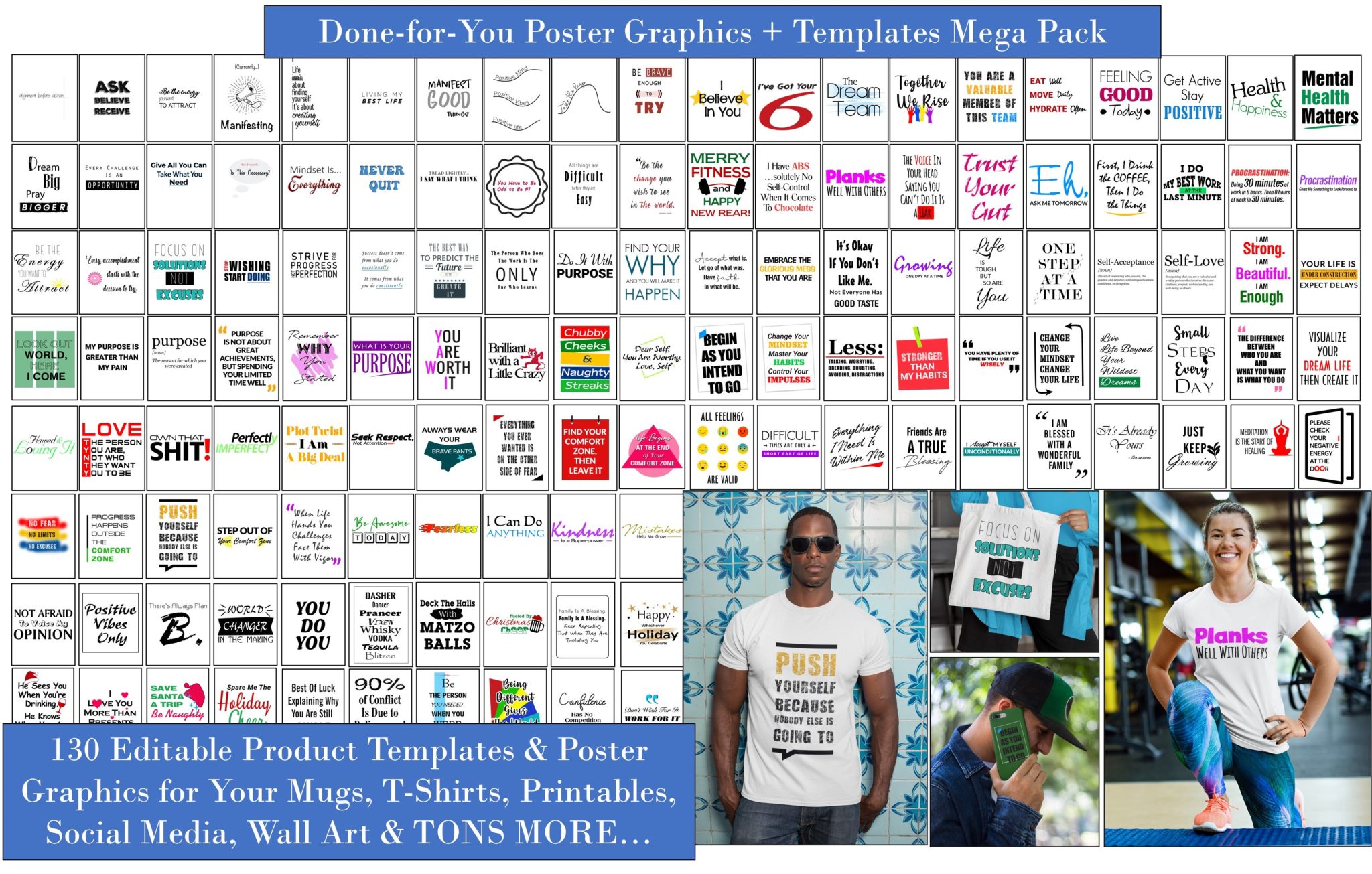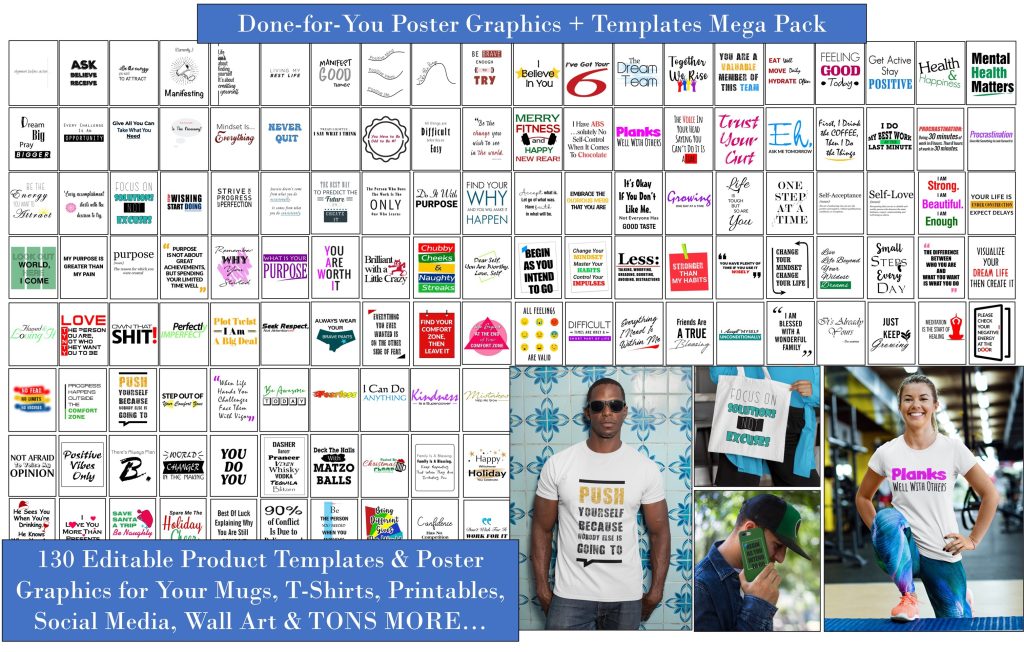 What we've done is put together 130 of our most popular poster graphics and put them into one handy package for you, so you can create your own print-on-demand gifts for your customers, clients, colleagues, partners, potential partners, team members and more!
They are fully editable and brandable…and available for commercial use. And all the products shown in the images above we made, using the images from this package.
Plus, we've added a few very handy extras including…
10 Bonus Inspirational PLR Graphics:
These are also fully editable and come in PSD, PNG and PDF format. Just work your magic.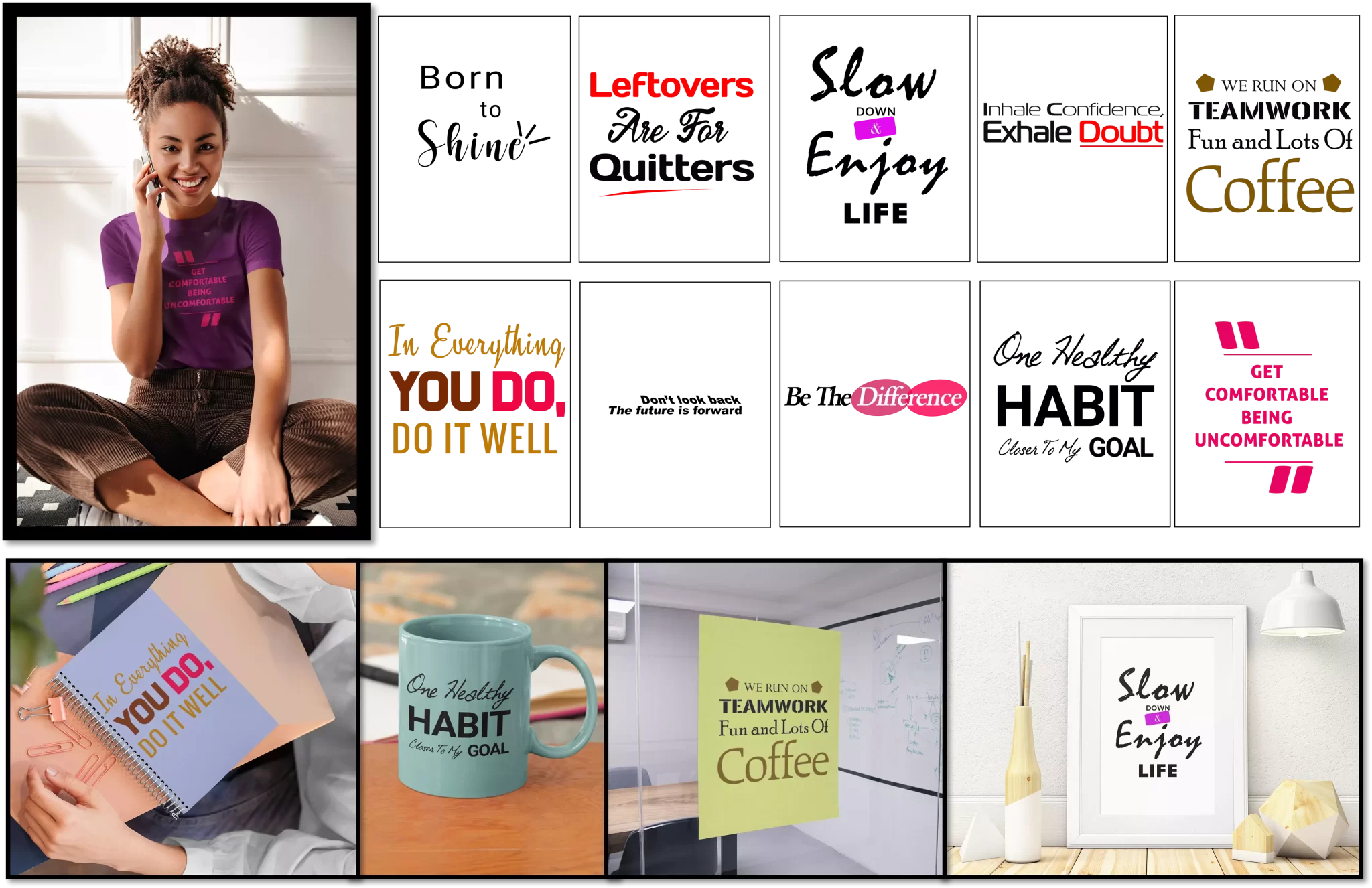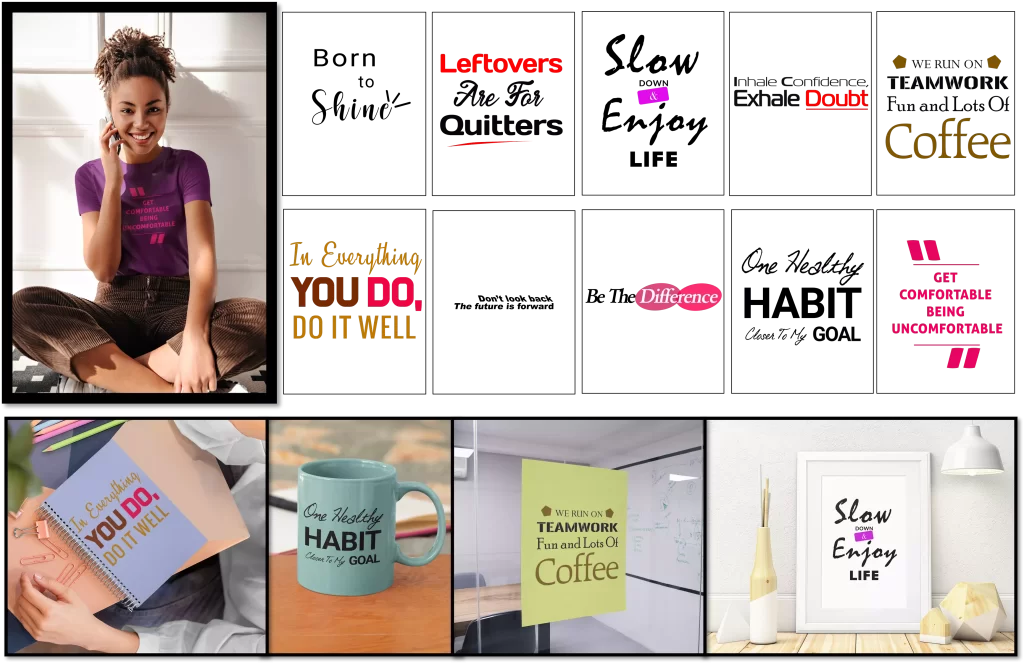 And then to make it easy to create your own library of inspirational graphics for a long time to come, we've added…
365 Days of Inspiration + Templates Bonus
This is a handy bonus that includes 122 inspirational quotes, 122 motivational questions and 122 motivation and inspiration tips. PLUS – there are 5 PowerPoint templates you can work with to create your own designs.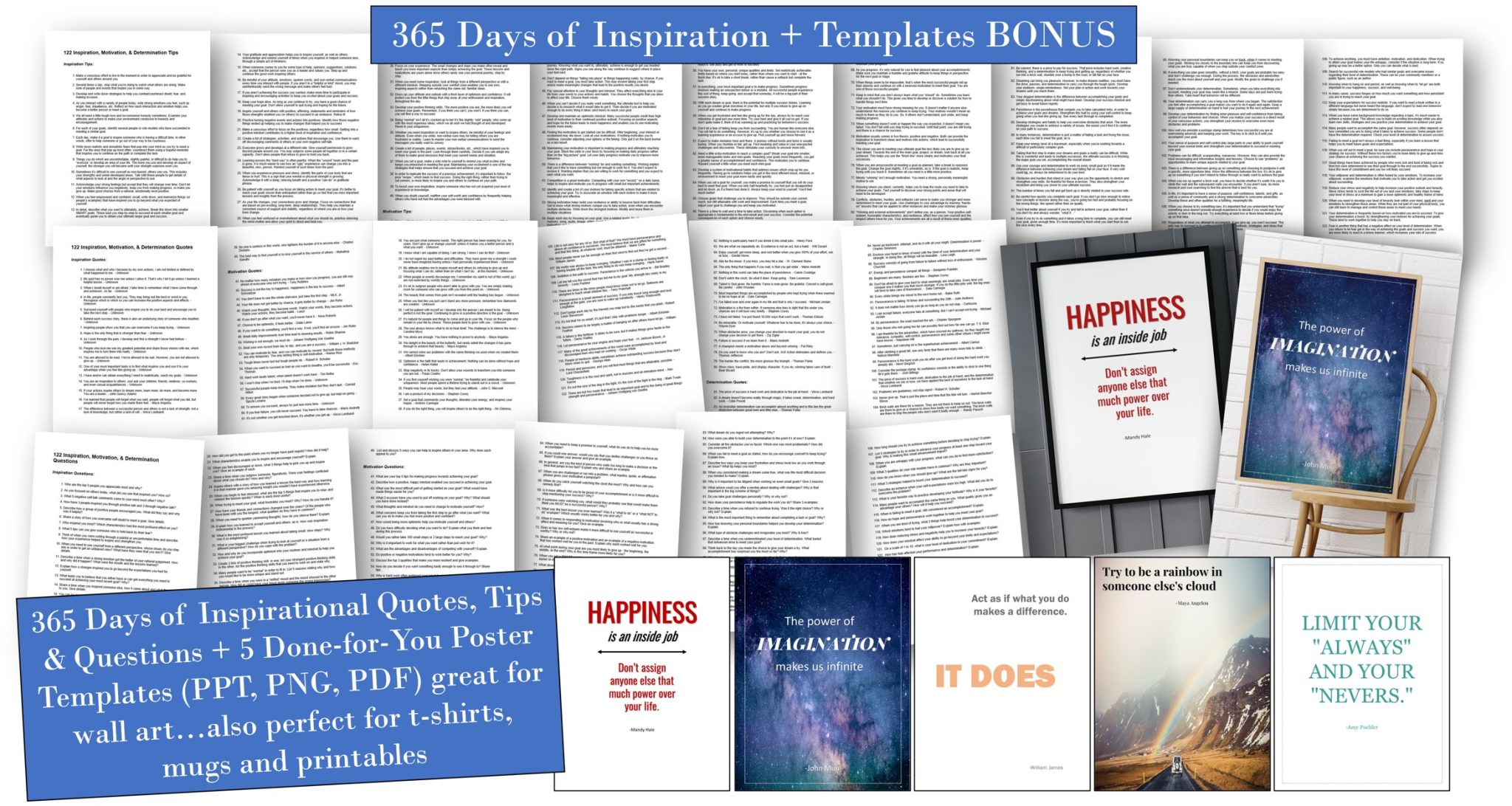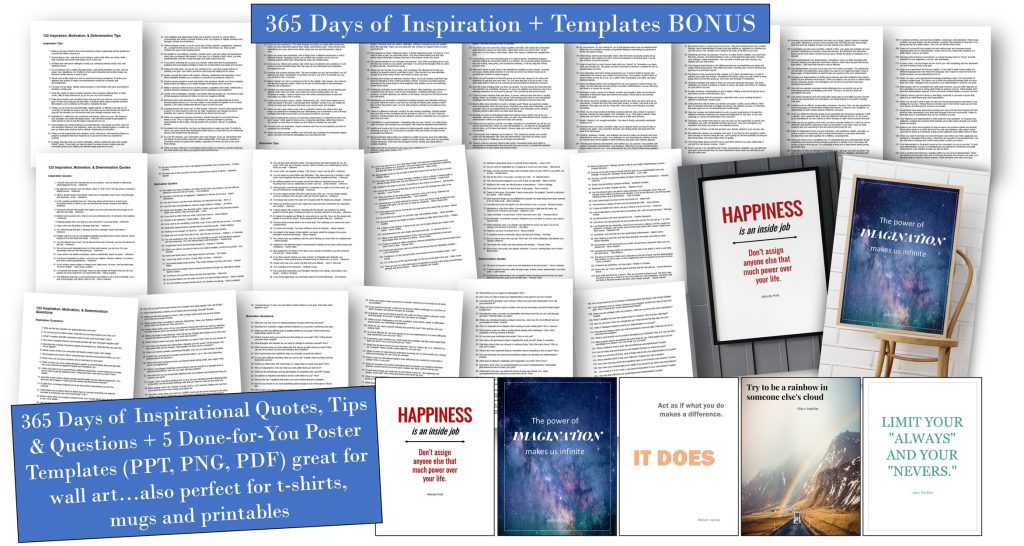 And you'll even be able to download a copy of this tutorial with your package, so you'll have these ideas at your fingertips anytime you need.
So much great content to help you master poster and inspirational graphic marketing.
Click here to get all this content at very special pricing.
And no worries, If you have questions or brainstorm ideas, we're in the EKitHub Facebook Group, ready to help! You'll find the link on your download page.
Go grab yourself an amazing done-for-you content deal and get growing that business!
Your partners in easy product creation,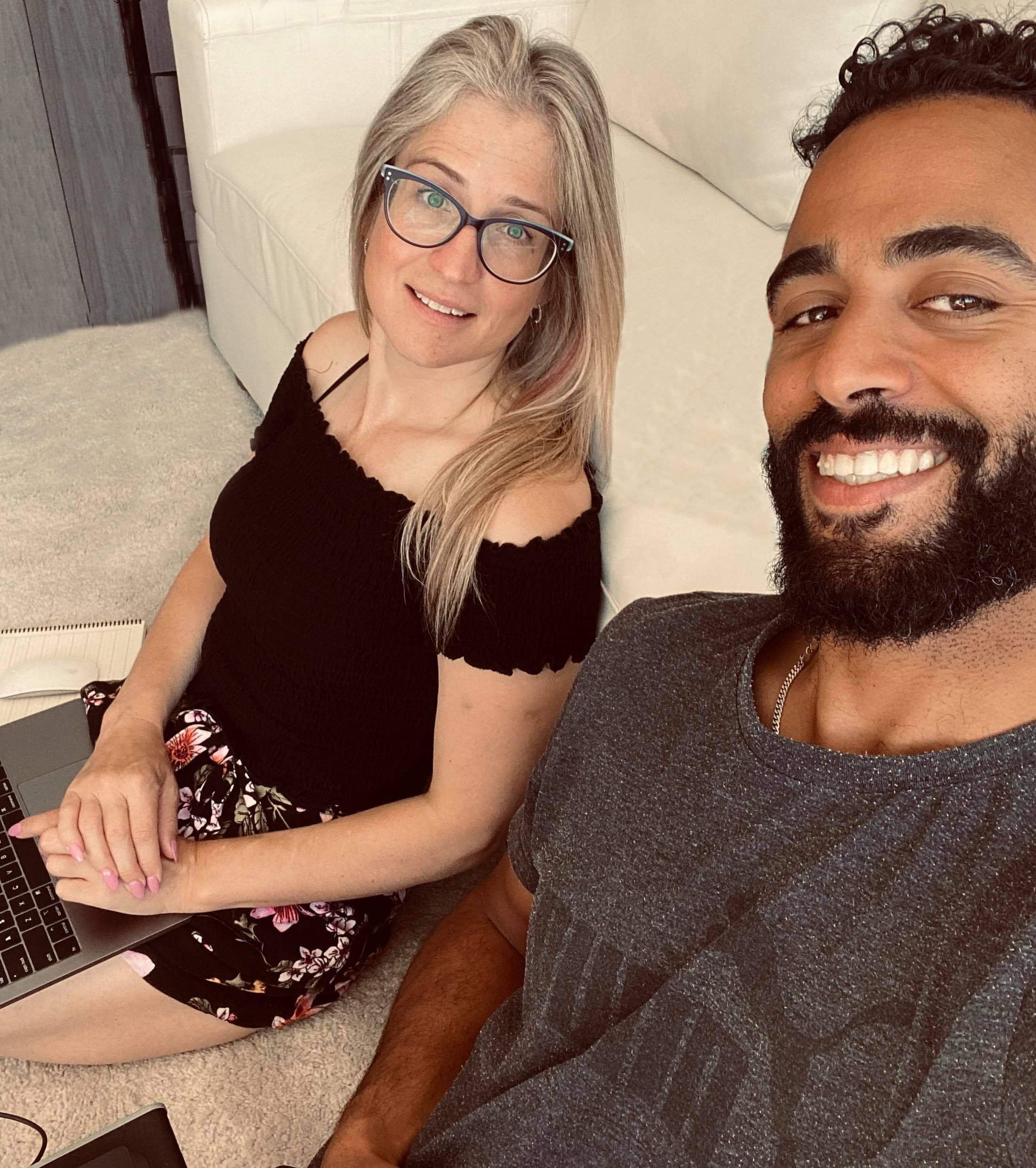 Alice Seba and Yusef Kulan