Click here to subscribe to our YouTube Channel
EEK! Funnels…it sounds like a big, complicated word, perhaps reserved for the internet marketing nerds. Why would you need one if you're just trying to sell some printables?
Well first – funnel is just a fancy word for the way your audience becomes a part your audience and ultimately your paying customer. It's how you get people on your list and buy.
In short, a funnel an absolute necessary thing for your digital product business!
This post will show you how to create a simple, but profitable funnel…so that you can build your audience AND turn them into buyers as well.
But I Sell On Etsy (or Amazon…or other marketplace) – Does this Apply to Me?
YES! YES! Most definitely, YES!
When you sell on a marketplace, you do get the benefit of the built-in traffic and customers that those marketplaces like Etsy and Amazon have, but the drawback is…
Etsy and Amazon own your customers. They get to follow up with them, show them products from other sellers and drag traffic away from you. Of course, Etsy does have some built in tools to make offers to your customers, but they are limited.
Your ultimate goal, should be to get those customers off those platforms and into your community and definitely onto your mailing list. A mailing list is still a critical part of your marketing plan for a few reasons.
Marketing by Email is Important Because:
A mailing list is an asset you wholly own. That's in contrast to marketplaces where they own the list. It's also in contrast to social media, where algorithms make it difficult to reach the people who requested to follow you. Not to mention that BOTH marketplaces and social media sites can just cancel your account and leave you with absolutely nothing. When you build a mailing list, you have a tangible database of names and emails that you can take with you anywhere.
Email is a direct and very commercial medium. People expect to have products sold to them and they do shopping right from their email inboxes. You email your subscribers and the message goes direct to them. It's that simple!
So with that out of the way, let's get to this funnel thing.
Examples of a Digital Product Funnel
There are many ways to create a funnel and in reality, you will have many different funnels so that you can attract your ideal customer in a variety of ways. But let's keep it as simple as possible here and here's a visual representation of a simple digital product funnel.
And don't worry if it LOOKS complicated, if you keep reading, it will TRULY simplify things.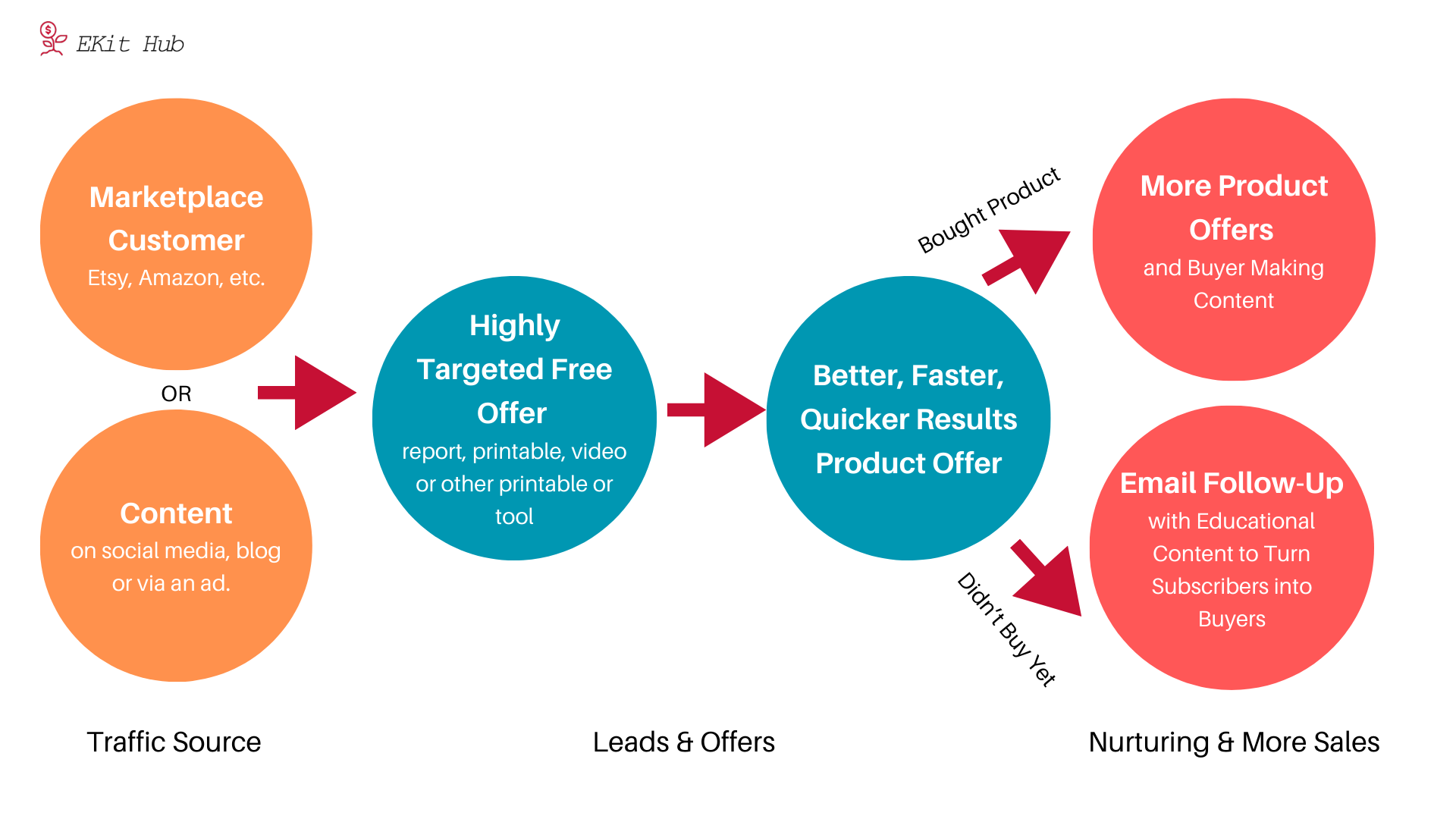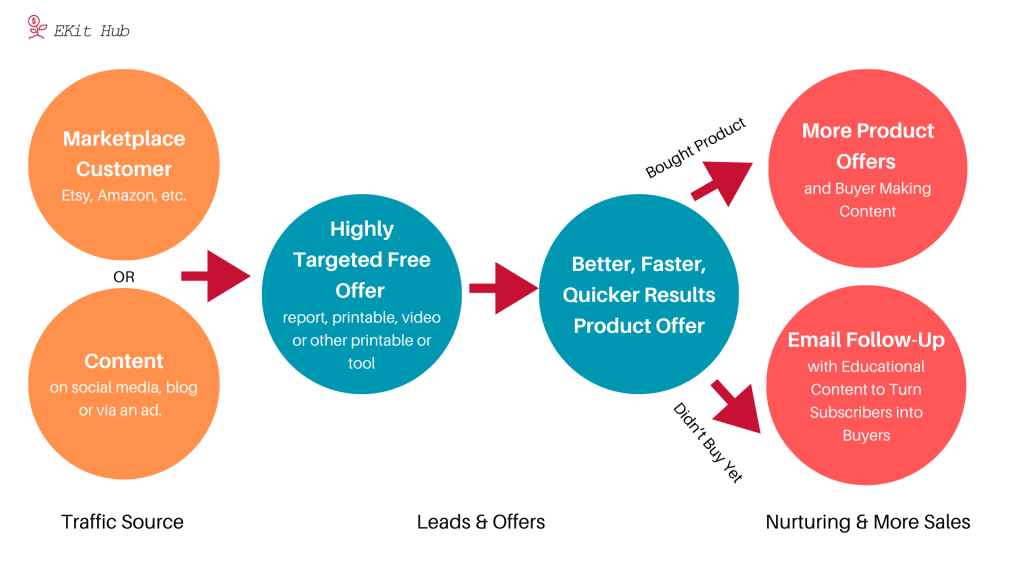 As you can see above – when you look along the bottom of the graphic – it has 3 main stages. Let's break things down, by looking at those. If you don't see the 3 stages, this visual might help…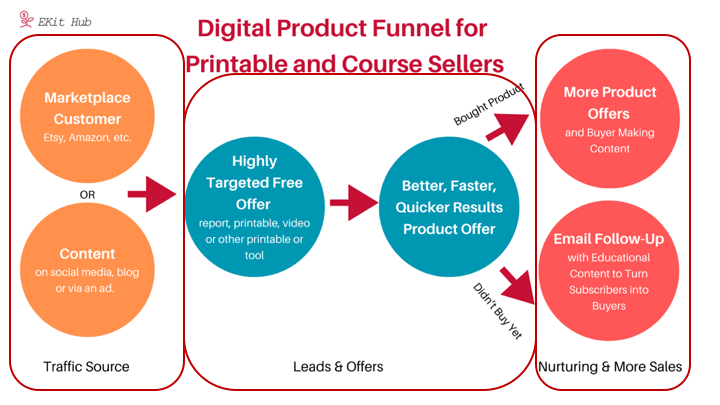 The 3 parts are:
Traffic Source
Leads & Offers
Nurturing and More Sales
IMPORTANT TIP: Each part of the funnel should naturally lead to the next. Everything you are offering to your audience is giving them some highly relevant to the content they just consumed and will improve their experience with that content.
#1: Traffic Source
To start building your an audience asset for your business, you need a traffic source. In this case, you might be getting traffic from:
Marketplace Customers: If you get customers on Etsy, Amazon or anywhere else, make sure you include some type of free and highly relevant offer that will make it easier for them to get better results from the product they just bought. If the product is a digital download, put information about the free offer directly in the files and zip folder. If it's a shipped product, include a card telling them how to get their valuable freebie.
Content: This could be something on social media, on your blog or via an advertisement. It could be a blog post, a video, an info-graphic, some tips…anything that is useful to the ideal customer for your product.
You can also read a blog post on how to get traffic to your free offers and grow your list.
#2: Leads and Offers
Now that you have a traffic, source, you'll make a free offer to them, so they can get on your email list. You can also read this post that gives advice on creating the best free offers to encourage your customers to buy your products.
Highly-Target FREE Offer: Here's where you create a free gift they can download or access when they opt-in to your mailing list. This free offer should enhance their experience and be directly related to what they were looking for in the "traffic" phase. That's why, throughout the course of your business, you will make multiple free offers and funnels.
But if you're just starting out, just make 1 free and let's get that single funnel going first.
#3: Nurturing and More Sales
Once they've signed up, you'll make a product offer. This product should also enhance their experience and in order to make them willing to PAY for it, the product should make it easier, faster or improve the results they'll get. ALWAYS think of the problems and goals your customers have. Elevate how you help them fix their problems or achieve their goals throughout the funnel…and your audience is more likely move straight through that funnel.
RECOMMENDED: Here is a useful post that teaches you how to use content to get your audience to consume / buy more products.
When you make the product offer, they will either:
Buy Right Away: In that case, you'll continue to nurture this customer, making new product offers and educating them on achieving other goals, elevating their success and on how to be a better consumer.
Don't Buy Right Away: Now that you have them on your list, it's easy for you to follow up with them. Send them content that educates them in a way that is useful, but also show them how they can benefit from your product.
At this point, your subscriber is a valuable, long term asset for you. Continue to share useful content that promotes your products, so they tell their friends, buy your products, join your community and more.
What to Do Next: Get Content and Help for your Funnels
Here at EKitHub, we have tons of resources and done-for-you PLR content that can help you create your digital product funnel. We're here to help you each step of the way.
Here are a few things you can take advantage of:
Get Done-for-You Content You Can Publish As Your Own
You can save plenty of time and money putting together your funnels by selecting PLR content items from our ShopEKits.com shop. You can use this content build traffic, create your free offers and even build your products.


In the shop you can find:
You get a 40% volume discount when you purchase several of different types of items. You can view the PLR discount info here. Just add the products to your cart and the discount is automatically applied.
You may also find these useful…
Shortcuts Guides and Templates Packages to Cut Your Learning Curve
We also have some handy guide + template packages to help you master these skills. Here's a quick peek. Follow the links to learn more.
#1: How to Get Free Traffic Guide + Templates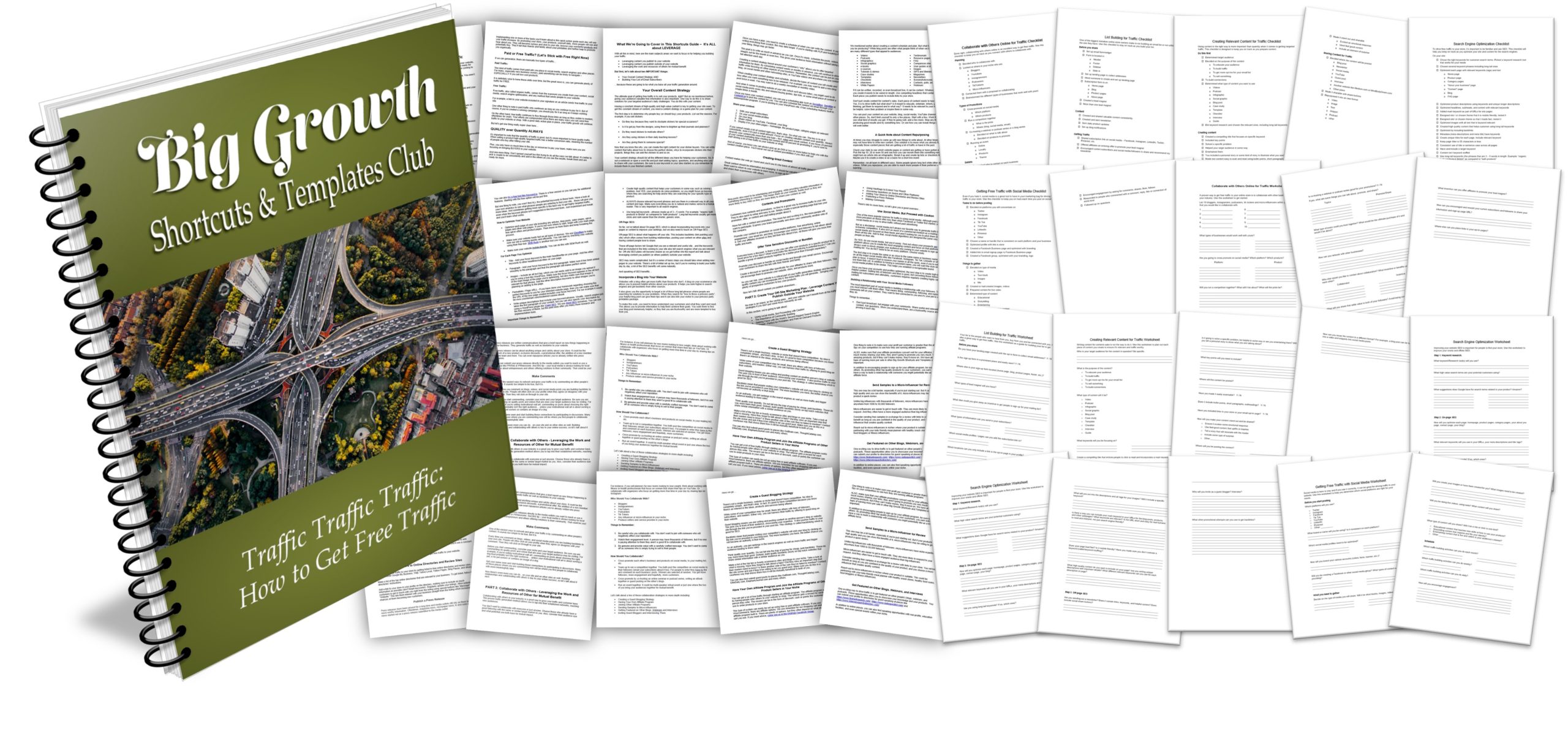 This handy quick start package includes:
How to Get Free Traffic Shortcuts and Templates Shortcuts Guide
Relevant Content Worksheet & Checklist
SEO Worksheet & Checklist
Collaborations for Traffic Worksheet & Checklist
Traffic from Social Media Worksheet & Checklist
Using List Building to Get Traffic Worksheet & Checklist
Click here to get the How to Get Free Traffic Package
Then when it comes to building an effective mailing list…
#2: Create a Free Opt-In Offer that Turns into Paying Customers Quickly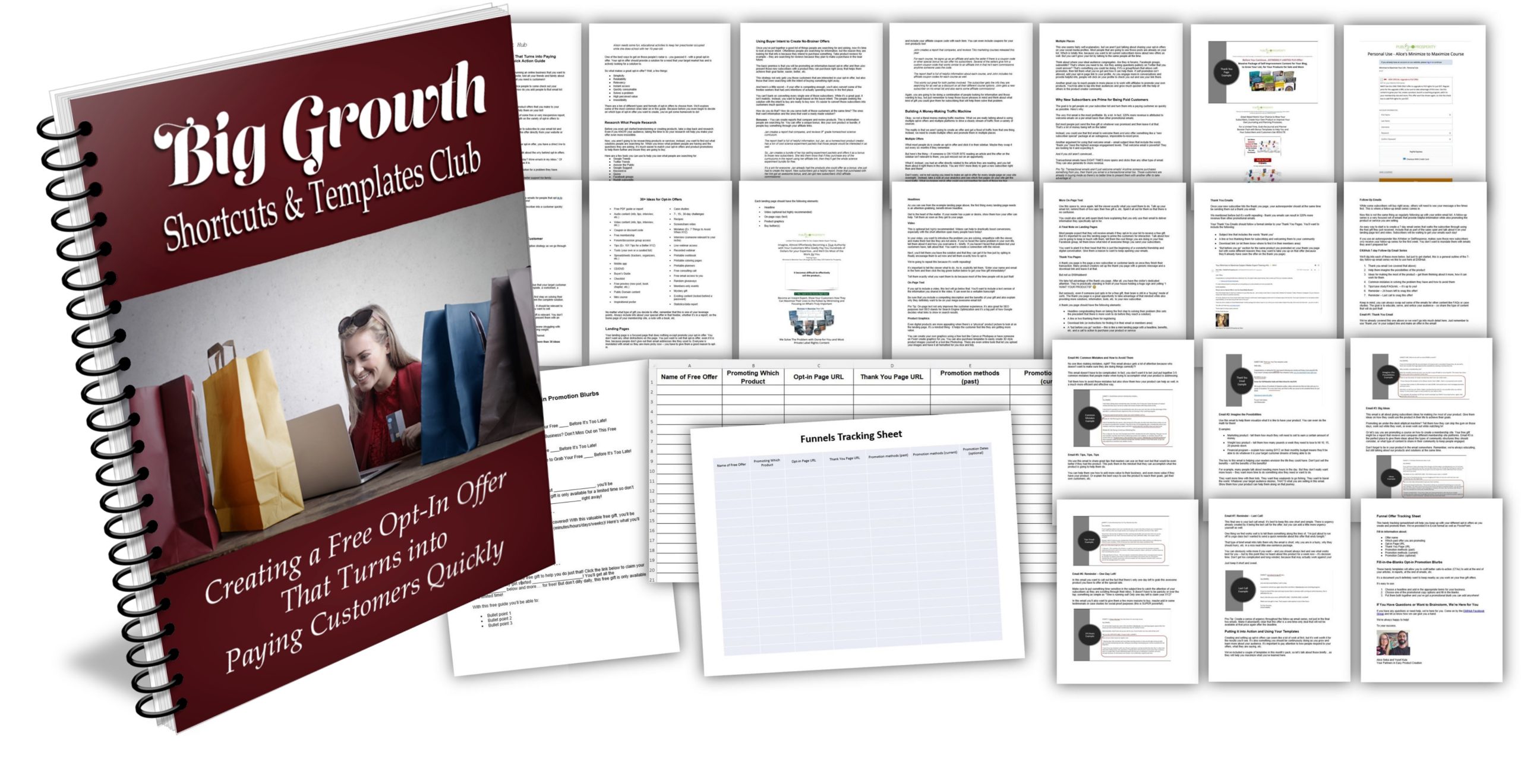 This handy quick start package includes:
Creating a Free Opt-in Offer Shortcuts Guide
Promotion Blurbs
Free Funnel Tracking Sheet
Free Offer Templates
Click here to get the Turn Subscribers into Customers Package
Next, let's make you a highly informative and appreciated sales rep for your business…
#3: How to Make Your Customers Look Forward to Your Sales Pitches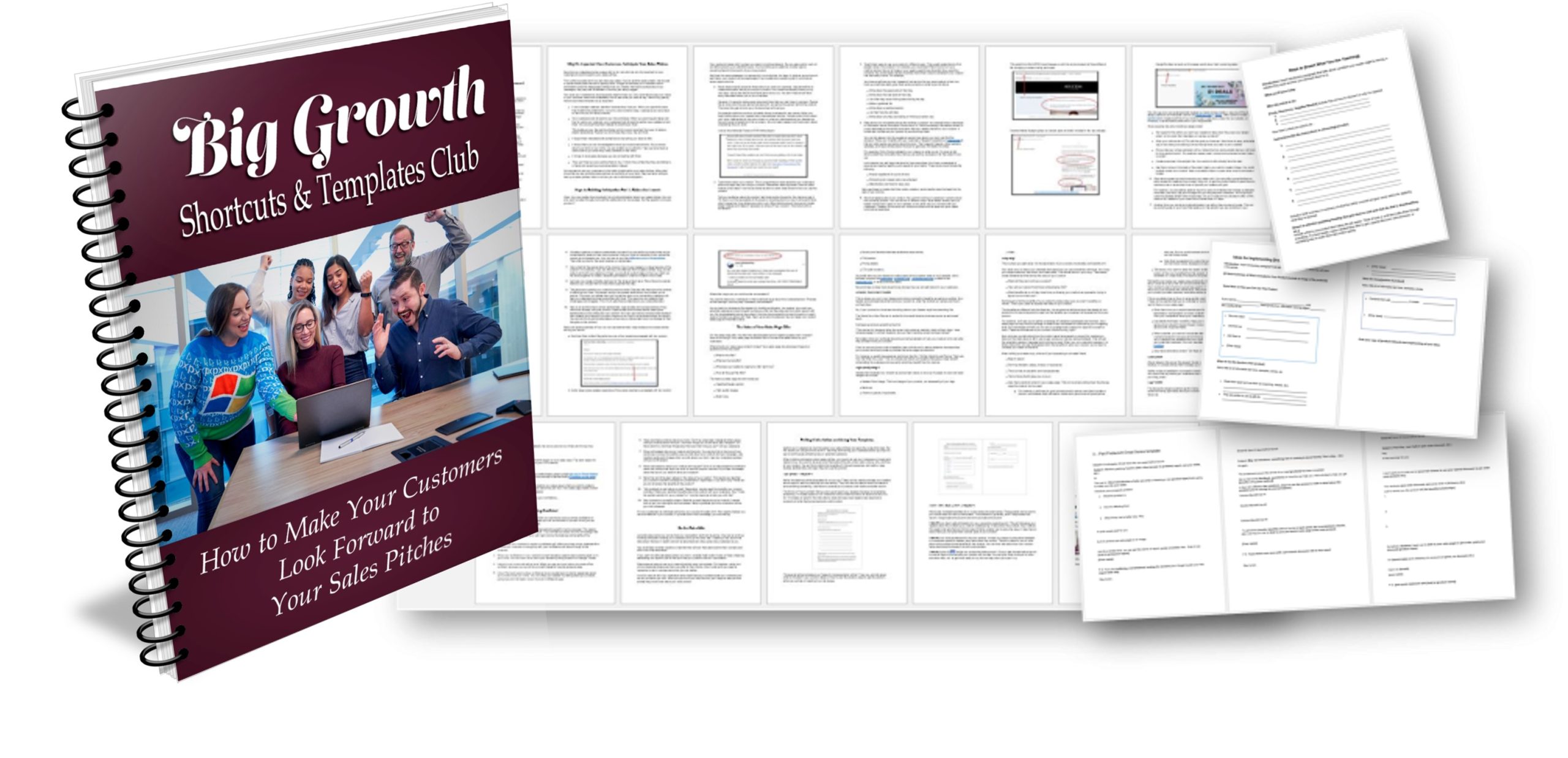 This handy quick start package includes:
Make Customers Love Your Sales Pitches Shortcuts Guide
2 "Articles that Sell" Templates
3 Part Email Series Template
Pre-launch Report Template
Click here to get the Make Your Customers Look forward to Your Sales Pitches Package
We hope you've found this a useful tutorial and find extra resources we have helpful. If you have any questions or need help, you can always find us in the EKitHub Facebook Group.
To your publishing success,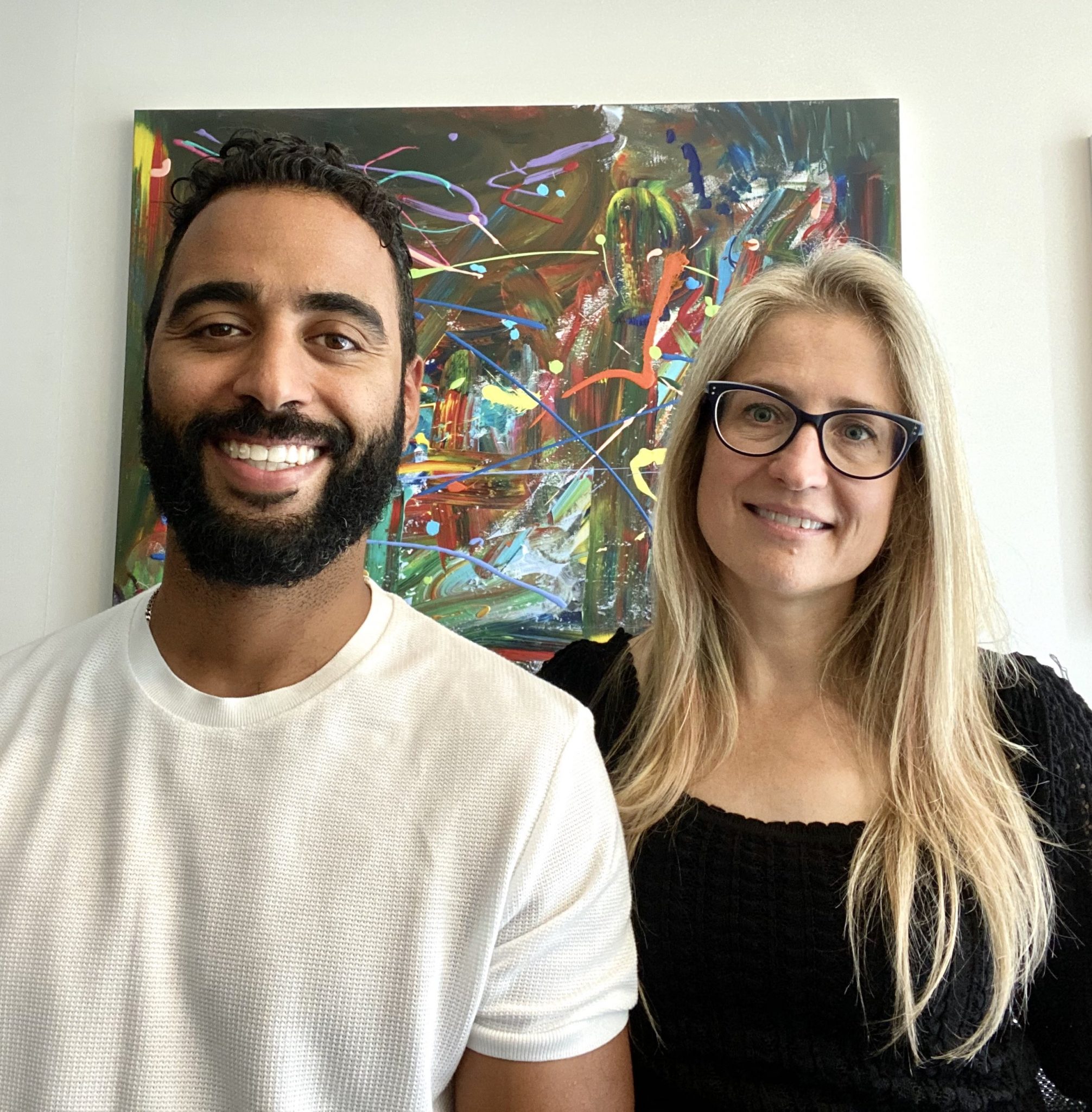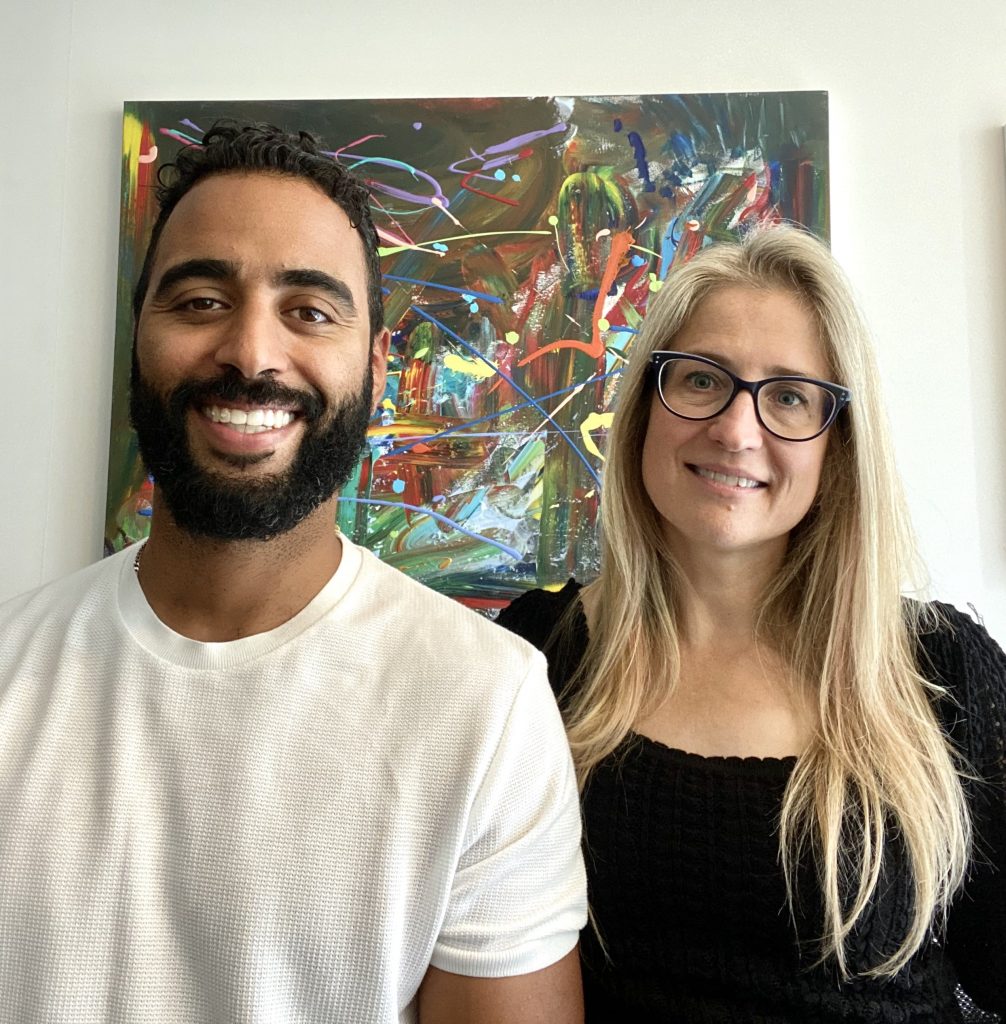 Yusef Kulan and Alice Seba
Your Partners in Easy Product Creation at EKitHub.com